The Kardashian Way to a Tiny Waist
One of the biggest fashion and workout trends of the past five years has been waist training, thanks in no small part to the iconic Kardashian sisters. Since 2014, they've taken turns showing off their signature hourglass curves, perfected with their "waist-snatching" waist trainers.
The rest was history. Waist trainers became hugely popular as women of every shape and size have been shaping their waists, building their confidence and intensifying their workouts. Since many of you have asked about the "Kardashians' waist training secrets" and how the Kardashians get their curves, we thought it would be fun to take a look back at their favorite styles over the years.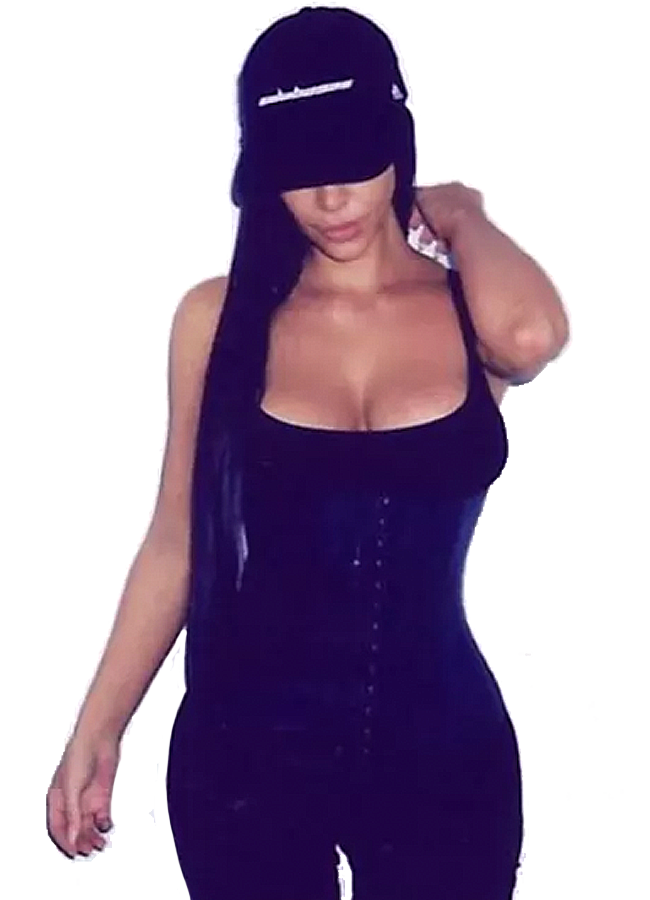 HAPPENING NOW
2019's Met Gala Kim Kardashian Corset
Kim Kardashian's absolutely stunning ensemble at the 2019's Met Gala was composed of a silicone, latex material constructed to give the illusion of water. The Keeping Up With The Kardashian's star has been very vocal about her love of Spanx, waist trainers and now she's taken it to the next level, corsetting. We absolutely love corsets as it gives users the extra control over the fit of their corset. Unlike waist trainers you can customize the fit of your corset on a daily basis, whether you're sleeping in your corset, feeling like you need less compression one day or want an extreme waist contour for an event; a corset gives you that flexibility. Kim Kardashian opened up about taking breathing lessons to prepare for the dramatic look. We suggest to take your corsetting practice day by day and listen to your body. You can achieve amazing results, while feeling comfortable in your skin and corset.
2014: THE INTRODUCTION
While waist training is a practice that goes back centuries, it wasn't commonly recognized. That is, until Khloe and Kim reintroduced modern latex waist trainers.
May 2nd, 2014
Khloe zoomed in on a mirror selfie that highlighted a tiny waist, giving the credit to her waist trainer and claiming she was "obsessed." She went on, "Who doesn't love to feel tight and right?!?"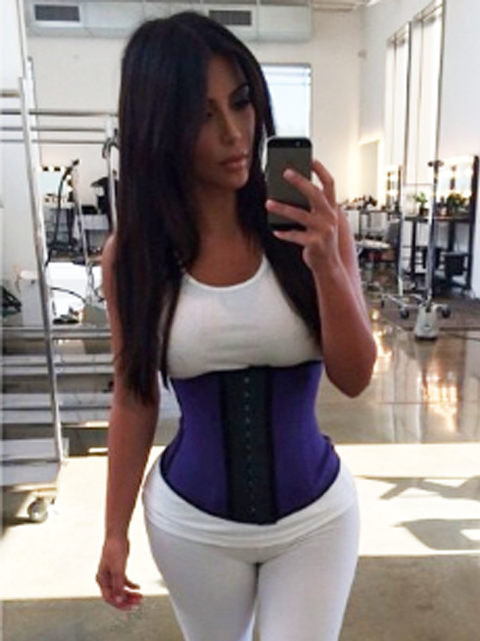 August 21st, 2014
A few months later, Kim stepped in, in a big way. She revealed a bright blue workout band, worn over a tight white tank and white leggings, for a stunning effect.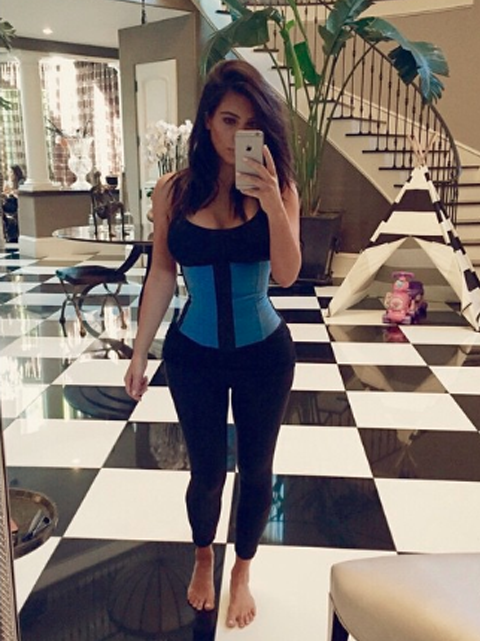 October 29th, 2014
Kim took another selfie with a blue waist trainer, this time over black, with the same hourglass results. This time, she too admitted that she was "obsessed" with waist training.
2015: Picking Up Steam
One of the reasons waist training is effective is because it stimulates heat in your core. This makes it ideal for increasing the intensity of your workouts—you sweat harder. More Kardashians started showing off their waist trainers publicly, and they showcased how they loved using them for workouts.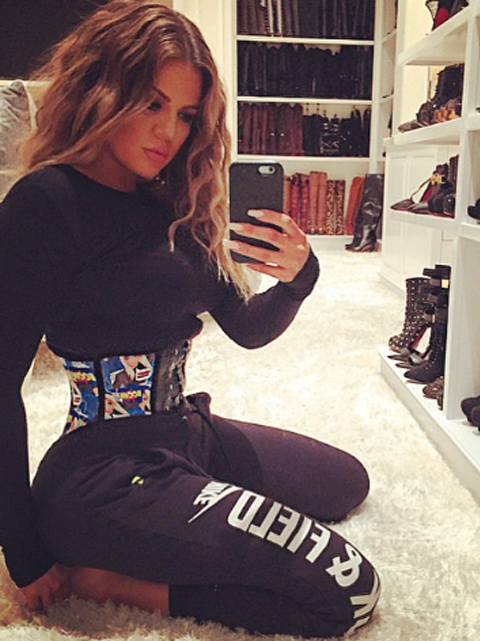 February 24th, 2015
Khloe revealed a tiny waist in a selfie taken in her enviable shoe closet. "I definitely feel like a superhero in this waist shaper!"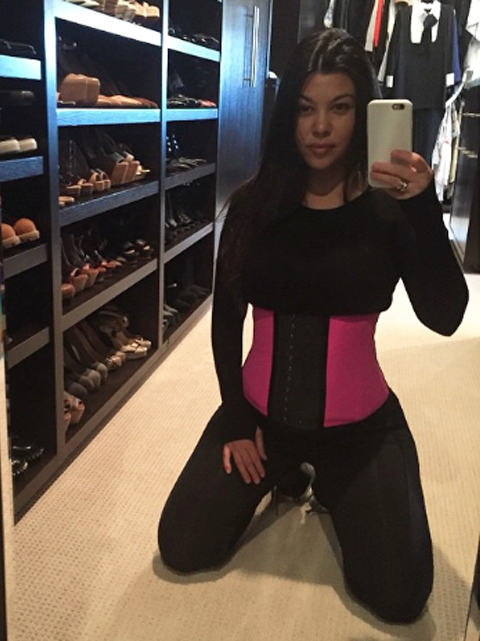 March 2nd, 2015
Following in her sisters' footsteps, Kourtney took a closet shot showing her getting ready to go to the gym in a bright pink workout band.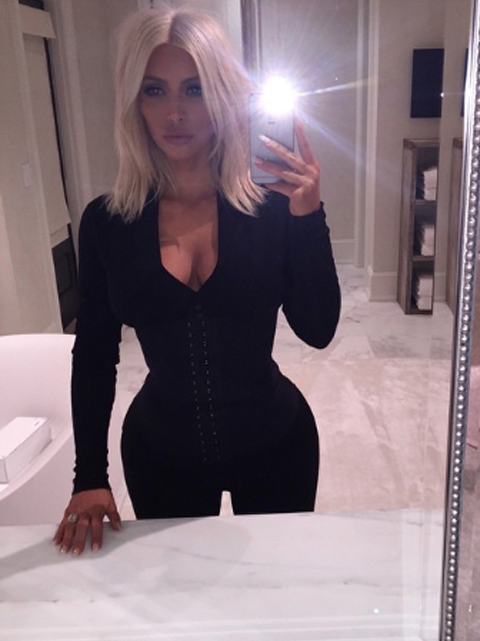 March 16th, 2015
"Organizing & cleaning up before bed and waist training at the same time!" Kim schooled us all in the best way: wearing a waist trainer, of course!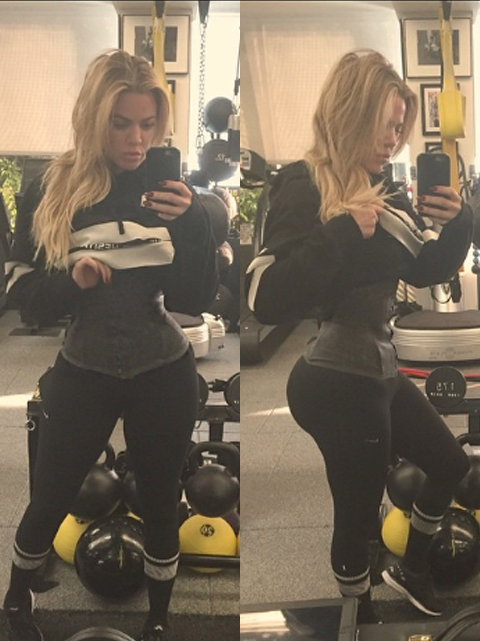 May 8th, 2015
Khloe took showed off her secret waist training weapon at the gym, in her "early morning sweat and waist snatching session."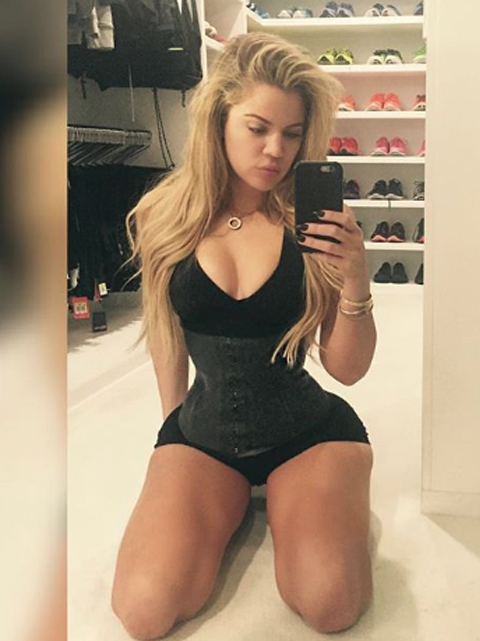 September 1st, 2015
Khloe showed off the results of her workouts. "I'm obsessed with the gym but a little extra help never hurt nobody."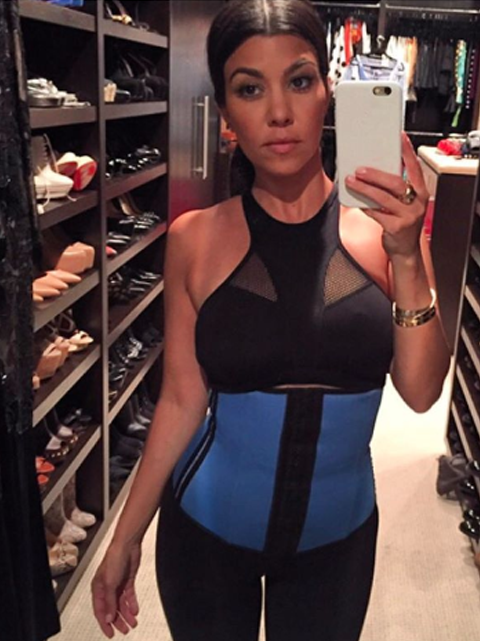 September 5th, 2015
Kourtney confessed, "I am pretty much the queen of multitasking. A little Saturday morning waist cinching while cleaning out my closet."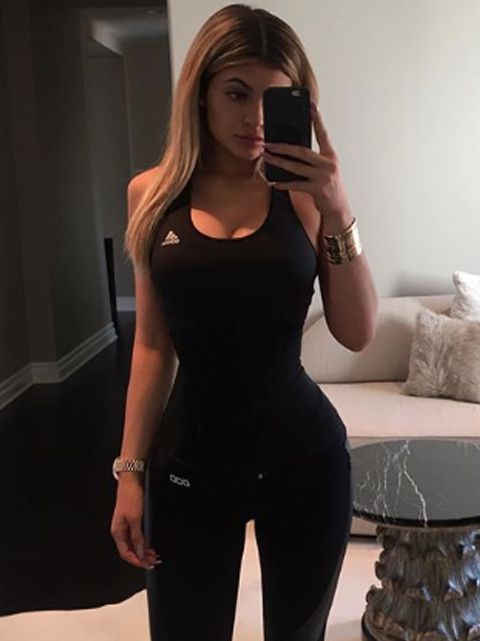 September 8th, 2015
Kylie wanted to try waist training "after seeing how bomb my sisters look." She loved the extra help a waist trainer gave her for her early morning walk.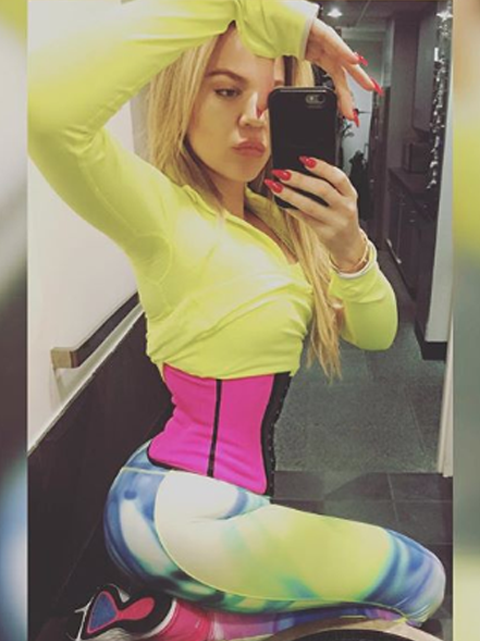 September 24th, 2015
"Who doesn't love a good waist trainer/bathroom selfie?" Khloe claimed, decked out in bright yellow workout clothes and a hot pink waist trainer.
October 24th, 2015
Kylie shows another candid selfie after taking her dogs for a walk, with "a little extra help" in the form of fun printed waist trainer.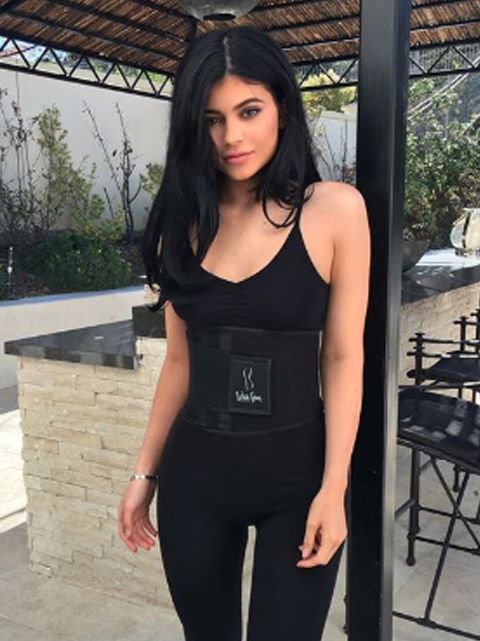 November 27th, 2015
Kylie revealed a solution to the post-Thanksgiving belly bloat, in a Velcro closure workout band.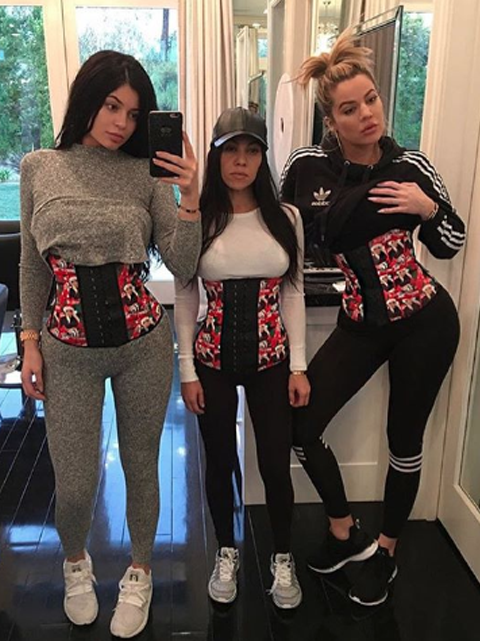 December 18th, 2015
The sisters demonstrated that waist training can certainly be a social affair, especially around the holidays!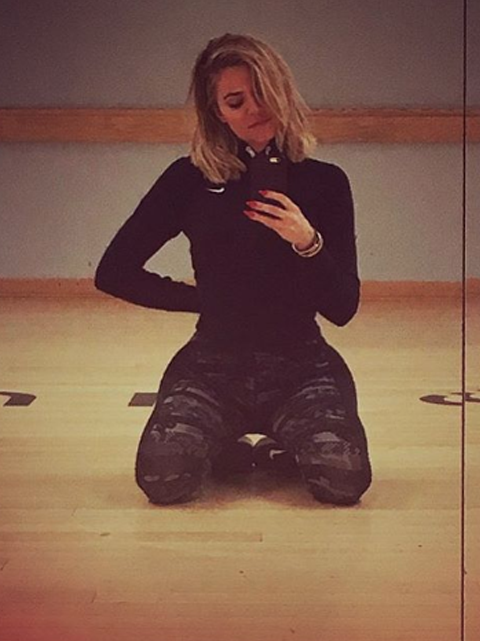 December 19th, 2015
Without any sponsors, Khloe gave a peek into her late-night workout session, complete with that tiny waist.
2016: Defining Sexy
As waist training with latex cinchers grew in popularity, thanks to the Kardashians, so did corseting—with these traditional style garments that define sexiness. While she had been relatively quiet the previous year about waist training while her sisters stole the show, Kim came back in a big way, showing off her hourglass figure with a corseted style, particularly in a saucy music video she starred in with Fergie.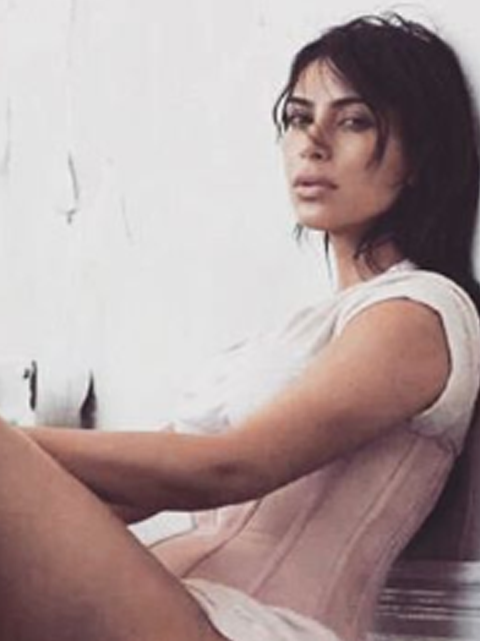 May 22nd, 2016
Kim Kardashian West, infamous for her curvy figure knows all of the ways to keep her waist snatched.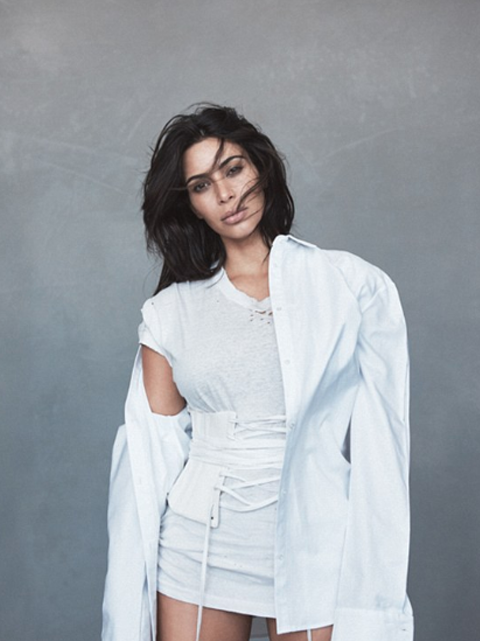 May 22nd, 2016
Kim Kardashian debuted her tiny waist after years of waist training during her glamourous shoot in Vogue Australia.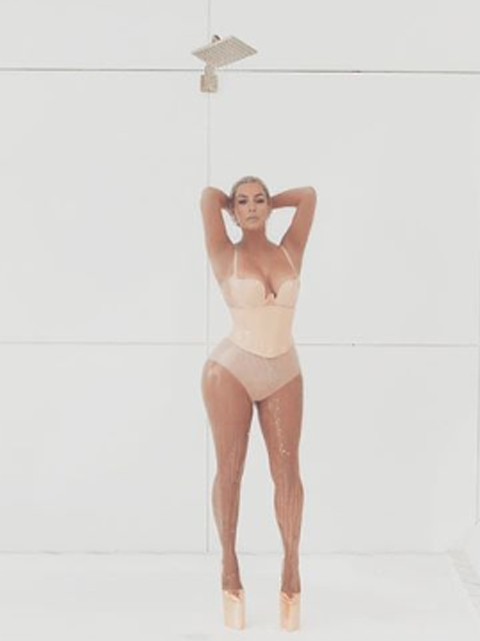 July 1st, 2016
Kim Kardashian West showed off her curvy figure and the success of her waist training efforts during Fergie's music video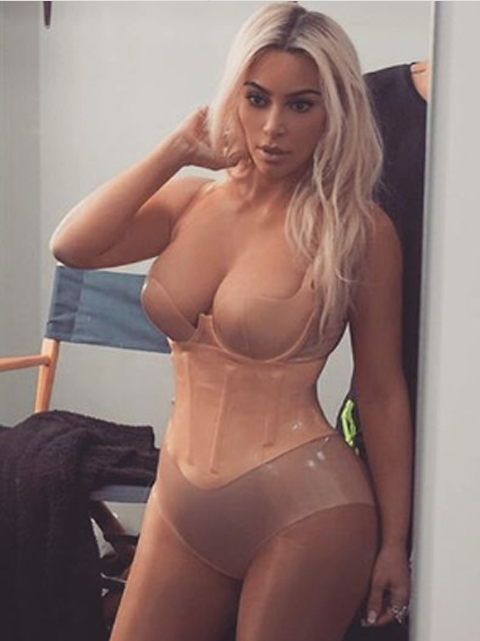 July 15th, 2016
Kim shows off her MILF style wearing a nude corset in behind the scene shots of Fergies music video.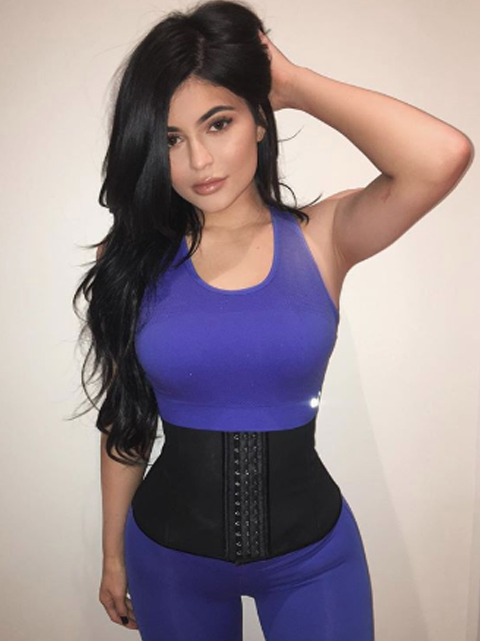 July 29th, 2016
Kylie shared with fans her beauty secret by sporting a new waist trainer to accentuate her curves.
July 20th, 2016
Kim Kardashian shows how to never not waist-train by wearing a waist trainer corset outside her clothes.
2017 and Beyond: Keeping with It
While some of the hype has died down in the last couple of years, we still got a peek at the Kardashians using their waist trainers, with Khloe's workouts and on post-baby Kylie. And while Kylie did stir up some controversy, she demonstrated a practice that women have been using for hundreds of years around the world: belly binding as a step in postpartum recovery.
February 25th, 2017
Khloe Kardashian demonstrated how she continues waist train years later and workouts to transfrom her figure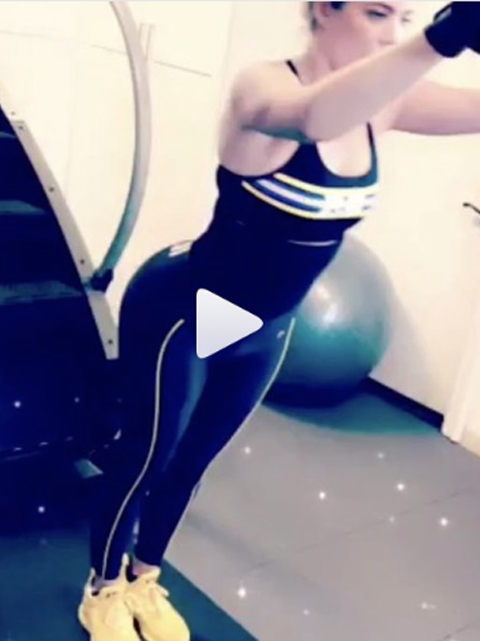 March 19th, 2017
Khloe showed off her insane "beast mode" workout moves that keep her tight and toned—always wearing her waist trainer, of course.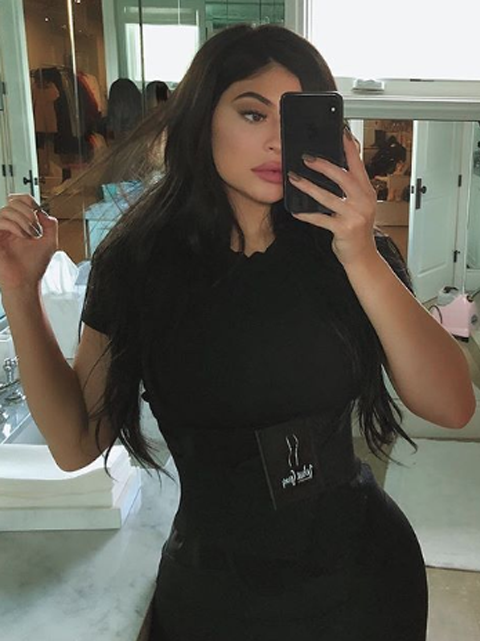 March 19th, 2018
Just a few weeks after the birth of her baby, Kylie showed how she was working on her figure and recovering from her pregnancy.
Great job, ladies!
Wow. The Kardashians have really redefined style and sexiness over the last few years, in a way that is accessible to everyone. If you want to start your waist training journey to Kardashian hourglass curves, check out more tips on our blog and talk to one of our expert stylists.