Waist Trainer Size Chart
Perfect fit = perfect curves. A critical step to ordering shapewear is identifying the size that will fit your body best. Don't make the mistake of ordering a size that's too small because you think you might look thinner. The opposite is true—if it's too tight, it will be extremely unflattering—and uncomfortable. Follow each garment's size chart closely; you'll find it located at the bottom of each product description. Note that some brands' measurements may vary, so be sure to check the specific waist trainer size chart every time.
How to Measure for a Corset or Waist Trainer
For all measurements, use a fabric or vinyl measuring tape and keep it level with the ground. Don't pull too tight—you should be able to slip a finger underneath the tape.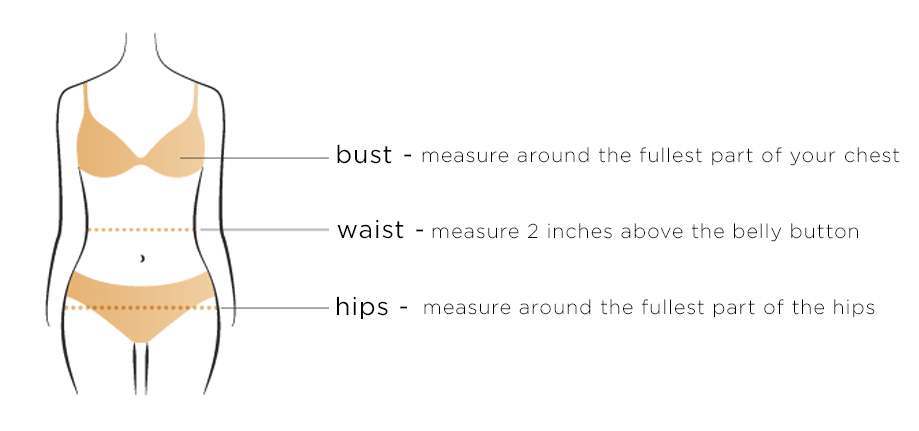 Determine the size
You may notice that the size chart on the product page might be different than the one on the product packaging. Here's why. As a leader in women's shapewear, we strive to curate the best garments in the industry. We rigorously test each product for its effectiveness, quality and fit on a number of different body shapes and sizes. You may use the size guides below as a general rule of thumb for various types of garments. But when making a purchase, always go by our customized size chart listed on each product page.
Waist Trainer Sizing
You may find it tempting to order a smaller size to make your waist as tiny as possible. But waist trainers are already designed to make your waist as small as it will get based on your current waist size (plus, waist trainers tend to run small!). Expect even the correct size to feel tight at first. Be mindful of a few brands that tend to run small, such as Hourglass Angel, Ann Chery, Squeem and Vedette. Below are two size charts; one for waist trainers with letter sizing and one for those with number sizing: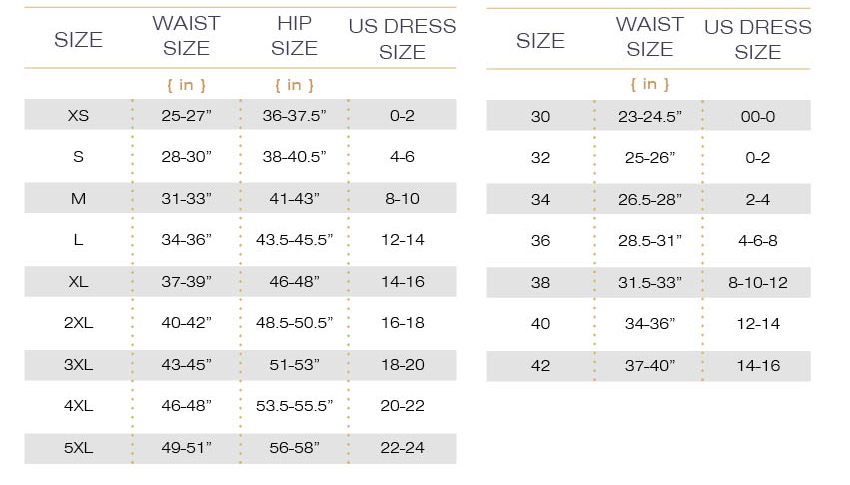 Steel Boned Corset Sizing
Corsets are adjusted by tightening the lacing in the back, which happily means you have complete control of the fit. Your current waist measurement is still your guide. Corsets are sized at 4-5 inches less than your waist measurement. Those 4-5 inches will be the gap in the back of the corset that you will close over time. For example, if your waist measures at 32 inches, your corset size is 28. Some of our corsets have letter sizing; in these cases only consider your current waist measurement and select the corresponding letter size: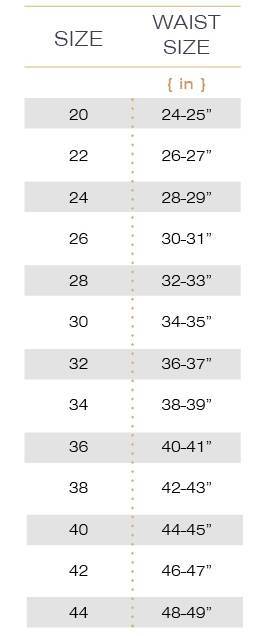 Shapewear Sizing
Your shapewear size is likely to be larger than the size you wear for regular clothing. Don't be discouraged—it isn't your body, it's that brands run small! Popular brands are unfortunately the top offenders, including Amia, Ann Chery, Vedette, Leonisa and Co'coon. If you're debating between two sizes, we wholeheartedly recommend going with the larger size. Shapewear needs to stay in place and cover the areas it is supposed to with no visible bulges or wrinkles. You can achieve that by taking accurate measurements and referencing the general size chart below: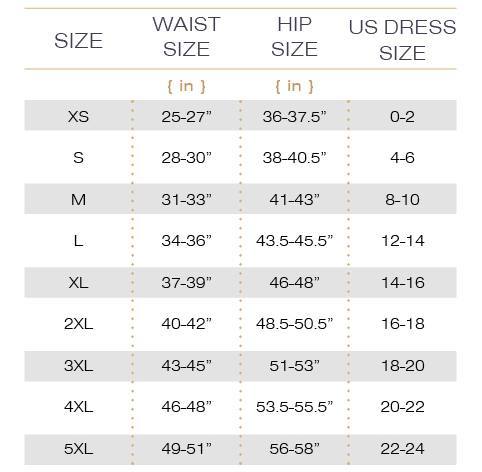 Butt-Lifting Jeans Sizing
Butt-lifting jeans are designed to fit snugly to provide optimum results. The jean fabric incorporates some stretch, but not so much that you should size down. Carefully consider your hip and waist measurements, giving preference to your hip measurement (remember, this is the fullest point). Although size charts are not uniform for all jeans, below is one that includes the U.S./Colombian equivalent sizes. Certain jeans come with both the U.S. jean size and the Colombian jean size on the tags, which is why we include both on our size charts: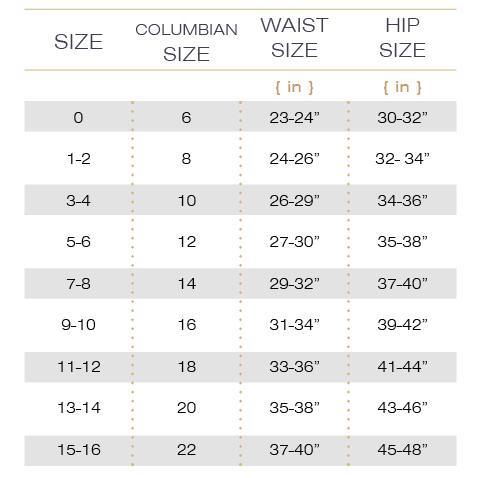 Activewear Sizing
Activewear, whether tops or leggings, will be closer to your regular clothing size. Nonetheless, sizes still vary by brand. This is where our custom sizing charts for each product come in handy again. Below is a general size chart with all measurements included, although you need only consider the measurements relevant to the coverage of the garment:
Want to Know How to Put On a Waist Trainer?
Check out our How to Put On a Waist Trainer Page, where you'll find out how to properly put on your product.
Still Unsure?
Check out our Sizing FAQ, where you'll find answers to the most common questions about sizing. Still having trouble? We're happy to help! Speak to a Customer Service Representative by calling us at 877-442-4530.
Free Exchanges & Easy Returns
Your product still didn't fit quite right? No problem. Just ship it back to us for a free exchange or refund. See our Return Policy for more information.