Posted by Hourglass Angel on Jul 8th 2021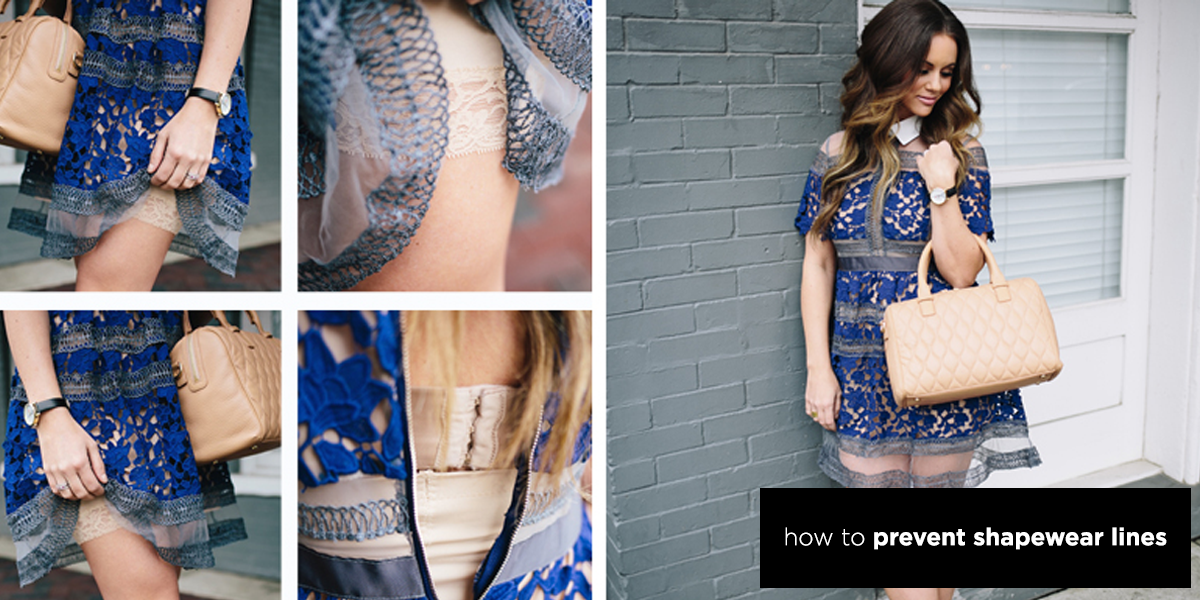 How to Prevent Shapewear Lines
We've all been there. The clock is ticking down, and it's almost time to head out the door for your big event. Makeup's on, hair is done, and now, the only thing left to do is pop on your shapewear and dress.
You look in the mirror for one final glance — and then, oh no. Lines from the shapewear (or your panties) are showing through your dress.
Is there anything you can do to prevent these common shapewear issues in the future?
Fortunately, we've got some simple tips up our sleeve for preventing visible shapewear lines, as well as panty lines. But first, let's take a closer look at the issue of shapewear lines itself.
Creating the Perfect Silhouette
Anyone who's rocked shapewear knows how much of a godsend it is. Outfits can go from drab to fab with just the addition of a simple corset or body shaper.
The problem is that when you wear shapewear, it's not actually making those problem areas on your stomach or thighs disappear. Instead, it's displacing them, and in effect, rearranging the proportions of your natural physique.
Now, this is great and can definitely work in your favor, especially if you're interested in waist training, because you can use these garments long-term to supplement your other figure-slimming practices and naturally adjust into a new silhouette.
But if you're just wearing shapewear for the evening, you'll simply be adjusting how the weight is dispersed on your body, and this can lead to those pesky visible lines.
High-quality shapewear will compress and hold in excess fat, but sometimes it also pushes it outward and away from where the shapewear is being worn. This leads to the lines and bulges that are sometimes visible beneath your outer garments.
High, Medium, and Low Compression
Keep in mind that compression is at the heart of effective shapewear. The more intense the compression, the better your body will be molded and shaped into a desirable shape. On the other hand, the more intense the compression, the more the weight on your body becomes displaced as well (and this can lead to more lines if you're not careful).
If you go with a lower amount of compression, you might have fewer initial issues with shapewear lines, but you'll also have less noticeable shaping results.
With that said, there are some tips that can allow you to achieve maximum compression shaping while also diminishing the appearance of shapewear lines.
Here's what you need to know.
Choosing Strategic Shapewear: How to Prevent Undergarment Lines and Achieve an Ultra-Smooth Finish Beneath Your Clothes
Losing the shapewear lines is all about strategy. Use these tips for an ultra-smooth shapewear finish.
Tip #1: Wear high-quality shapewear!
This is a lot more important than you might think.
Avoiding undergarment lines can actually be achieved by actually wearing high-quality shapewear. The best garments are made from premium materials that do a far better job enhancing your figure without revealing your secret under your outfit.
For example, if you're annoyed by panty lines beneath a tight-fitting bodycon dress, your best friend may be a thigh shaper, which will divert the ultimate leg opening line of your undergarment to right above your knee, where it will hardly be seen.
Tip #2: Look for "seamless" shapewear and undergarments.
Seamless garments have been constructed to hide their seams and hems. This is important because it's at the seams of undergarments where lines tend to be most apparent. This is true for inner seams that connect fabric pieces as well as for the hems of undergarments (the outer edges).
If you go with a non-seamless undergarment, for example, the hem tends to be thicker. It's usually a rolled hem, which means that the raw edge has been folded over at least two times and sewn through – sometimes two or more times as well. This results in a multi-layered edge, which is thick and often, quite visible beneath clothing.
With seamless shapewear, designers have taken care to leave the garment edges as thin and flat as possible (don't worry, they won't unravel). Inner-seams, as well, are flat and hardly noticeable or located in inconspicuous places to begin with.
Also, when applicable, consider a one-piece shaper, like a bodysuit, which will provide all-over slimming with a single, seamless garment.
Tip #3: Be strategic about the leg openings on your panties.
It's usually at the leg openings where panty lines are visible, so if panty lines are your struggle, this is where you'll want to think tactically.
Many women make the mistake of thinking that smaller panties with a thinner band will result in fewer lines. In fact, it's often the opposite that is the case.
Naturally, you can opt for a thong or G-string panty, both of which are often very effective at hiding lines. These types of panties will keep the panty waist line at the top of your buttocks, more toward your waist. Just be sure to choose a thong that is, again, seamless. Also, go for a thong or G-string that is big enough so that it doesn't create too much of an indentation on your skin.
If a thong or G-string is still visible beneath your garment, however, you'll want to go in the other direction (down) and actually get panties/shapewear that is bigger (longer).
To do this, choose panties with leg openings that actually sit lower on the thighs (more like boy shorts), toward your knees. Alternatively, go for a thigh shaper or a body shaper that incorporates a thigh-shaping element.
It's rare for a dress — even a tight-fitting bodycon dress — to be extremely tight around the lower thighs and knees. Therefore, if the leg openings of your undergarment are there, they'll hardly be noticeable.
Tip #4: Choose a thicker material for your outfit.
When it comes to your actual outfit — whether it's a dress, skirt, or slacks — it can sometimes help to go with a thicker material.
This is something you've probably already noticed yourself: the thinner the material, the easier it is to see lines underneath, whether from your shapewear or other undergarments. Thicker material is almost always better in this regard, helping to conceal lines and give your silhouette a flawless look.
Tip #5: When possible, opt for a print motif on your outfit.
Here's another tip for your outfit: If you have the option, choose a print over a solid color.
Flowers or another scattered pattern can help camouflage any would-be shapewear lines. Solid colors, on the other hand (especially lighter shades) tend to create noticeable shadows and highlights around your curves, and that's what you don't want when it comes to visible lines.
As a side note, take caution with striped and ribbed fabrics as well. These can result in noticeable bulges because the ribs or pattern lines may become further apart around your body's contours. Ultimately, those lines can make even faint undergarment lines or shapewear lines more visible.
Tip #6: Consider tights or pantyhose.
If the weather is suitable, tights or pantyhose can be a great addition to your undergarments because they will ultimately smooth out panty lines and the lines at the bottom of your shapewear. Just be sure to wear your panties and shapewear beneath your tights or pantyhose.
Tip #7: Prevent bra bulge with a good-fitting bra and strategically-placed compression.
A thicker bra band that is also seamless will be your best friend if you struggle with bra bulge (those pesky back rolls that result from even the best-fitting bras). You'll also want to make sure that your bra fits extremely well overall and provides enough support.
Worry less about what bra size you "always wear" and more about what bra actually fits, feels comfortable, and gives your chest support.
Sometimes, you'll still have bra bulge on your back, though, and if this is the case, you'll want to choose shapewear that comes in a vest style with back coverage. A waist trainer corset vest, will allow room for your chosen bra in the front, but will also provide adequate coverage in the back to go over your bra and smooth out bra bulge lines.
Tip # 8: Try on your undergarments before wearing them out.
So many people make the mistake of not trying their undergarments on before wearing them to a big event. Of course, you'll not only want to wear your shapewear garments by themselves to see how they feel, but you'll also want to wear them with your chosen outfit.
Then, you'll want to "take them for a spin". Walk around your house with your shapewear and outfit on for at least an hour. Here's why:
First, you'd be surprised at how much your shapewear and clothes can shift as you move — even just a little bit. You want to know about any of these discomforts or changes in garment placement beforehand so that you don't have to constantly be adjusting when you're at your event.
Second, we've all been to that wedding in the woods or on the beach where you arrive to find out that you must trek a significant distance to the ceremony and back to the reception again. Even at indoor events, parking can sometimes be far from your ultimate destination. Making sure your shapewear is up to the challenge is essential for these unexpected moments!
Choose from Our Wide Selection of Comfortable, Effective Shapewear
Hourglass Angel provides an array of super-comfortable and ultra-effective shapewear for any occasion. No matter the outfit you've chosen or what types of clothing you like to wear on a regular basis, we have options that will fit your needs!
Browse our selection of corsets, waist trainers, body shapers, and thigh shapers. It's wise to have an assortment of shapewear options at home so you'll look stunning and feel comfortable in any outfit you choose.
And for more tips and advice on the best ways to wear shapewear effectively, check out more of our Hourglass Angel Guides.