Posted by by hourglass angel on Mar 27th 2018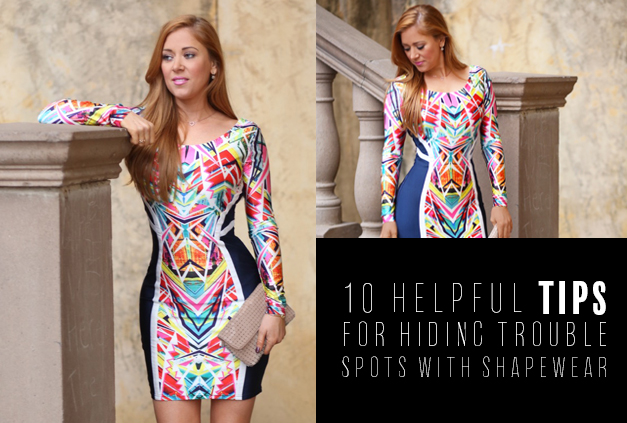 Did you know that when it comes to concealing your trouble spots, shapewear is just the beginning?
While we love the power of shaping undergarments to help you slim, smooth and enhance for that hourglass look, we also love the way that shapewear can help you redefine your figure.
As the seasons transition, you're probably thinking about how to update and fill out your wardrobe. Don't forget that there are many ways you can effortlessly enhance and slim your figure using the right apparel. Shaping garments are easy wardrobe solutions because they're like shapewear and outer garments, all in one.
Here are some quick tips about four types of shaping garments and how to make them work for you.
Butt-Lifting Jeans
Everyone wants the perfect pair of jeans to flatter their body, hide trouble spots and enhances their curves. Well, stop "fighting" with traditional denim and discover the shaping power of butt-lifting jeans, which are designed in the Brazilian style for maximum butt-lifting effect.
Enhance your natural curves
Once you try butt-lifting jeans you might wonder why you ever wore anything else! The unique seaming makes your rear look round and full, while the back pockets are strategically placed to draw the eye to the fullest parts of your curves. Stretchy denim creates a custom, flattering fit for a variety of body types.
These are an effective butt-shaping option whether you want to create a fuller look for your rear without using padding, or if you want to lift and control the curves you already have.
Control love handles
Another benefit of butt-lifting jeans is their waist-slimming effect. Love handles are a very common problem with jeans, especially figure-hugging jeans. What sets these jeans apart is their higher-waist cut, which slims and conceals, rather than squishing up and out.
Shaping Leggings
No wardrobe would be complete without a few pairs of fashionable leggings. You can feel confident in your own skin by choosing leggings that provide powerful slimming, lift and control.
Smooth your thighs
Thigh control is a huge concern we hear from women. A no-brainer solution is shaping leggings! These will effectively slim and smooth your thighs, especially in the inner thigh area that tends to rub together. The result is a very comfortable and stylish look that you can wear in a number of stylish outfits.
Lift your butt
Butt-lifting jeans aren't the only solution when it comes to enhancing your backside. With butt-enhancing leggings you can create a fuller, rounder look effortlessly. Choose from options that can smooth and control, as will as lift and enhance.
Smooth your midsection
Shaping leggings not only smooth the butt and thighs, but are also an effective solutions for your midsection. Look for a style with a compression band at the top like these Booty Leggings with Waist Trainer by Bon Bon Up that flattens the tummy and smooths around the waist. Shaping leggings can also keep help control the lower abdominal area.
Camisoles
Layering your tops is simply a smart way to dress in every season. Whether you've got a sweater or a jacket, or just a lighter button-down top, you can lay a perfect foundation with a shaping cami that helps create a smooth, hourglass shape.
Enhance your bust
We love the versatility of shaping camis because they are an easy layering solution for enhancing your breasts. Use an open-bust cami with your favorite bra for additional lift and support of your bust.
Shaping camis are an easy grab-and-go solution under your favorite tops and sweaters, and over-the-bust styles with seamless support like this V-Neck Slimming Tank by TrueShapers also function as a casual stand-alone tank.
Slim and smooth your torso
A shaping cami is an all-in-one torso-smoothing option. An over-the-bust tank functions as a standalone option that creates a slim, smooth figure from bust to hip.
Open-bust options like the Control Camisole by Amia pair seamlessly with the bra of your choice. Another benefit is that most shaping camis provide coverage for your upper back, preventing wardrobe problems like back bulge and armpit fat.
Activewear
Never work out in unflattering, baggy clothes again! Not only does compression activewear help you look your best whether you're posing for selfies or going to the gym, but you'll also get the most out of your workout by sweating harder. Some styles are also designed to wick away the sweat so you'll remain cool and comfortable even when your workout cranks up the heat.
Control your butt and hips
With compression leggings and shorts, you'll get firm lifting and support through your most vigorous workouts, ensuring your rear stays in place. You'll not only get a great workout, but you'll feel more confident knowing how good you look from behind and from the side.
Slim your thighs
Comfort is key when you're sweating hard, and that's why compression workout shorts and leggings are going to be your best friends when you go to the gym. They'll prevent rubbing and chafing, while stimulating more thermal activity so you can get a more effective workout.
Minimize your waist
Last but not least, it almost goes without saying that a high-quality workout band is a must-have for your workouts. For starters, you'll instantly look slimmer by up to three inches around your midsection. Our waist trainers are also known for providing maximum compression and thermal activity around your core, ensuring that you are getting the most burn out of your workout. Many people also enjoy wearing their workout bands outside the gym because of the way they feel (although we highly recommend switching to an everyday waist trainer for all-day wear).
We hope you're inspired to fill out your wardrobe this season with shaping apparel that lifts, slims and smooths in all the right places for your unique needs! Need help figuring out which pieces are suited to your body type and trouble spots? Check out more info on our blog or contact our professional stylists for advice.