Posted by hourglass angel on May 5th 2016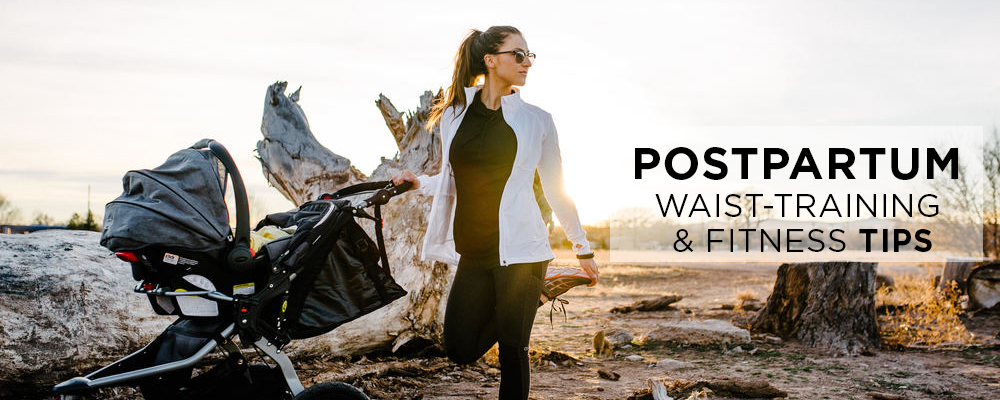 Ready to get back in shape, mama? If you've been wondering how to use waist training as part of your postpartum shape-up, then look no further. Here are twelve simple ways for new moms to get back in shape after baby.
Start with a postpartum belly wrap after birth.
You can begin postpartum belly binding almost immediately after childbirth, even while you're still in the hospital. A postpartum belly wrap provides gentle compression as your body heals. Women have been using this practice around the world for centuries to provide support during the recovery process.
Drink lots of water.
Following the birth, your body will be flushing out all the extra fluid it has been carrying, but it will still need to take in a lot. In fact, a lot of women find that they're very thirsty after birth! You might be tempted to grab the caffeine when you're so exhausted, but try to resist the urge. You should keep up staying hydrated with at least 8 glasses of water a day throughout your postpartum recovery — and beyond!
Try to rest.
Everyone knows that it's really difficult to get rest with a newborn around, but you should at least try. Nap when the baby naps and get a lot of help. Don't push yourself too hard for at least the first 6 weeks postpartum.
Start exercising when you get your doc's approval.
Once you've passed the 6 week mark, ask your doctor if you are approved to start exercising. You may have to wait a bit longer if you've had a C-section.
Eat well from the start.
Even if you're trying to lose weight, your body needs nutritious food during this period. Get a healthy balance of carbs, proteins and fats—and don't hesitate to ask your doctor for guidance! Stock up on small, healthy whole food snacks like unsweetened yogurt, fruit, raw veggies, nuts, etc.
Use a workout band.
Once you're healed up and you get the go-ahead to exercise, a workout band can provide slimming and support during your workouts. Here are some exercises to get your started.
Work up your intensity.
Start out slow in your workouts—you know your body best. Slowly increase the intensity while you build your strength and stamina. In the long run you should aim for workouts five days a week, 30 minutes each day. Get a good mix of cardio and strength training.
Wear a waist trainer daily.
In addition to your workout band, you'll love the shaping and support you'll get from an everyday waist trainer. You can wear one under just about anything and conceal the baby weight while you're working it off.
Increase waist trainer use gradually.
Start out wearing your waist trainer for an hour or two the first day, and then gradually add a little more time each day. You can break it up into smaller sessions if desired. For the best results we recommend you aim to wear your cincher at least 8 hours a day.
Get active with your baby.
It can be difficult to meet your fitness goals with your little one in tow, so get creative about how to bring them along. You can do a lot of stretches and workout mat exercises with your little one right next to you. Invest in a jogging stroller and go for walks and runs. See if there are any stroller fitness classes offered in your community. Or you can always find a gym that offers childcare.
Size down your waist trainer!
One of the most exciting parts about a waist training journey is the day when you discover that your first waist trainer is too loose, even when it's fastened its tightest! Celebrate by treating yourself to a smaller size and keep up the good work.
Take progress photos and share them.
If you stick to a healthy lifestyle and a dedicated waist training plan, you are going to love the results and should share them to inspire your friends! We'd love to see your stories as well so be sure to tag us on Instagram @hourglass_angel #BeTheHourglass.