Posted by Hourglass Angel on Mar 1st 2021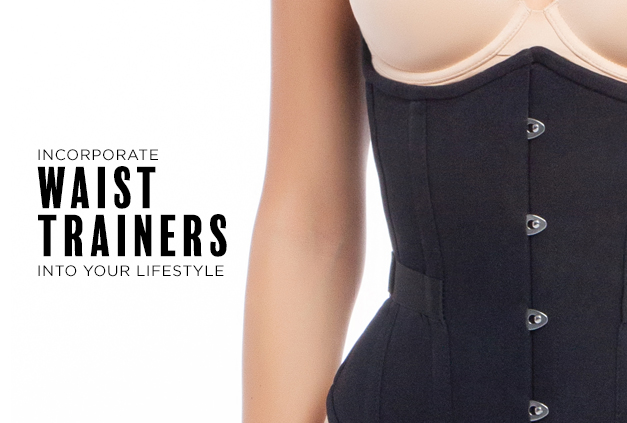 Waist training is a great way to supplement and amplify a weight-loss or fitness routine. While some people have no problem jumping in with changes in routine, many of us need to ease our way into new lifestyle habits in order to make them stick.
Waist training is one of those habits that will work better for you if you make it a part of your everyday life—so that you're comfortable doing it and don't even have to think about it.
There are three ways to incorporate waist training into your lifestyle that we recommend, but first it's helpful to know what waist training is, how it works, and how to make the most of it.
What are the Benefits of a Waist Trainer?
A waist trainer is a high-compression waist slimming garment that can be used to supplement a healthy lifestyle on your journey to slim down or lose weight. While you will instantly look slimmer just by putting it on, if you wear one daily it can help you stay motivated and on track with your goals.
Different types of waist trainers have different benefits.
Those that are designed for everyday use can be worn under your clothes as a way to create a slim and smooth foundation.
Some waist trainers use latex to amplify the heat and perspiration in your core, which can be especially beneficial if you want to amplify the intensity of your workouts.
Other garments use steel boning and tight lacing to create a signature hourglass cinch at the waist. You can use any of these different styles (or a combination of them) to achieve a slimmer waistline.
What Is the Best Way to Use a Waist Trainer?
For the best results, we recommend following a daily waist training regimen. This means wearing a waist trainer for 8 to 12 hours a day.
It can take some time to grow accustomed to this change in your lifestyle, since compression forces you to keep your tummy tucked in and your torso straight for most of the day. For this reason, we recommend gradually introducing waist training to your everyday life. Start with wearing one for just an hour or so per day, and then add an hour each day as you feel comfortable. Do this, and you should feel confident wearing your waist trainer all day after a few weeks. It's okay if you miss a day here and there, or split the day into small increments (e.g. wearing it for two hours at a time).
With this in mind, you can also try these methods for incorporating waist training into your lifestyle, so that you'll stick with the daily habit for the long run and see the results you desire.
1) Use a Workout Band Whenever You're Active
Workout bands are particular styles of waist trainers that are designed to amplify the intensity of your workouts. They stimulate heat and perspiration around the core, so you can really feel them working. These waist trainers are cut and constructed in a way that you can move vigorously without worrying about damaging them or experiencing any discomfort.
Workout bands are obviously useful if you have a regular workout routine, and are especially designed to supplement varying degrees of cardio exercise and strength training. They can help you get motivated to get your body moving and initiating your workouts, especially if you get a style that you really love and want to show off.
You can also pop on a workout band whenever you're doing anything active, and you'll experience the benefit. If you're going for a walk, cleaning your home, or even running errands, your workout band can give you a boost.
One of the reasons we love Velcro-closure workout bands is because they are so convenient for those spur-of-the-moment bursts in activity. Just pull up the zipper and strap it closed: The Zipped Up and Snatched Workout Waist Trainer by Hourglass angel HA108 is an easy way create curves while you're on the move—and look phenomenal while you're at it.
2) Include Waist Trainers in Your Wardrobe
Waist trainers are so versatile…they can be an essential part of your wardrobe every day. When you start to view waist trainers like you would bras or panties, it's hard not to wear one when you get dressed in the morning.
There are so many ways to style waist trainers: you can wear them under anything from t-shirts to button-down tops, sweaters, dresses, suits and more. Not only do they help you meet your slim-down goals, but they create a beautiful hourglass foundation for most outfits. Every body type benefits from a slimmer waist, which helps accentuate your natural curves at your bust and hips.
To get the most use and satisfaction out of waist training, we recommend having a few that you can rotate through your wardrobe regularly.
To start, you'll want one waist trainer for workouts and another one for under your other attire. These styles are designed slightly differently, and you'll maximize their effectiveness if you rotate them. You'll also give them both an opportunity to dry out and contract back into shape, so they can provide optimal compression.
Different styles of waist trainers can also provide various benefits. An everyday waist trainer like the Squeem Waist Cincher 26PW can be worn under almost anything and will provide all-day slimming and support. A vest-style waist trainer like the Latex Waist Trainer Vest by Hourglass Angel HA103 provides additional support for the bust and coverage for the upper back. For maximum curve creation, you might also enjoy a steel-boned corset like the Underbust Cotton Corset by Hourglass Angel HA202, or the Unbelievable Curves Maximum Compression Waist Trainer by Hourglass angel HA114.
And, if you really want to think outside the box when it comes to wearing a waist trainer daily, consider putting one in your pajama drawer. That's right; you can wear a waist trainer when you sleep and still experience the benefits! This is a helpful strategy when it's especially hot or humid outside, or if you're wearing clothes during the day that can't fully conceal your waist trainer.
Learn more: Tips for Sleeping in Your Corset
3) Practice Waist Training with a Friend
Another helpful way to incorporate waist training into your lifestyle is to do it with a friend (or several of them!). Setting goals and working on them together is more fun and can hold you accountable. This approach is especially helpful if you're preparing for something together, such as a wedding. But it can also help you stick with the habit in the long run.
Check in with one another at least weekly and share each other's progress. It's helpful if you keep track of your goals. We recommend taking waist measurements as well as photos of yourself as you go. You might be surprised at how much change you see in just a few weeks!
If you don't have a friend who's willing or able to do a waist training regimen with you, you can still rely on the support of your friends and family as you're working towards your weight-loss or slimming goals. Share your progress with a trusted support person in your life and ask for accountability. Many women find that sharing photos of their progress publicly can also be a huge motivator! So if you're comfortable, share you progress on social media (and be sure to tag @HourglassAngel and use #BeTheHourglass).
Your friends and family can also participate in other components of a healthy lifestyle that contribute to your goals. While you're doing your waist trainer workouts or other activity, bring others along so they can be active too—even if it's just a walk around the block. Eat nutritious meals together and drink lots of water. There are many ways to make your waist training habit a family effort.
Other Lifestyle Tips
To get the most out of waist training, remember that it is part of a whole way of life that nourishes and strengthens your body. Waist training works best in conjunction with other healthy lifestyle habits:
Hydration: You're going to be losing more water by perspiration when you're wearing a waist trainer, so be sure to replenish it. Hydration offers a host of other well-known benefits, such as reducing the feeling of hunger, giving you energy and helping your skin, hair and nails to be healthy.
Exercise: Aim to get a variety of cardio, balance, flexibility and strength training exercises with the best results. These will help you burn fat, boost your metabolism and feel happy and energized.
Nutrition: Under guidance from a nutritionist if needed, stick primarily to whole foods and avoid processed foods and sugars (especially in drinks). With a waist trainer, you'll be more comfortable with 5 to 6 small meals a day, since your midsection is restricted. This is better for your digestion anyway!
Sleep and stress management: Make sure you're getting the rest you need, so you can be your best self!