Posted by by hourglass angel on Sep 24th 2016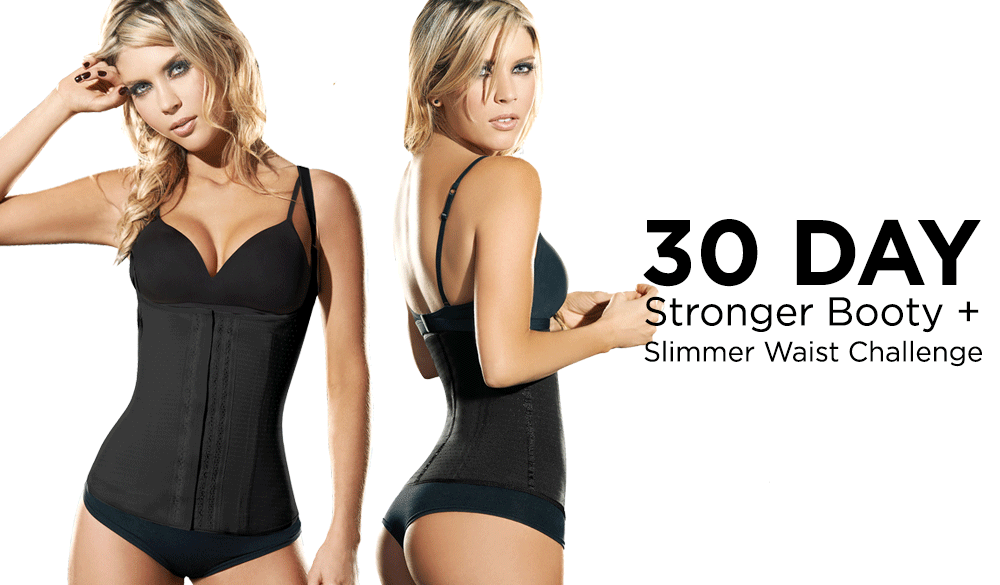 For many women who waist train, slimming down the waist can be a motivating goal. But we ALWAYS recommend supplementing your waist slimming with a fitness challenge that also strengthens and tones your muscles, to benefit your overall health and fitness.
Do you like Pilates? Want to give your rear a workout? Then you'll love this 30-day "Stronger Booty Challenge," which combines waist training with Pilates to strengthen your core and lift your butt. And even if you're new to Pilates, this is a great way to kickstart a fun new routine.
Like all of our fitness challenges, this routine helps you gradually introduce your body to waist training as well as the fitness exercises. We recommend taking progress photos as well as drinking lots of water and eating a clean diet.
Here's how it works. Below are the guidelines for how to start waist training. Next are the fitness exercises, followed by the amount of each one you should do every day. You can supplement with cardio if desired, although by the end of the month you might find that these are pretty good cardio routines in themselves!
Ready to get started? Give it a shot and remember we want to see your progress on Instagram! #BeTheHourglass
Waist Training
Week 1: Starting out at just an hour or two a day, aim to wear your waist trainer for 4-5 hours a day by the end of the week. If desired you can take one rest day and break up your time into two sessions. Don't forget—wear a workout band during your workouts for the best results!
Week 2: By now, waist training should feel more comfortable. Start where you left off at the end of the first week and add a little bit more time each day. By the end of the week, you should be able to wear your waist trainer for 5-6 hours a day. Keep it up! Take a rest day if desired.
Week 3: At this point, you should be wearing your waist trainer for most of the day (try it on the job if you work—most waist trainers are easily hidden under clothes). You can break it up into a couple of sessions if you like, but by the end of the week, try to be wearing your waist trainer for 7-8 hours uninterrupted.
Week 4: You're a pro now! Try to be wearing your waist trainer for 9-10 hours daily. Don't forget to take pictures to record your progress! We're sure you'll love the results.
Strong Body Pilates Challenge
You're going to be doing some of the following five exercises every day, with increasing number of repetitions as your progress. For a printable daily checklist and more instructions, see check out this workout on Blogilates.
Squats: You probably know this one. With your feet shoulder-width apart and your back straight, lower your butt and bend your knees to about 90 degrees, like you're sitting in a chair. Keep your head up, facing straight ahead.
Pointed Butt Lift: Get down on your hands and knees. With your toe pointed and your knee maintaining a 90-degree bend, kick one leg straight up into the air. You should feel it in your glutes. Do the number of reps for the day and then repeat on the other leg.
Fire Hydrants: Yep, you get to pretend you're a dog. Staying on all fours and keeping your knees bent at 90 degrees, lift one leg straight up to the side until your thigh is parallel with the floor. Do the number of reps for the day and then repeat on the other leg.
Heel Kicks: On all fours, straighten one leg all the way, with your foot flexed and toes on the ground. Keeping your leg straight and foot flexed, kick your heel straight up as far as you can lift it. Do the number of reps for the day and then repeat on the other leg.
Bridges: Lie flat on your back, with your knees bent and your feet flat, pulled in towards your hips. Keeping your feet anchored, push your hips straight up as far as they will go while keeping your shoulders flat. Hold your weight on your shoulders and your feet, not on your neck. Return your hips to the floor and repeat.
Okay, here's the schedule – let's get moving!