Posted by Hourglass Angel on Mar 6th 2021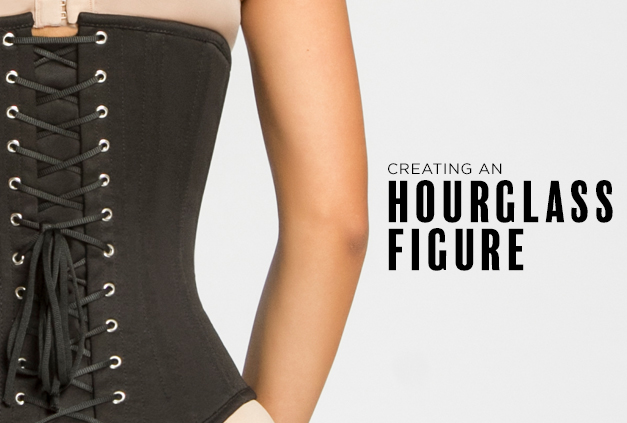 Looking for that coveted hourglass shape? While not everyone has a natural hourglass figure, it's not as hard to create one as you think! We've got everything you need to know about what an hourglass figure is and how to create one with the right clothes and shapewear.
What Makes an Hourglass Figure?
An hourglass figure is a body type with proportions in which a narrow waist contrasts with a broader bust and hips that have similar measurements to each other. In other words, the body resembles an hourglass. While some women have a natural hourglass shape, many have figures with different proportions, such as wider or narrower hips, wider or narrower bust, and a less defined waist.
The hourglass shape doesn't have anything to do with size. You can be a size 2 or a size 22 and still have a curvy hourglass shape. They key is accentuating your figure in all the right places.
Even if you don't have a natural hourglass shape, you can enhance any body type to look more like one. With the right clothes and the right shapewear, you can create a smooth, narrow waist along with a full bust and hips. And if you happen to be a natural hourglass and want some additional shaping and support, there are options for you too. Here are four tips for creating an hourglass figure, no matter what your size or body type.
1. Minimize Your Waistline
One of the defining features of an hourglass figure is that skinny waist. Even if you naturally have a waistline, there's a lot you can do to enhance, smooth and define it.
When it comes to creating a waist, nothing works better than a waist trainer or corset. These garments use firm compression to target the waist and eliminate any traces of muffin top, love handles or pooch belly. You can wear a waist slimming garment as needed to create a more dramatic shape, or you can follow a waist training regimen as part of a waist slimming plan that pairs well with a healthy diet and regular exercise.
Here are just a few of the options when it comes to creating that coveted hourglass waist:
The Size Me Down Adjust Waist Trainer by Hourglass Angel HA113 is an adjustable waist trainer with four rows of hooks and gives you a secure fit with lots of room to size down. It provides instant slimming and can also complement your slimming plan. The latex core is reinforced with flexible steel boning and stimulates heat and perspiration in your core, for maximum results.
The Curve Creator Workout Band by Hourglass Angel HA101 amplifies your workouts and look hot while you feel it working. Ramping up thermal activity, it causes you to sweat more around your belly, sides and back. The firm compression latex provides back support to give you a more confident posture.
Take curve creation to the next level with the Underbust Waspie Mesh Corset by Hourglass Angel HA2101. You'll love the see-through look of this powerful corset. Cut short, it targets the natural waist and provides a dramatic cinch. The steel boning and tight laces in the back ensure you're getting a tight, secure and sexy fit.
2. Boost Your Bust
Another way to create an hourglass figure out of any body type is to support and enhance the bust. If you already have ample curves, you'll want to choose shapewear and bras that provide adequate coverage and support without flattening. And if you want more volume, be sure to choose garments with adequate lifting power.
In addition to an excellent bra designed for your size and shape, shapewear can also enhance your bust. Choose your shaping garment depending on the outfit you're wearing over it.
Waist trainers not only slim the waist, but because of their underbust construction, they also provide a natural lift to make your breasts look fuller. If you want extra support, you may like the additional back and bust support from the Latex Waist Trainer Vest by Hourglass Angel HA103. It sculpts your midsection, lifts the bust, and provides coverage and support for the upper back.
If you want bust support and lift along with all-over shaping, the Smooth and Chic Molded Seamless Bodysuit by Va Bien 1191 is your best bet and works well under form-fitting tops, pants, skirts and dresses. It uses molded seamless underwire cups with hidden support panels along with padded comfort bra straps for a perfect fit and lift, along with crisscross tummy flattening panels.
And if you're looking for a strapless lift under bridal or other formal attire, the Bridal Shapewear Longline Convertible Bustier by Va Bien 513 provides optimal bust support and waist-slimming power (while doubling as lingerie!). It is designed with a low back and smooth, seamless, foam-lined underwire cups, moderately padded for a tasteful boost in the bust.
3. Round and Lift Your Butt
A full, firm butt and smooth hips round out the bottom of an hourglass figure. Some women desire to create more curves in the rear, while others want to smooth and firm up the curves they already have. Fortunately, there are options for everyone!
If you want to enhance your natural curves, you'll love the lift you get from the Perfect Butt Thermal Pant by Co'Coon 1428. This lightweight shapewear uses an open bottom design that rounds the rear into a perfect shape. It's a great balance of comfort and control and also slims around the midsection with a tummy control panel.
If you'd like an alternative to an open bottom design, the Captivate High Waist Butt-Lifting Shapewear Shorts by lt. Rose 21990 will lift your butt and control your gives. The rounded seaming and boy-cut design creates a natural lift to you rear while controlling your hips. What's more, the high waist cut slims your midsection and eliminates love handles and muffin top, all in one piece. It's ideal for everyday use and is easily hidden under a variety of outfit styles.
You can also enhance your rear without shapewear at all. Butt-lifting jeans and leggings are an easy way to create a sexy figure. The Elevate Black Butt-Lifitng Jeans by Bon Bon Up 5201 use rounded seaming to create volume and shape, enhancing any body type. Stretchy black denim controls the hips and keeps your curves firm and full, while a high waist cut conceals trouble spots on the lower abdomen.
4. Accentuate Your Best Features
Once you have the curve-creating shapewear in place, you'll want to dress to your body type so that you can accentuate your very best features while drawing attention away from any areas you want to minimize or conceal. In this way, even if you're not naturally an hourglass, you can make it seem like you are. Here are strategies based on your natural body type that will help you achieve that coveted hourglass shape:
Apple shape: This body type is curvy but has a less defined waist. Choose waist-slimming shapewear. Your tops should accentuate your shoulders, neckline or bust. Wraps, V-necks, and jackets will serve you well. For bottoms, choose pants that highlight your legs and draw attention from your waist, including skinny, straight and boot cuts. High waists and belts will also create the appearance of a more proportioned shape.
Pear shape: This body type features hips that are broader than your bust, and usually a narrower waist. Create balance on top, and try to lengthen your legs. Tops that work well for you create texture and may include peplum, square-neck and cowl-neck options; statement earrings and necklaces can also draw the eye upward. For bottoms you'll want to create length—and stretchy fabrics can work well. Boot cut, slim or straight, and high waisted options work well. For dresses and skirts, choose cuts that fall away from the hips instead of clinging to them.
Rectangle shape: If your measurements are uniform and you have a straight built, you'll fall into this category. Choose curve-creating shapewear and clothing. Details are the key in your tops and dresses like pretty necklines and detailed sleeves and collars. Flare, straight, and wide-length jeans can benefit your shape, along with prints. Dresses can also go a long way in creating a waistline and adding shape and texture to the top and bottom.
Hourglass shape: Since your proportions are already well-balanced, you have a fun foundation to work with. Fitted and structured tops work well to accentuate your hourglass shape and especially draw attention to your waist. You may also love bust-enhancing cuts like V-neck and peplum. Whatever pant cut you wear, showcase that narrow waist! You may also want to highlight your rear. You also have a variety of dresses at your disposal; choose those that, once again, emphasize that waistline.
They key to looking great no matter what your size and body type is to embrace the curves you have and to dress them well, from the foundation to your clothing and accessories. Be sure to check out our curated collection of the best shapewear to help you get started!