Posted by by hourglass angel on Nov 10th 2017
As the weather cools off, your style can heat up!
Fall is a time not only of pumpkin and apple flavors, but flowing material, warm colors, boots and a time to show off a slender silhouette. You can make fall work for you if you have the right outfits and the right shapewear underneath.
Check out our favorite styles that are flattering on a number of body types. Mix and match colors, fabrics and patterns for endless combinations.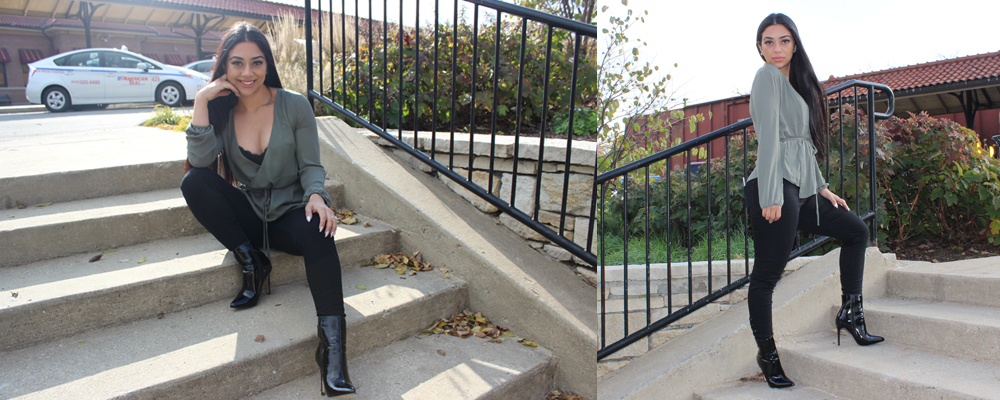 Low-Cut Top + Skinny Jeans + Bodysuit
Just because it's cool outside doesn't mean you can't show off a little bit of skin. Try a peplum blouse or other style of v-neck with loose sleeves. Accentuate your waistline with a fashion belt or tie around the waist. The low cut, in combination with a cinched waist, will draw attention to an hourglass shape by accentuating the bust and shaping your midsection
Contrast the flowy top with dark wash, skin-tight skinny jeans, preferably that are high waist and can further accentuate your midsection. In effect your legs will look longer and leaner, and with the tight cut you can show off the curves around your rear. Finish it off with high heels or chunky booties and you've got a stunning look that transitions easily from day to night.
And of course, we'd be remiss without mentioning the foundation of the whole outfit: a bodysuit that enhances the bust, minimizes the waist and firm your butt and thighs. We recommend the Stephanie Firm Control Convertible Bodysuit by Dumi. You'll instantly look one, two or even three sizes smaller and will instantly eliminate muffin top and love handles. This is the key to making the look come together because no matter what your body type you can emphasize your waist while enhancing the rest of your curves.
While this style is ideal with dark wash or black jeans, you can mix it up with colored skinny jeans in gray, brown or olive. Try a solid-colored top accentuated with lace, or experiment with button-down, striped and other patterned styles. You can easily pull of variations of this look in multiple ways and never get tired of it the whole season. Go casual during the daytime with flats and soft makeup, and get a bit sassier in the evenings with heels and more dramatic makeup and accessories.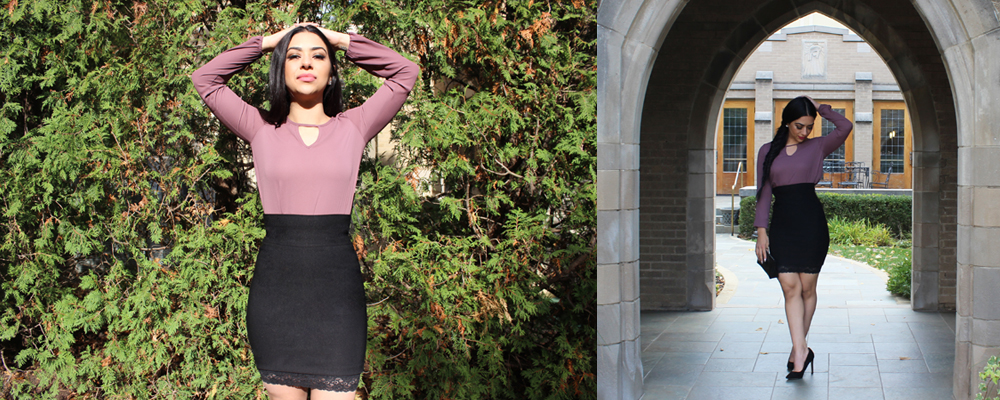 Pencil Skirt + Chiffon Top + Shaping Slip
We love the versatility and femininity of a pencil skirt, which can be flattering for several reasons. First, it emphasizes the natural waistline, making it ideal for adding shape when you're needing more curves and drawing attention to the right place when you already have curves. Second, it creates a lengthening effect since it ends high at the waist but also reveals a good portion of your leg starting at or above the knee. And finally, you can pair a pencil skirt with a variety of fabrics or colors depending on your skin tone as well as your personal preference.
A shaping slip is essential to making sure that a narrow pencil skirt lies smoothly over your figure. Try the Sleek Curves Shaping Slip by Hooked Up, which creates a flawless foundation from the braline to the thigh. This unique style hooks into your bra so you don't have to be concerned about back bulge or muffin top anywhere. It creates hourglass curves effortlessly and stays in place all day with the silicone-lined lace at the hem.
There are several stunning ways to style a pencil skirt, and one of our favorites is with a loose top in a lightweight material like chiffon. Tuck it into the skirt and bring more emphasis to a narrow waist. And don't forget that the right shoes can make a big statement as well. Black or accent colored heels work well.

Long-Sleeved Dress + Shaping Slip
Just because it's fall doesn't mean you can't keep wearing fun and stylish dresses! Instead of a sundress or maxi skirt, transition to fall with long sleeves and a short skirt. Depending on the climate you're in, go with bare legs or style it up with some tights.
Once again, the Sleek Curves Shaping Slip by Hooked Up gets the job done underneath, especially with a figure-hugging dress that accentuates all of your curves. With a slip that doesn't ride up or slip out of place, you can ensure that your foundation will be smooth from your bust to your hips. We especially recommend this slip for curvier women, as it does an unbeatable job keeping you comfortable and confident. We recommend completing this look with your favorite boots and statement jewelry.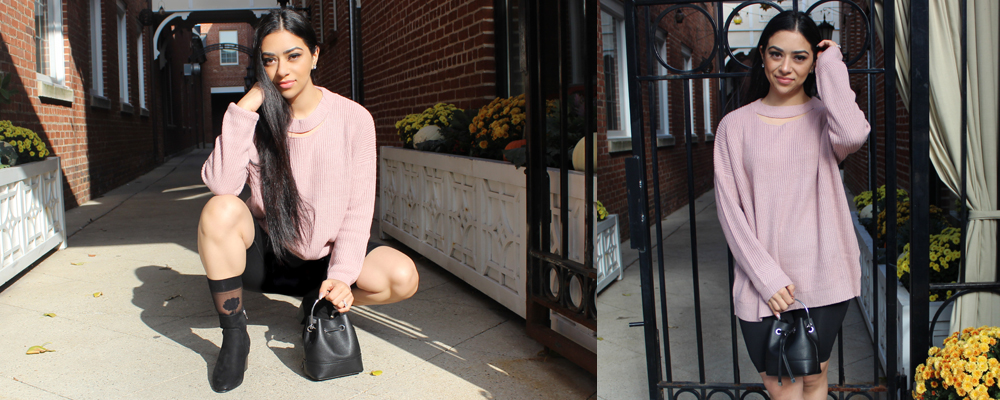 Oversized Sweater + Toning Biker Shorts
For those days when you want to be a bit cozier, we've got you covered. An oversized sweater is a fall favorite and goes great with a pair of leggings or skinny jeans. Pick from a variety of colors, cuts and fabric styles and you've got a winning combination for anytime you want to snuggle up by the fire, hang out around the house or run some errands.
To get the most out of this look, you'll want to be sure that your thighs and legs are smooth and firm. We recommend Naomi and Nicole Unbelievable Comfort High Waist Thigh Slimmer. The unique knits in the fabric smooth your hips and thighs for a sleeker, more svelte shape. These shorts are both extremely comfortable and powerful; they won't ride up or down as you move about your day.
The versatility of this outfit allows you to accessorize the way you like, whether dressing it up or going for more comfort. Wear ballet flats or sneakers, or kick it up a notch with some fashion booties. Go basic or go flashy with your jewelry. The sky is really the limit!
More Shapewear Styles for Fall
Hopefully by now you're inspired to take your style to the next level. For every fall outfit, there's a shapewear option to make it look flawless.
Skinny jeans look great under loose tops like sweaters and cardigans and also provide contrast when you're wearing a chunky scarf or fashion jewelry. Why not try some butt-lifting jeans to complete the look? You'll make your rear look naturally rounder and fuller, while slimming your midsection with a high cut.
Waist trainers and corsets can be flattering under virtually anything. A dramatically slim and smooth waistline creates a perfect foundation for tops and dresses and will help emphasize your curves from top to bottom. Try one under sweaters, blouses and anything you layer. If you like the style of lace-up corsets, try styling one as outerwear over a thin, long-sleeved top. You'll be slimming your waistline and making a fashion statement—a two-in-one win!
Waist training vests are another great waist-slimming option that are especially effective if you want extra support for your bust and coverage for your back. Use them under the same outfits you would wear with a traditional strapless waist trainer.
Shaping panties make getting dressed in the morning easy, especially if you're a no-fuss, jeans and t-shirt kind of person. A high waist cut will instantly eliminate muffin top and make your jeans fit in a flattering way, while tops will fall smoothly and naturally around your whole midsection. Once you try them you'll wonder why you ever wore any other kind of panty!
Full body shapers that provide shaping and contouring from the bust through the thighs, depending on your needs, are go-to options for special occasions like fall weddings and formals. Be sure to bring your shapewear to your fittings to customize an elegant look. Choose the shaper that meets your body shape's needs. Pretty much all of them slim the waist, but you can also choose from styles that focus more on lifting and shaping the butt or slimming and minimizing the thighs.
Shaping leggings are a must-have for your fall workout wardrobe. Keep warm, boost your perspiration and workout intensity and look curvy and sexy while you're doing it. Remember, these leggings can complete your selfie-worthy workout waist trainer look. If you're not working out, these leggings pair well with baggy sweaters and long button-downs and tunics.
Shaping camis are the perfect foundation for fall layers. You'll effortlessly slim and smooth your whole torso with a style of garment you would probably be wearing anyway, so it's a win-win! Use an open-bust style to customize your fit and get optimal shaping, or use a style with a built-in bra for an easy foundation that goes with you from office to night out, as it layers well with professional or party attire.
Butt-enhancing shapers with an open-bottom design are the perfect choice for figure-hugging skirts, dresses and pants. You'll naturally enhance the curves you already have without fear of visible panty line.
We hope you're making the most of the fall weather! Find more year-round style tips on our blog and be sure to contact our customer service team if you need any advice.