Posted by Hourglass Angel on Jun 28th 2021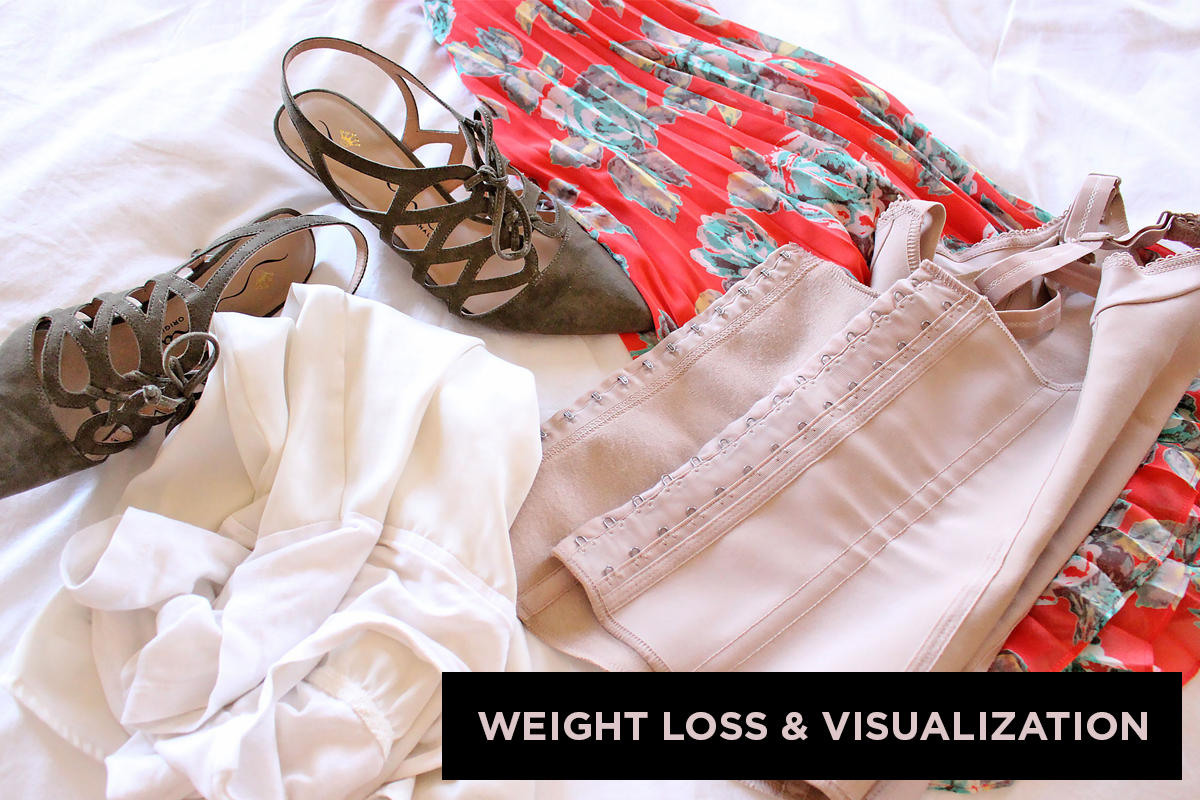 Shapewear can help you look great in so many ways—by smoothing and accentuating your curves, nipping in your waist for an hourglass silhouette, and ensuring your favorite styles look fantastic on you.
But did you know shapewear can complement your weight-loss efforts, too?
Before we dive into shapewear as a supplement to your slim-down plan, let's clear up a common misconception.
Do Body Shapers Alone Help You Lose Weight?
The short answer is no—if your only tactic to losing weight were to wear body shapers, you would not see the pounds come off. But if you incorporate wearing compression shapewear into your weight-loss strategy, it can really supplement your efforts and help you see results faster.
A healthy slim-down plan starts with these basics:
Drinking plenty of water to boost metabolism
Eating whole foods
Doing aerobic exercise and/or weight training
Following portion control guidelines
Sleeping well
Reducing alcohol intake
Being mindful, such as keeping a food journal
Adding shapewear to these strategies can help your journey feel easier and your goals more attainable. And that's exactly what we want for you!
How Shapewear Contributes to Your Slim-Down Strategy
Now, let's see how shapewear actually helps you move toward your goals—here are the four main ways it can support your journey.
1. Maximizing Your Workouts
We all want to get the most out of our exercise routines, right?
Well, a waist trainer is the perfect partner for your workout because it helps to ramp up body heat in your core, increase perspiration, and mobilize fat cells. That means you'll be bringing more intensity and efficacy to your workout—from lower levels of activity to more vigorous types of exercise.
When it comes to choosing a waist trainer that's right for you, there are three main styles to consider:
Waist trainer vest - This style supports the bust and offers the most back coverage. It's great for figures with a larger bust or for those who want to have coverage over their back bra straps.
Waist trainer corset - Slightly less coverage than a vest, so it doesn't cover the bra, but it still offers a super-secure fit and a sleek look with its paneled design.
Workout band - Durably constructed for vigorous workouts, this style allows free range of movement and features a shorter fit on the torso.
After you've chosen the right style for you, it's time to consider what type of exercise to do while wearing your compression shapewear.
Here are the best workouts to pair with your waist trainer:
Resistance training by itself won't always make you sweat a great deal, but just add workout shapewear and you will! This type of training is great for burning fat and building up strength in your muscles by using resistance bands, weights, or your own body weight for resistance.
HIIT (High Intensity Interval Training) involves doing repeated and extremely intense bouts of exercise alternating with periods of rest and recovery. Things like sprints, squats, and weight training can be incorporated into HIIT. With this training, you can burn more calories in a short amount of time than with lower-intensity workouts.
Cardio (like biking, running, or using a row machine) is a great method to pair with your waist trainer. Be sure to stay hydrated, and if doing cardio outside in summer, choose the coolest part of the day.
Every day activity such as walks in the neighborhood or vacuuming the house can help you burn calories while wearing your waist trainer. You'll sweat more during these low-impact activities and feel satisfied knowing you've incorporated your weight-loss plan into a normal day of life!
It's important to note that exercises such as dancing, Pilates, gymnastics, and yoga are not ideal to do while wearing waist trainers because they can involve twisting at the waist. Most sports necessitate a liberal freedom of movement, so go without the workout band while playing volleyball, tennis, etc.
But as we've listed above, there are plenty of exercises you can do while wearing your workout band that will help you get in better shape for sports, yoga, dancing, and more!
2. Helping with Portion Control
Watching what you eat and counting calories isn't the easiest part of a weight-loss journey. Waist trainers, and some types of body shapers, can support you when you want to curb overeating during meals.
Because waist trainers place compression around the waist, the digestive tract can't expand as much as usual while eating. This can encourage you to finish eating sooner than you would without a waist trainer.
There are important things to keep in mind around maintaining a healthy diet on your slim-down journey:
Try to maintain a diet of whole foods and eliminate processed sugar—if you can cut out sugary drinks, that's super helpful.
To help with your energy levels and to feel satisfied throughout the day, eat five to six smaller meals instead of the usual three bigger ones.
If you want to try a trendy diet plan or cleanse, always consult a nutritionist to guide you and ensure you're taking in the proper nutrients.
The more wearing your waist trainer becomes part of your daily regimen, the more naturally you'll be able to get into a healthier diet and routine.
3. Giving You a Confidence Boost
We all know that feeling when we slip into shapewear and check ourselves out in the mirror—everything falls into place. Your figure is smooth, your curves look amazing, and your favorite dress accentuates the best of you.
Studies have shown that certain things you put on can directly affect your attitude, mentality, even your subconscious. Seeing ourselves in shapewear and our favorites styles of clothing just makes us feel good and sets the tone for the day.
Whereas negative thinking can lead to stress, lack of motivation, and low energy, positivity works wonders on your journey to your ideal weight. This positive self-confidence helps you feel good about setting realistic goals, celebrating your wins along the way, and having gratitude for your journey.
With a confidence boost, anything feels doable. It's easy to be mindful. And the whole weight-loss journey becomes a process you can truly get excited about.
4. Motivating You Toward Your Slim-Down Goals
Speaking of looking in the mirror…Did you know that's one of the simplest ways shapewear helps you stay on track with the journey to your ideal figure?
Seeing the reflection of how your body can look with a slimmer, smoother silhouette allows you to really comprehend the possibilities and know your goals are reachable. And that is an endless source of motivation.
In addition, many waist trainers and workout bands are adjustable (featuring Velcro® or rows of hook-and-eye closures), so as you shed the pounds throughout your journey, you can keep adjusting your shapewear to give you an increasingly slimmer, more toned look.
That's when you realize you can go beyond your original goals, and moving forward with your plan becomes easier and easier!
Now, since we're talking about having a clear picture of what you can achieve, let's explore a powerful tool you can add to your slim-down strategy…
TIP: The Power of Visualization
Who knew that exercising your mind could support your weight-loss efforts? Turns out visualization is a key method to get your body in gear for slimming down.
Here are the simple steps to visualizing your ideal weight:
Simply lie or sit down in a relaxed position and take some deep belly breaths.
After you feel calm and relaxed, picture your ideal figure in your mind.
You can also picture yourself eating healthy, exercising, and getting good sleep.
Really feel how it would feel to be your ideal weight and live an active, healthy lifestyle.
These steps take only a few minutes a day to complete, but you can spend more time visualizing if you wish, too.
The last step of connecting in with the emotions of reaching your goal is key—when you imagine a clear picture of what you want in your mind and pair it with the feeling that goes with it, it makes it a very real experience for your body (in other words, your body has no idea it hasn't happened yet). Your subconscious and your cells have to respond in kind and help you move toward that vision in actuality.
Athletes use visualization all the time with amazing results—just ask any Olympic medalist. It works. The mind is a powerful thing.
Visualization can be the quickest, easiest, most fun part of your weight-loss journey. So what are you waiting for? Let your imagination do its thing!
The Whole (Slimmed-Down) Picture
Shapewear can be such a helpful tool to incorporate into your strategy of balanced nutrition, regular exercise, solid sleep, and mindful practices.
Waist trainers give you the most out of your workouts and help guide you to portion control. Any shapewear style can give you that boost of confidence to love what you see in the mirror, plus motivate you to stay on track with (and go beyond) your goals.
Add the power of visualization to your routine, and you're so on your way.
Still need guidance to find the right style of shapewear perfect for you and your slim-down plan? Shop now or contact our stylists for expert advice—we're always here to help and motivate.