Posted by Hourglass Angel on Nov 13th 2019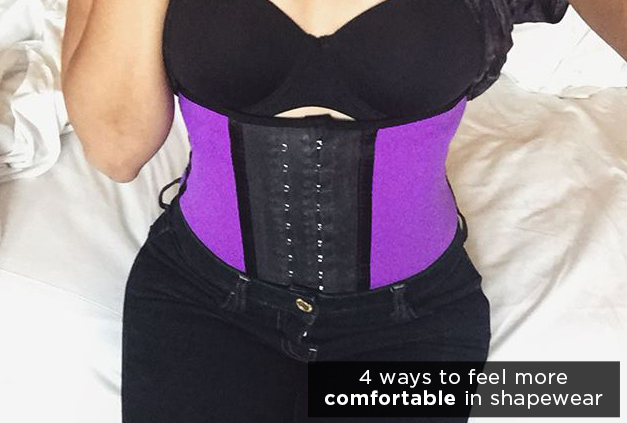 Every style-conscious woman knows that shapewear is a must—whether for work, dressing up, the gym or even casual wear. But is it possible to wear shapewear every day and still be comfortable?
The answer: absolutely! But you can't throw on a high compression bodysuit designed to be worn under formalwear and expect it to feel light and flexible! You have to know what kind of shapewear to wear for the weather, your body type and the occasion.
If you're wondering how to feel more comfortable in shapewear, follow these tips and you can't go wrong!
1) Ensure the Right Fit
The first step to making sure you're the most comfortable in your shapewear is to make sure that it fits correctly. Every garment we sell has been curated and tested for size, so be sure to take accurate measurements. Just as a bra requires a precision fit, so does shapewear.
There are three primary measurements you'll need for shapewear: the bust, the waist and the hips. For the bust and hips, measure the fullest part; for your waist, measure the narrowest. Be sure you use flexible measuring tape made of fabric or vinyl. Lay the tape flat and keep it level all the way around; it shouldn't hang loosely or be so tight that you can't fit a couple of fingers over it. Use a mirror or ask for someone else's help if needed.
Also consider the purpose of the garment when you're measuring. If it is designed to slim the waist, then you only need a waist measurement.
Follow the garment's sizing chart carefully; not all brands are the same! When it doubt, like when your hip measurement is larger than your waist measurement in bodysuit, always go with the larger measurement. Trust us; it is not comfortable or flattering to wear a garment that is too small!
2) Choose the Right Style for Your Body Type
Women come in all shapes and sizes, and so does shapewear. To maximize your comfort, be sure that you're choosing shapewear that is designed for your body type.
If you're petite, you might find that some shapewear is too long and can pinch and poke in places it shouldn't. Be sure to select garments that have a shorter cut at the waist so that you will get the best look and most comfortable fit.
If you're plus size, you may find that some garments just don't fit quite right or don't even come in your size. But don't despair! We carry a selection of garments designed for plus sizes to help you feel sexy, confident and comfortable; look for plus size in the product description.
If you're tall, even if you're not plus size, you may want to look at garments that are designed for longer torsos so that you get more coverage, especially around your lower abdomen. Also look for garments with adjustable features like straps, so that you can alter the length.
Finally, consider your waist-to-hip and waist-to-bust ratios. If you are especially curvy, you may want to avoid certain styles that don't adjust easily, like a vest-style garment with straps that don't adjust. Whatever style you try should fit like a glove and make you feel sexy and confident. You may prefer pairing two garments together, rather than all-in-one solutions.
3) Try Different Compression Levels
Shapewear comes with varying levels of compression. If you want dramatic sculpting and slimming, you'll want to wear a high compression garment. If you prefer some light smoothing, you'll want a light compression garment.
Common high compression garments include waist trainers, corsets and bodysuits. They can be very effective at creating a stunning hourglass shape, but they are more likely to constrict your movement and will make you sweat (waist trainers are designed to do this).
Lighter compression garments include leggings, shaping panties and camisoles. They will smooth out common target areas like hips and tummies and create a smooth foundation for your outfits.
To maximize your comfort, choose garment styles that are appropriate for the occasion as well as the weather. If you're going to be outdoors in casual clothes for long hours in a hot climate, you're probably not going to enjoy being in a high compression bodysuit. But if you want to get a stunning look for a night out, you might opt for something firmer.
It all depends on what your shaping goals are. The more you wear shapewear, the easier it will be to determine what styles you like for different occasions.
4) Break It In
Just like a pair of shoes, some shapewear can take some time to "break in" and get used to. This is especially true for high compression garments like waist trainers. If you're planning on wearing shapewear for a special event, you'll want to make sure that you wear it ahead of time.
Waist trainers especially are much more comfortable if you take the time to get used to them. Start out by wearing one for just an hour or two at a time. Wear it every day for half an hour to an hour more until you are comfortable wearing it for 8–12 hours. Then you can continue to wear it as part of a daily waist training regiment, or you'll be ready for a longer special event like a wedding.
A steel-boned corset is another high-compression that requires an adjustment period. Corsets need to be "seasoned" in order to mold to your shape (this not only makes a corset much more comfortable, be prevents it from being damaged). Wear a corset loosely for a couple of hours a day for about two weeks before you pull the laces tight.
To sum it up, wearing shapewear can be a comfortable experience as long as you know what you like and need in your style and compression level, you have garments that fit and you are well-practiced in wearing them on a regular basis.
Have any questions about choosing the most comfortable shapewear? Ask our expert stylists anything; we'll be glad to help!