Posted by Hourglass Angel on Oct 27th 2020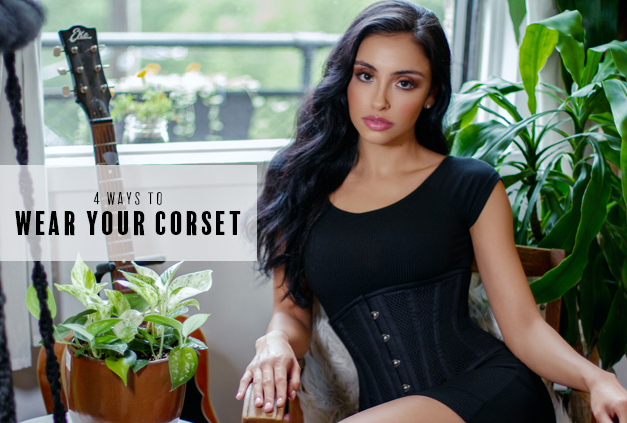 Wearing a corset is a stunning way to create an hourglass figure. It can also help you make a statement with your wardrobe.
We've put together four ways to wear your corset that will turn heads and take your wardrobe to the next level.
What Goes Well with a Corset?
There are two approaches to wearing a corset. The first is as an accessory to your wardrobe. The second is in a practice called corseting, also sometimes referred to waist training.
Corseting is wearing a tight-laced corset daily for several hours. This creates a dramatic hourglass cinch and is designed to supplement your other waist-slimming efforts, like exercise and healthy eating. The more you wear your corset, the more accustomed your body becomes to it, and you can tighten it further.
You can wear a corset with almost anything, depending on what look you're going for. If you're wearing it underneath your clothing and you want to hide it, you'll just want to make sure that your outerwear isn't too sheer or thin. If you're wearing it over a top or dress, you'll generally want to avoid thick or structured fabrics.
Some of our favorite pieces that pair well (over or under) corsets include:
High waist jeans
Contrasting colors
Button down shirts and blouses
Skirts of all cuts and lengths
Pantsuits
Flowing dresses and frocks
Corset Style 1: Hidden Full Coverage
If you want to go all-in with waist training but don't want to show anyone what your secret is, you will love a corset that provides shaping for your whole torso and is easily concealed under your clothes.
The Underbust Cotton Corset by Hourglass Angel HA202 uses flexible steel boning for powerful compression, slimming your waistline into an hourglass shape while lifting the bust and eliminating trouble areas around the belly, hips and back. The cotton makes the garment lightweight, making it ideal for wearing every day under casual, formal and professional clothes.
Wear this piece under a dress to get a stunning foundation for formal looks. You can pair it with your favorite bra to get the exact figure you want.
Corset Style 2: Hidden Short Corset
You don't have to go full-length with your corset to get dramatic results for your waist. A short corset focuses on your waistline and creates an enviable hourglass cinch.
The Short Underbust Corset by Hourglass Angel HA107 provides dramatic compression of your midsection in a comfortable, pliable satin design that's great for wearing underneath other garments. The strong, but flexible steel boning gives your figure a stunning hourglass shape, without any uncomfortable pinching or pulling.
Since the satin fabric slides smoothly under clothes, this is an ideal piece to wear under tops and dresses that accentuate the midsection. Pair it with high-waist jeans and cuts that cinch the natural waist.
Corset Style 3: Victorian Style Outerwear
You can achieve a gorgeous and sometimes edgy vintage look by using a full-length corset as outerwear. This will do the double duty of slimming your whole midsection while creating an enviable look.
The Underbust Mesh Corset by Hourglass Angel HA206 works beautifully under or over your clothes. Since it's constructed with mesh, it's an ideal piece for warmer climates and pairs well with blouses and shirts. The extra hip coverage helps to smooth bulges around your waistline, while the high cut lifts the bust and conceals back bulge.
Try pairing this corset with your favorite button-down shirt or dress for a fun and flirty look, along with jeans and heels.
Corset Style 4: Waspie Statement Piece
A corset with a short cut, also called a waspie, makes the perfect statement piece as outerwear. It is versatile with many styles, making it a must-have for your wardrobe.
We love the Underbust Waspie Mesh Corset by Hourglass angel HA201. The mesh provides better breathability, so you can keep your cool while showing off your curves. It enhances your figure with powerful slimming around your midsection, helping to visibly shrink your waistline.
The sky is the limit when it comes to wearing the cute mesh waspie. Style it over your favorite printed dress for the ultimate statement piece.
How Do You Properly Wear a Corset?
No matter how you style it, it's important to know how to wear a corset correctly. This will ensure that you are wearing a garment that fits well and achieves the best results.
An effective corset starts with a proper fit. When you order your corset, be sure to take a waist measurement first. Wrap a soft tape measure around narrowest part of your waist, which is about two inches above your belly button where there is a natural bend when you lean to one side. The tape should lie flat but not be stretched too tight. Be sure that it is also level.
Once you have a measurement, use it to determine the correct corset size. Our sizing charts are unique to our corsets, so be sure to follow their guidance. If you're in between sizes, we always recommend going with the larger size. Remember, you can tighten the laces to achieve the desired effect.
A lace-up steel-boned corset features clasps in the front and laces in the back. It should be loose when you first put it on. Don't pull the laces tight just yet.
Seasoning Your Corset and Getting Used to It
A brand-new corset needs to be seasoned before you fully tighten the laces. The first time you wear it, gently tighten them toward the middle of your back, as if you were tying your shoes. Pull them tight enough so that the corset sits comfortably, but not so tight that there is much tension.
(Don't like tightening laces? Try the Rapid Fit Fan-Lacing Corset by Hourglass Angel HA208. Instead of tensioning the lacing from the back like standard corsets, you can simply pull on the belts from the sides for a tight, uniform fit.)
Wear your corset like this for an hour or two a day for about two weeks. After that, the garment should be well-molded to your figure, like a glove. Pull the laces as tight as is comfortable.
It does take some time to get used to the feeling of a corset if you're not accustomed to wearing one. One of the benefits of corseting is that you can get used to wearing one all day. If you don't want to wear one regularly but want to wear one for a particular event like a wedding, we recommend working your way up to all-day wear.
Start by wearing your corset with tight laces for just an hour or two at a time. Gradually add time wearing your corset every day until you are comfortable wearing it tight for at least eight hours a day.
Tips for Long-Term Corseting Success
Once you start wearing a corset, you may find that you love the look so much that you'll never want to stop! Here are a few tips for success with corseting in the long run, so that you can look and feel fabulous each and every day.
If you can't decide which of the styles you like best, try them all! Rotate several corsets through your wardrobe. You'll find that having more style options will help you stick with your corseting habits.
Eat nutritious food and exercise regularly. While wearing a corset daily will help you look slimmer while it's on, the practice is most effective with a healthy lifestyle.
Do it with a friend! It's a lot more fun, and you can hold each other accountable.
Be patient for your results. Everyone's experience with corseting is different, and you will see results at different rates.
Try latex waist trainers as well. Even if you're wearing a corset most of the time, you may want to break up your routine. You'll also love the results you get from wearing a workout waist trainer.
If you're not interested in daily corseting, be sure to plan ahead. As was discussed above, it can take time for your body to grow accustomed to the way a corset feels. If you plan on wearing a corset all day with a particular outfit, work your way up to it so you'll be more comfortable.
Do what feels good to you. Need a break from corseting? Take one. Love it? Then keep wearing it to your heart's content!
Track your progress. If you're following a corseting regime with the intent to slim your waistline, take pictures and waist measurements so you can see your results step by step.
Reward yourself. If you're successful with corseting and meet your waist slimming goals, treat yourself with a new outfit or even a smaller corset. This will continue keeping you on track.
We hope you're inspired with all you can do with corseting! If this article inspired you, be sure to share how you style your corset by tagging @hourglassangel on social media.