Posted by hourglass angel on Nov 6th 2016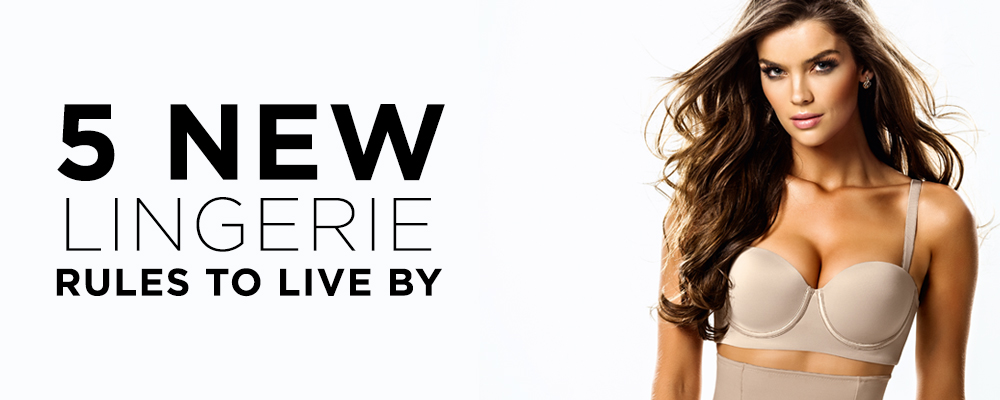 When you take a peek into your lingerie drawer, how does it make you feel? Are you inspired by the possibilities? Do you put much thought into it? Or do you still wear that same pairs of cotton panties that are starting to fringe at the edges?
Even if no one sees what you're wearing underneath, your lingerie is the foundation of everything you wear! Whether you're lounging around at home or dressing to impress, don't you want to look and feel your very best?
Don't just save your pretty panties for special occasions. Know this: beautiful, confidence-building lingerie isn't just about impressing that special someone. It's about feeling sexy simply because you love every inch of yourself! That's empowering to many women, because the way you think about yourself extends to the world around you.
Not only will you feel more sexy and confident in good lingerie, but your clothes will fit the way they're designed to, no matter what your body type.
Oh, and of course, it doesn't hurt to look good in the bedroom too. J
If your panty drawer could use a serious overhaul, we've got five essential rules you should follow to ensure you're doing it right.
Sculpt the figure you really want.
Stop envying the girl with the perfect hourglass figure. As we like to say, be the hourglass. Only a small percentage of women actually have the coveted hourglass proportions—and even those who do can struggle with keeping it all smooth.
The solution for any body type is a shaping bodysuit that slims, sculpts and lifts in all the right places. Need a little boost in your rear? Try an open-bottom suit to enhance your natural curves. Need more support in your bust? Most bodysuits come with an open-bust design so you can pair them with your favorite supportive bra. Use a garment with straps for maximum support. Other problem areas? Bodysuits target your midsection, hips and thighs as well.
One reason that some people like to save bodysuits for special occasions is because some styles make you feel warm. So for a lighter option, go with a hosiery-weight bodysuit. And for bedroom-worthy feminine style, a lacy corselette.
It doesn't matter whether you're dressing for a wedding or want to wear your favorite casual maxi dress; bodysuits are a must-have for creating that smooth and sexy silhouette underneath it all.
Let your panties work in your favor.
Okay, be honest—are you guilty of buying the cheap "pack" panties? You know, the ones that come in five pairs, wrapped in plastic, which you probably found on clearance? They might be comfortable at first, but…are they actually doing anything for you?
While you're pondering that, imagine panties that are so much more than a flimsy layer between you and your jeans. Panties that tuck your tummy and eliminate any possibility of muffin top. After you've tried shaping panties for the first time, you'll wonder why in the world you ever wore anything else.
And contrary to what you might think, these aren't like your grandma's girdles. Shaping panties come in a variety of cuts, fabrics and colors, so you can make them work for your personal preferences and shaping needs. Get them in thong styles and varying levels of compression.
Go strapless with confidence.
Showing off your shoulders can be tastefully sexy—if you do it right. Nothing is more annoying than having to constantly adjust your strapless bra, whether you're in a gown at a wedding or in a tube top at a summer barbeque.
Longline bras, also called bustiers, aren't just for weddings and formals. They provide that extra level of support for your bust as well as tummy-slimming benefits—all in one piece. You can choose a sexier bridal look, or a very functional black or nude-colored seamless bustier that will be your best friend all summer long.
Say goodbye to back issues.
Curvy girls, we feel your pain. Your back pain, specifically. Being larger chested is a challenge when it comes to lingerie because not only is it difficult to find a comfortable, supportive bra, but even when you do you can still suffer from back pain. Larger breasts can lead to more hunching and slouching, which puts pressure on your back muscles.
And one more annoying issue: the dreaded "back bulge." Even if you have a decent bra, the band and straps can dig into your back in an unflattering way.
The solution to these back issues is relatively simple: a vest-style waist trainer. When most people think of waist trainers they focus on the waist-slimming benefits. But your back will thank you too. The compression around your midsection will help you hold your torso straighter with better posture—which can reduce back pain. And the strapped design will provide additional support for your bust. Finally, vest-style trainers provide full back coverage, meaning whatever issues you might have with the back bulge will be completely concealed!
We carry several vest styles—and if you're a curvier girl we recommend the Squeem brand, which comes in plus sizes and has adjustable straps.
Tame your thighs.
Got curves below the waist? Don't worry, we didn't forget about you. The must-have pieces in your wardrobe are shaping shorts. Choose a style that either enhances your butt or helps control from waist to mid-thigh.
Spanx are a customer favorite when it comes to control and slimming your hips and thighs. And if fitness is a big part of your life (which we hope!), then you'll definitely want a couple of pairs of workout shorts that tone and lift. Maybe they're not technically "lingerie" in the traditional sense, but they're a lot sexier than baggy sweatpants!
Whatever your style, body type, or shaping needs, there is a variety of shaping lingerie suited perfectly for you. Keep these rules in mind as you revolutionize your wardrobe from the inside out. And if you need guidance, don't hesitate to contact our customer service team, which is staffed with expert stylists who are passionate about helping women feel confident and sexy.