Posted by hourglass angel on Oct 19th 2015
Versatile Shapewear to Flatter Your Figure at Every Event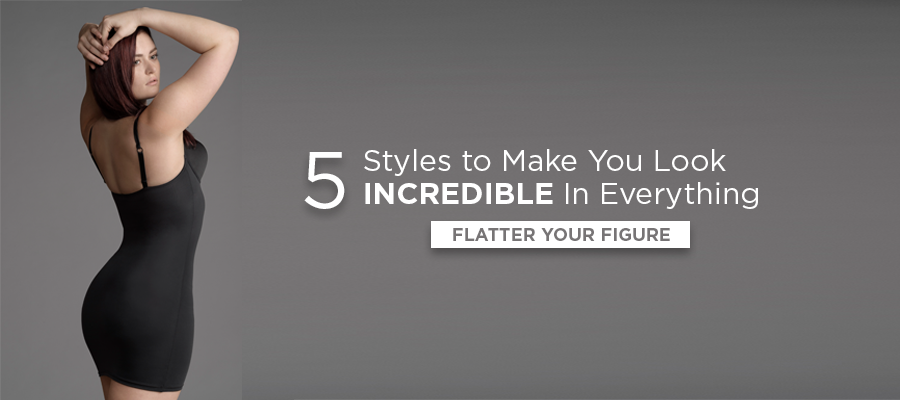 Don't you admire those women who always look good? Whether they're at work, at the gym, dressed casually or even at a wedding, they look incredible in everything they put on. What size they are doesn't matter as much as what styles they use to flatter their figure.
The good news is, anyone can look that good by simply setting the right foundation underneath their outfit. With these five basic yet versatile shapewear pieces you can be prepared for any occasion, any day of the week:
Shaping Slip
From the little black dress to your favorite skirt suit, dressing up is a whole lot easier with one simple piece. The Smooth Solutions Slip by Va Bien slips on easily under just about everything and provides easy to wear control all day long. It features a built-in underwire bra, patented UltraLift technology and a deep, scooping neckline allowing it to be worn under even low-cut fashions.
High Waisted Panty
You're going to be wearing panties anyway, so why not have some that take the guesswork out of dressing? The High Waisted Panty by Amia is one of the most versatile garments you can wear. This everyday essential gives moderate control and smoothing to the midsection, waist and lower abdomen. Perfect for the office, casual wear, or even special occasions.
Waist Trainer
If you've been to the gym lately, you may be wondering about those waist bands that so many women are wearing to look slimmer and enhance their workouts. Waist trainers like the Active Band Waist Trainer by Amia are a must-have for any fitness enthusiast. The Active Band instantly slims your midsection while increasing perspiration at the same time—making your workouts work for you.
Bodysuit
Certain events call for maximum figure sculpting, and that's where a figure-slimming bodysuit comes in. Yet you don't have to sacrifice style for slimming power. The Katia Lace Body Suit With Semi Sheer Thong By Vedette incorporates all of sexiness and femininity of lingerie into a powerful shapewear package. This will be your go-to piece for your formal events as well as nights out.
Short Shaper
Need a little lift in your backside? A lightweight short shaper like the Perfect Butt Thermal Pant by Flakisima is the best choice for tight pants and skirts designed to show off your rear. The open bottom design of this item creates a lifting effect that rounds the butt into a perfect shape. It also keeps your midsection in check.