Posted by Hourglass Angel on Mar 30th 2022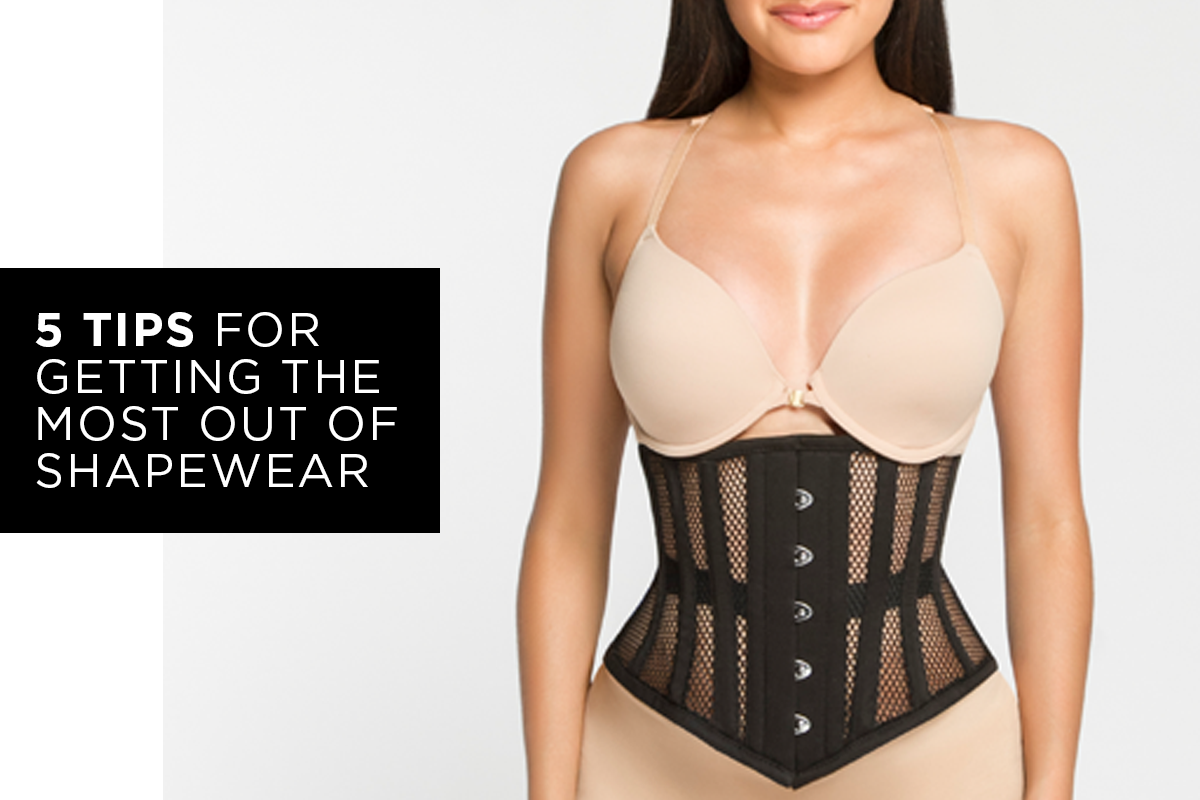 When it comes to wearing shapewear, there's no one-style-fits-all solution. What might be working well for your best friend may produce less than ideal results in yourself. So how do you choose the right kind of shapewear and get the most out of it when you wear it?
You can look your best each and every time you get dressed once you've mastered the art of using shaping pieces in your wardrobe. Here are five simple shapewear tips for getting the most out of shapewear for every body type, size, and occasion.
1. Choose the Right Shapewear Styles
When choosing the perfect shapewear, there are several factors to consider. The first is target area. Do you want to slim your waist? Smooth your thighs? Lift your bust? Create volume in your rear? With careful attention to the right features, you're ensured to get a garment you love that works for your body type and lifestyle.
You can shop your shapewear based on the area of your figure you want to enhance. These include:
Waist-slimming: These garments are designed to flatten your tummy and create a smoother midsection—eliminating problems like muffin top and love handles. You can choose styles like shaping panties with a high waist, waist cinchers and corsets, and combination garments that feature a high waist. Most waist-slimming shapewear is fantastic for everyday use.
Thigh-shaping:Thigh shapers can target the upper thighs all the way down to the knees, depending on the style you choose. They use compression fabric to create smoother, slimmer legs, making pants and skirts fit better and eliminating the appearance of cellulite. Different styles of thigh shapers can also slim the waist and lift or smooth out the rear.
Butt-enhancing:Shapewear that focuses on the rear can lift, shape, and create volume, depending on what you want. Some shapers use an open-bottom design to lift and enhance your natural curves, while others use padding and compression to create the full, round shape you want. Some people also love the sculpting benefits of Brazilian-style butt-lifting jeans, which use unique seaming, stretchy denim, and a high waist to enhance curves naturally.
Bra bulge:Use shapewear with a high back to create more control and conceal the area around your bra strap while enhancing other features. Vest-style waist trainers and shaping slips are examples of shaping garments with this benefit.
All-over shaping:Sometimes you want to pull out all the stops with your shapewear solution. All-over shapers do just that: enhance everything. An all-over shaper can lift the bust, slim the midsection, smooth the back, flatten the tummy, smooth the hips and thighs, and create a firm, round butt. There are some variations based on the style you get, but these types of garments are perfect solutions for special occasions.
2. Rotate Pieces Through Your Wardrobe
No one can have a fully functional wardrobe with just one piece of shapewear. Not only do you need a few pieces so that you can keep them clean and fresh day after day, but different outfits are enhanced by different types of shapewear underneath.
Not only does shapewear target different areas of the body, but it comes with different compression levels. The higher the compression, the more slimming power. While some people have no problem wearing high-compression shapewear all the time, others may sometimes prefer lower-compression materials that are generally more flexible and breathable.
For example:
On the weekends when you're in more comfortable attire around the house or running errands, you might spend more time in a shaping cami or shaping panties to get a smoother look that's comfortable to lounge in.
When you're working out or going about your day, you might follow a waist training regimen.
For work or special occasions, you might want a more dramatic slimming garment like a body shaper or steel-boned corset.
To know what's the right shapewear for any occasion, you simply have to try it! A robust collection of shapewear that you rotate through your wardrobe will ensure you always have something to wear that makes you look and feel great.
3. Get the Right Fitting Shapewear
We can't emphasize enough how important it is to have shapewear that fits you well. Not only will it be more comfortable, but it will work the way it is supposed to and create the stunning results you want. The right fit is essential for having shapewear that makes you look good and doesn't roll down, pinch, or feel too stiff.
While it may be tempting to wear a shaping garment that is too small in an attempt to maximize its slimming power, don't do it! This strategy can backfire. Because shapewear is made with compression material, garments that are too small can create a "spillover" effect, which doesn't look flattering on anyone.
Our carefully curated shapewear has been tested for sizing. Each garment has a unique sizing chart on our website, so be sure to follow our recommendations.
Don't assume that you fit a certain size, as shapewear doesn't line up with standard clothing sizes, and even can vary between brands and styles.
For shaping garments, you may need measurements of the bust, hips, and waist, depending on the garment. For hips and bust, measure the fullest parts on your body, while for waist, measure the narrowest part.
Use vinyl or fabric measuring tape that is soft and can be pulled taught. When taking your measurements, make sure the tape lies flat and is level. It should be pulled tight, but not so tight that it digs into the skin. You should be able to slip a finger underneath comfortably.
When consulting sizing charts, you may find that you're in between sizes or that your measurements don't line up perfectly (waist and hips are different sizes, for example). We recommend always going with the larger size for the best results. If you find that there is a significant difference, you may prefer a garment that is easily adjustable or two shaping garments that are better fitted to each target area.
4. Take Care of Your Shapewear
To get the most out of your shapewear, you'll want to make sure that they last! Like lingerie, shapewear is delicate and needs special care if you're going to keep it clean without damaging the compression material.
Always consult the care instructions on your garment for specific tips.
Do not put it in the dryer or iron it, as heat can damage the materials.
Hang or lay flat to dry, and store your shapewear away from light and heat once it's fully dried.
Some shapewear is best cared for with spot cleaning, such as corsets and waist trainers. Be sure you lay it over a hanger or chair to dry.
Also, take special care when storing your shapewear. It can easily warp or be bent if you just shove it into a drawer. Gently lay it in a drawer or container along with other delicates, or hang it in a closet (but don't let it get smashed!).
5. Replace Shapewear When You Need To
Nothing lasts forever, including shapewear. If your favorite shaping garment just isn't performing the way it used to, this is a sign that it's time to retire it and replace it with something fresh.
There are a few reasons shapewear might be ready to retire. Sometimes it just wears out, especially if you wear it often. If the compression seems to be weaker, or if there is stretching or tears, this is a sign that it has lived its life.
If shapewear that used to fit right doesn't work for you anymore, don't be ashamed to let it go, even if it seems to have some life in it. Your body changes shape with life stages. Maybe you're even ready to size down after weight loss, and that's a reason to celebrate!
Sometimes you might just have a garment that just didn't work for you in the long run, and that's okay too. You don't know if something will work well for you unless you try it for a while. If you have a robust collection of shapewear, you'll start to discover your favorites. Get more of what works for you and get rid of what doesn't, and you'll be happier every time you get dressed.
When it is time to replace old shapewear, be sure to invest in quality garments that fit you well, for every occasion that you need. These tips for getting the most out of your shapewear will ensure you'll have exactly what you need, when you need it.
If you're looking for the perfect shapewear to complete your wardrobe, for work, for play, for dressing up, and more, be sure to check out our signature shapewear collection for every size, shape, and occasion. Contact us if you need help, and our experts will happy to direct you!