Posted by Hourglass Angel on Jun 10th 2021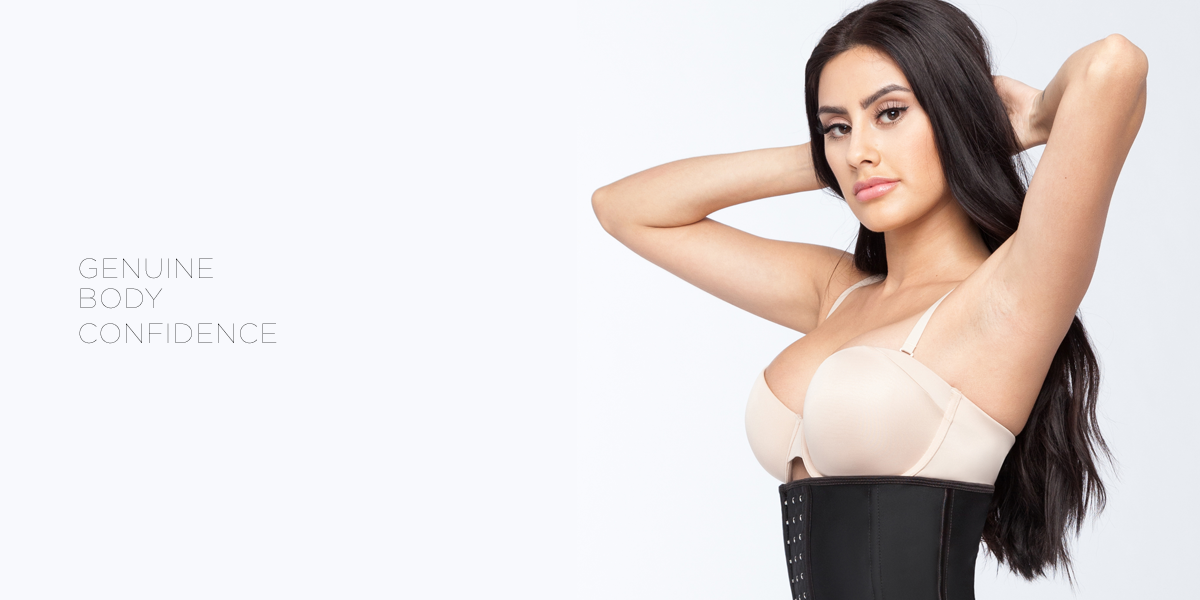 The reasons why women wear shapewear have evolved with our times. Fortunately, the era of inflexible design and uncomfortable material is behind us, as well as the view that there's only one ideal shape that defines true beauty.
In truth, every body shape is worthy of being celebrated! We want you to be you—happy and living your best life, with all of your gorgeous originality and uniqueness shining through.
That's what's so great about today's shapewear—it can help you feel more confident and comfortable in your own skin. And don't we all want that authentic, inner-beauty glow to show?
So how can shapewear get you to that true body-confidence state of being?
Here are 5 wonderful ways …
1. Boosting Your Self-Esteem – Instantly
Often when we slip into shapewear and take a look in the mirror, our self-confidence is amped up automatically. It's one of the biggest benefits of wearing shapewear!
Whether we're getting ready for work, a night out with friends, or a first date, the instant smoothing of your silhouette and enhancing of your curves gives you a mood lift. It reminds you that you really are going to rock the day (and night) ahead.
And where do all of those good feelings get you? Everywhere!
There really is power in positive thinking and in boosting our self-esteem.
With confidence, we become better equipped to handle stress. Staying balanced when the pressure is on is what gives us a calming presence and helps us go with the flow of life. Soon we see success in work, relationships, and more.
So often, the right shapewear can give you the boost you need for renewed confidence, helping you tackle the day with an unstoppable attitude!
2. Keeping You Comfortable
For many women, comfort isn't the first thing that comes to mind when they think of shapewear. But today's shapewear styles can actually help you feel more at ease in your favorite clothes and fit comfortably, too.
Maybe you love your new dress, but its cut is more fitted than you've worn before. Or maybe your go-to pants suddenly don't fit like they used to. The right shapewear pieces can allow your favorite styles to fit like they were designed to, highlight your gorgeous curves, and turn a so-so look into a stunning head-turner.
At Hourglass Angel, we want you to physically feel as good as you look, which is why we offer only the most comfortable shapewear, made with with flexible fabric and construction, available in a variety of compression levels to choose from.
Here are our tips to finding the most comfortable shapewear styles for you online:
Take your measurements: Accurate measurements of your bust, waist, and hips will help you navigate the shapewear size and fit charts to find the best size for your figure. Use a flexible measuring tape, and wrap it around narrowest part of the waist and fullest part of the bust and hips, neither too loosely nor too tightly.
Choose the compression level that matches your desired look: If you're looking to see significant slimming and shaping, select a higher compression-level piece like a waist trainer, bodysuit, or corset. If more subtle smoothing is what you want, go for a shaping panty or leggings that offer lighter compression.
Consider your body type: For tall body frames, shapewear styles with adjustable straps and closures, or styles designed for longer torsos will offer the most comfortable fit. Styles that are cut shorter at the waist are best suited for petite silhouettes. And if you're plus size, you'll find a selection at Hourglass Angel sized for you that will offer the best fit and the best results—plus keep you comfortable all day every day.
So, say good-bye to constricting and uncomfortable fits that distract you from enjoying your day. Find the right fit for you and feel beautiful and at ease in your clothes, from casual weekends to formal nights out.
3. Motivating You to Tackle Your Slimming Goals
Really good shapewear helps you see what a smoother, firmer shape your diet and exercise plan can bring. Whether it's a body shaper, girdle, or butt lifter, shapewear enhances what you've already got, showing the potential of wonderful results that are possible.
It's not always easy to make lifestyle changes and stick to them. But it's often said that setting measurable and attainable goals is the path to success. Our shapewear literally gives you the physical look of those goals! It can help you know what to work towards and how great it's going to feel to get there.
So, while you're incorporating your slimming plan into your regular routine, keeping track of your progress, and rewarding yourself for your accomplishments, shapewear will keep reminding you how worthy your journey is and why you have every reason to feel confident!
And that leads us to number 4…
4. Supplementing Your Slim-Down Plan
Compression shapewear's hidden super power is that it stimulates heat and helps you sweat more during workouts. And that makes your workouts (even less intense ones) so much more effective!
So not only do compression tops, shaping leggings, and waist trainers help you look amazing while you work out, they also help you maximize your exercise routine every time.
Workout waist trainers and bands are especially beneficial to wear during intense exercise. Designed to be more specifically worn for workouts than regular waist trainers, their smart construction, fabrication, and ingenious flexibility stand up to intense perspiration and vigorous movement. You can always wear them under your workout clothes, but many are designed to look great on their own as well, in vibrant colors with flattering paneled construction.
So not only do workout waist trainers give you an instant hourglass shape, flatten the belly, and make a muffin top disappear, they prompt thermal activity in your core, making you sweat more where you want the slimming results, even during lower rates of activity. If you do strength training and cardio, in degrees from low to high intensity, plus follow a balanced whole-foods diet plan, you'll be on track for a healthy slim-down journey.
New to a waist training routine?
TIP: Take it slowly in the beginning and wear your waist trainer for only one or two hours at a time. Eventually you can work up to wearing it from eight to twelve hours a day. This gradual process helps you get used to the feel of the waist trainer, as well as allows the garment to break in gradually.
Workout bands can act as an integral player in your slim-down strategy of a nutrient-rich diet and balanced exercise routine, all the while smoothing and contouring your shape for a silhouette that looks 1, 2, even 3 sizes smaller!
5. Supporting Better Posture
Compression shapewear that firmly targets your torso helps you tuck in your tummy and stand up straighter while you wear the garment. Waist trainers especially help you come into the natural alignment your body is meant to hold.
So how does better posture help you feel better about yourself? So. Many. Ways.
Confidence in your own thoughts: A 2009 study by Ohio State University found that upright posture can lead to us being more certain of our own thoughts and opinions. Being grounded in how we see ourselves and our feelings is definitely the recipe for success in work, personal experiences, and life in general!
More energy: When we have good posture, the muscles around the spine don't have to work as hard as they do when we slouch—they are all in balance and supporting our back equally. Since none of our muscles are stressed or overtaxed, we experience less fatigue and are more energized. And when you experience more energy, you feel like you can take on the world!
Easier breathing: Poor posture can lead to our lungs becoming compressed, but when we sit or stand up straight, we can fill our lungs to capacity and take deeper breaths. Deep breathing causes a physiological response in our bodies that is calming, can lower blood pressure, and increase the flow of oxygen to the brain. All of that results in a clearer mind and reduced anxiety, and there's no better feeling than that!
Taller appearance: Good posture lengthens your silhouette, so you stand taller and can appear slimmer. It can even have the effect of making your torso look more defined. So basically, shapewear and good posture work hand in hand.
Not only does compression shapewear help you sit up straighter, stand up taller, and take on more confidence, but it also helps you attain better form during workouts. Just one more benefit to getting the most out of your slim-down strategy!
What does shapewear do to YOUR body?
Shapewear can affect your body confidence in so many positive ways—from raising your self-esteem when you look in the mirror to boosting your physical and emotional comfort levels…from motivating and supporting your slim-down plan to helping you hold better posture. Shapewear can even help new moms get through those first months postpartum while their bodies get back to what they were pre-pregnancy.
Ready to claim your body confidence but still need help finding the best fit for you? Shop now or reach out to our expert stylists who will guide you to the right styles for your specific figure and shaping needs.