Posted by Hourglass Angel on Aug 29th 2021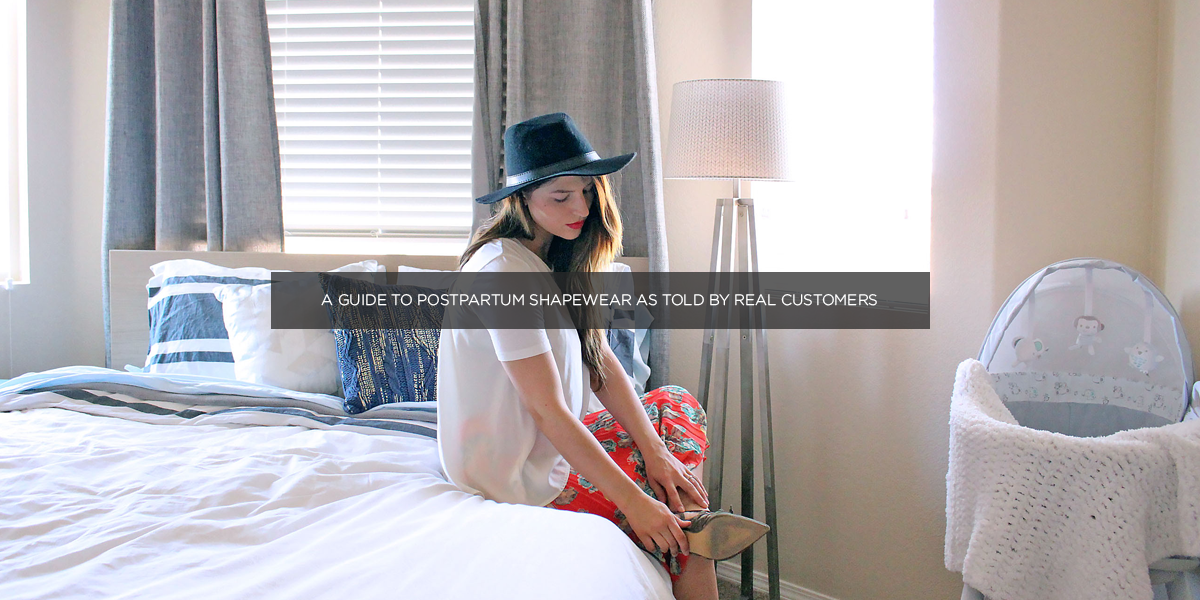 As a new mom, there's so much to be happy about, but so much change as well. Suddenly you have a new routine and a new way of life, while often functioning on significantly less sleep.
In addition, since hormone levels drop right after giving birth, many new moms can feel stressed, anxious, or depressed for the first several months after afterwards.
On top of all that, your body isn't what it was pre-baby, and it can take a while to return to its original size and shape.
But here's what's most important! Your body is a thing of beauty, and it produced a baby! Your current shape—as well as any stretch marks—deserve to be celebrated for contributing to the miracle that has just taken place.
Getting your body back shouldn't be a worry or add to stress at this special time in your life. That's why we wanted to give you a resource for everything about waist training postpartum, to ease you back into a slim-down plan that helps you feel great and gain body confidence.
Throughout this post, you'll find amazing tips and testimonials from other new moms on how they found success using post pregnancy shapewear, plus some guidance from our experts on how to achieve the best results.
Inspiring Results from a Proud New Momma …
"Love it! I had my forth baby. Six month later had to have surgery. Six months after that I decided to try a waist trainer. This has been very good for me. It has helped stablize my core, helped control my bloating and help reshape my core. I have lost 9in and 6lbs in two weeks. Wearing this 8hrs a day, nutrition Nd workout. Great product, true to size and good quality." Jessica V.
Before we dive into postpartum waist trainers, it's important to remember that your body just did an incredible thing, and it can take time to get your tummy back to being sleeker, firmer, and more toned.
So, patience is key!
First, here are several things you can do to support your body while you take your time to heal and gradually introduce waist training:
1.Include healthy fats and proteins into your diet. Foods like avocado, fatty fish, whole eggs, and nuts help you build muscle. Some proteins include collagen which is great for your skin after giving birth. If you're breastfeeding, a protein-rich diet is very beneficial.
2.Drink plenty of water. This simple thing is so good for your body—drinking water helps you burn fat and even reduce water retention in the belly. It helps build back elasticity in your skin and keeps you glowing and hydrated.
3.Nap when your baby does. If possible, try to snooze when your baby naps because physical recovery is the priority. Getting sleep will also help with metabolism and will decrease cravings.
4.Breastfeed. Even though your body needs extra calories while breastfeeding, you will burn a lot of calories too. Your body's process of making milk is what takes energy and does the actual calorie-burning.
5.Start a regular exercise routine after at least six weeks. Always ask your doctor if the timing is right for you to start physical exercise postpartum, but once you have the ok, taking short walks is extremely beneficial, as is swimming.Pilates or yoga can help with strength and flexibility, and strength training will increase metabolism. We'll talk more below about the benefits of wearing waist trainers while working out.
Love to see it! …
"LOVE IT! I literally just bought this a month ago! I also had a baby 7 months ago. I bought a size 32 and already need a 30! Love the durability of the product! Can't wait to get my new one!!!" CMLeal
What Postpartum Waist Training Achieves
Lots of new moms include waist training as a component of their healing and slim-down journey in the months after giving birth. The term "waist training" simply refers to wearing a waist trainer or corset with high-compression design that instantly gives you support and a slimmer shape.
For the best results, we recommend wearing a waist trainer every day, for about 8 hours a day starting at 12 weeks postpartum. It's important to work up gradually to this consistent length of wear time.
This consistency is important because when you incorporate waist training along with your other healthy postpartum practices, it can be an effective supplement to your slim-down plan, help build your body confidence back up, as well as support the super-important healing process.
Looking fabulous in postpartum shapewear!
"Love it. Go get it!!!! I love this product. After having three babies. I am finally seeing my waist again. And I am not even working out." Tamika W.
The Benefits
Here's how waist training and other shapewear can contribute to your post-partum journey:
1) Recovery
"Belly binding" after giving birth is a practice that's been around for centuries and has been used as an important way to support the body's postpartum recovery and natural healing.
Waist training compression stimulates heat and blood flow through the abdomen, which can supplement the body's natural recovery processes for damaged tissue and excess fluid.
Providing compression around your belly also helps support any loosened ligaments and muscle retraction in the abdominal wall.
It also supports your pelvic floor and lower back as you get used to your body again post-pregnancy.
2) Confidence
Waist trainers lift, smooth, and slim your silhouette, as well as help your clothes look their best on you. Getting that confidence boost every day is a crucial part of staying on track with your slim-down journey and maintaining a healthy attitude during what can be a stressful time postpartum.
When we love what we see in the mirror, we can feel unstoppable. It gives us a sense of positivity and can even help us feel energized.
Feeling good about yourself just makes life easier—even post-partum recovery seems less daunting.
3) Motivation
Waist trainers and corsets do a very important thing—they help you visualize your goals because you can literally see your slimmer shape in the mirror. When you can see what is possible to achieve, your goals start feeling more attainable, and this can be super motivating and helpful when you have so much on your mind postpartum.
Many waist trainers and corsets boast adjustable closures like hook-and-eyes or Velcro®. How does this help motivate you? As you continue to slim down in the months after giving birth, you can keep adjusting your shapewear and your goals! Yes, waist trainers will help you move even beyond your original goals.
Another great success story …
"I'm in love! This is my first waist trainer and I am already blown away! Let's first talk about the shipping. I'm in the military and am currently deployed. Yall, this baby got here QUICK! There was also an issue with my weird deployment address and I received an email the day I ordered it to get the address sorted out. I really appreciated the quick one on one communication to get the issue resolved. After it arrived I took it out if the package and was so thrilled about the quality of the product! It's very sturdy material so you know its gonna keep you in there! I squeezed into it and was ecstatic about how comfortable it was! I've already had it on for 5 hours with no discomfort, I've even worked out in it! It moves with you flawlessly while also keeping everything right where it needs to be. The size chart indicated that I needed a medium but I'm right there on the edge of needing a small so I went ahead and ordered that instead of the medium. As I mentioned before, it was a bit of a squeeze getting into this bad boy but let's be honest..that's what these are for =) I noticed an immediate improvement of my posture which is an added bonus to looking slimmer and feeling more confident. I'm excited to see what results I'll have with the combination of this trainer along with my working out and eating well. Bring on those curves!!!!" Sara
When Should You Start Waist Training Post Baby?
The most important thing to keep in mind about the timing of postpartum waist training is to get the approval of your health care provider.
Also, check in with yourself to see if you really feel comfortable and ready. As we've said above, patience is key. Taking it one day at a time is crucial, and there's never any reason to rush things as you recover from one of your most amazing accomplishments!
When you are ready to begin waist training, we recommend just gentle compression throughout the first six weeks, starting with an hour at a time. It's best to choose a shapewear garment that's super easy to adjust, and you may want it in a larger size because your belly retains fluid and can be swollen during this time
"Bye-Bye Baby Body - One month postpartum from giving birth, wanted a little help getting rid of extra belly and to tone as well. Fits great, at first was skeptical because it was a hassle to get on but must say this, don't give up. Lol work it on and wear at least 5-10 minutes before just tossing the whole idea of this waist trainer out the window. So don't be discouraged. Be Fierce!"
How to Adjust Your Waist Training After Six Weeks
Once you've passed the six-week mark postpartum, retained fluids have been released and your organs have returned to their natural positions. This can be when you're ready for the next stage in waist training.

Here's what you can ease into next:
More compression. You may want to adjust your waist trainer to be tighter or try a smaller size or a higher-compression garment.
Start a regular waist training routine. This is a transition from your gentle compression of the first six weeks, so start slowly with just a few hours of high-compression waist training a day. You can gradually add 1/2 hour of wear each day so that by around 12 weeks postpartum, you're able to wear it the standard 8 to 12 hours a day.
Wear your waist trainer while exercising. If your doctor has given you the go-ahead, you can slowly and gradually start to exercise and wear your waist trainer during workouts. This will help you get the most out of your exercise routine by stimulating heat in your core which helps you to sweat more. It also helps you maintain good posture during workouts. If you're not ready for intense exercise, no worries—you can simply wear your waist trainer around the house or during walks with your baby.
Yaassss! …
"Enjoy this trainer. I've been waist training for 3 years now. This is the first trainer since having my baby so I got one with softer material and very impressed with the quality." Mercedes O.
Safety First
More than anything, we want you to be safe during your months postpartum, so please remember these important tips:
Always consult your doctor if you have any concerns about how to incorporate waist training into your specific postpartum journey.
Choose shapewear that's the right fit for you. We offer size charts specific to each garment so you can find the perfect style for your body. If you're in between sizes, please select a size up. Compression shapewear is never meant to cause pain or restriction in breathing—that would indicate the style you're wearing is not the right fit and size for you.
"Slowly but surely" is your motto! Do not try a high compression garment for an extended period of time right off the bat. Start with gentle compression for very short periods of time and build your way up.
"This is awesome! I bought this to help with my posture and my post baby pooch. I have only been wearing this for three weeks. I bought the size large, I'm 5'6" and a very athletic 160. I couldn't lose the tummy. I am already using the smaller setting on that size and plan to buy the medium soon. It works, I am sitting differently and can see the results when I put on clothes." Deborah W.
Bonus Recommendation: Firming Up Your Skin
Many new moms experience stretched-out skin in the months following childbirth.
When your waist-training regimen is in full swing, try out our specially formulated Amp Up Your Curves waist training gel that helps smooth your skin and return it to its original glow. Its clinically proven body-contouring ingredients target toxins and fat deposits and stimulate microcirculation, so it's the perfect product to pair with the compression and thermal heat your waist trainer provides.
"LOVE this! Best shaping band I've ever come across. The workmanship is EXCELLENT. I've purchased so many shape wear over the past couple of months (recently had a baby) and nothing compares. Sqeem brand doesn't stay in position and the wires feel like they are going to rip out... Ann Cherry band has amazing reinforcement. I have an amazing posture, my shoulders and back do not hurt at the end of the day and of course I have an AMAZING hourglass figure to complement it all! Totally worth the money. Can't wait to loose some weight and get into a smaller size. Thank you so much for providing a great product made of great long lasting material" Aisha
Want more guidance in finding which waist trainer is for you in your postpartum journey? Reach out to our stylists for any needed info and support now!