Posted by hourglass angel on Oct 9th 2016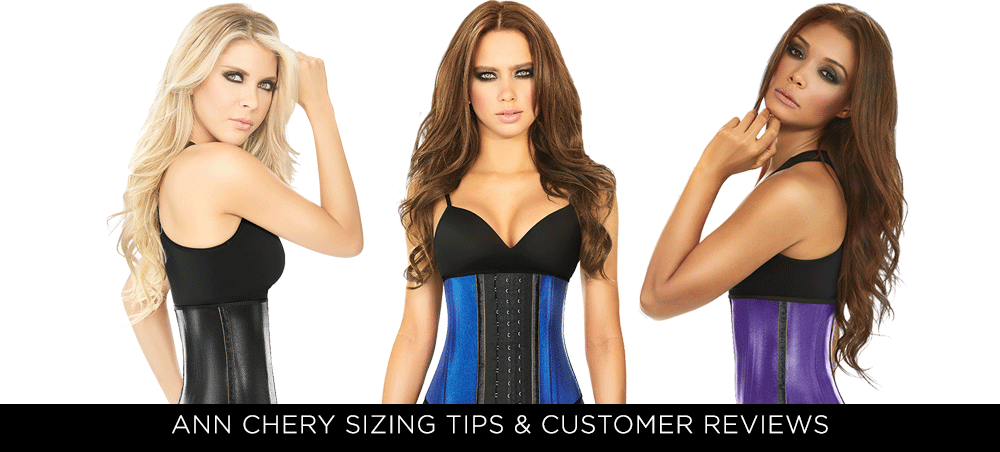 Ann Chery waist trainers are some of our most popular waist-cinching garments, and it's easy to understand why. The Ann Chery brand uses quality material and construction to produce waist trainers that provide the strongest compression—not to mention, they are some of the most stylish that you can find.
That said, because of the high compression of Ann Chery garments, it is very important to find the right size in order for a waist trainer to fit well and produce the best results. We thought it would be helpful to examine some of the common sizing issues with these popular waist trainers. Below are real reviews from real customers, along with some tips on how to avoid the same issues with your order.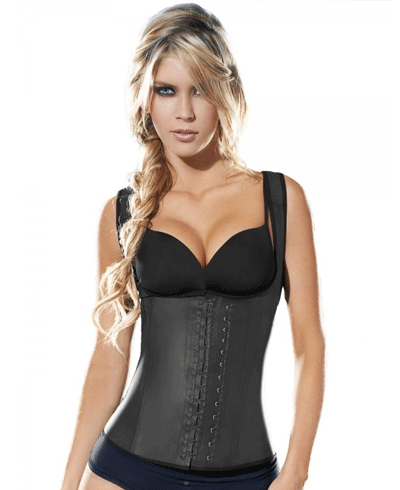 Reviewed: Ann Chery Latex Waist Shaper Vest 2027
"I took my waist measurement and went by the chart. The only place it was tight was on my ribs and way to loose in the back. On the up side boy did it make me sweat so I will be using it for the gym. I'm extremely curvy so I think no matter what size I get it won't be able to fit my ribs and small waist so I will purchase a real corset. For ladies who have a larger belly I think it will work great to pull everything in." –Shawna baby
We love this honest assessment! This customer is correct: if you are very curvy, a typical vest-style waist trainer might present some fit issues. Fortunately, the solution is quite simple! Order a vest with adjustable straps like the Ann Chery Semichaleco Faja Reductora 2028 and the problem should disappear. While you could go with a strapless cincher or corset, you might not get the same support that you would with the straps.
As a side note we'll also add—yes, any waist trainer will make you sweat (that's how it works). BUT, we also highly recommend that you only use a workout band designed for high intensity so that you won't damage the material.
Reviewed: Clasica Latex Waist Cincher by Ann Chery
"I wear a 32D bra size and a size 26 jeans and the size guide did not help me purchase an accurate size for myself. I will have to exchange." –Rosa
When sizing for a waist trainer, it's important to understand that the most important measurement is your waistline. (It would be helpful if we were all the same cooker-cutter shape, but we're not -- and it's beautiful to all be different, right?) So don't worry too much about your hips and bust measurements, because with a strapless waist trainer like this one, they don't really matter.
For an accurate waist measurement, use vinyl or fabric measuring tape and measure the natural waist. This is typically about two inches above the belly button, where there is a natural bend when you lean to one side. Make sure that the tape is level with the floor and isn't pulled tight. It should rest as flat as possible on your skin, but you should be able to fit a finger underneath.
Sometimes you might find that your waist measurement lands you in between sizes. In this case, we always recommend using the larger size instead of the smaller size, for the best results.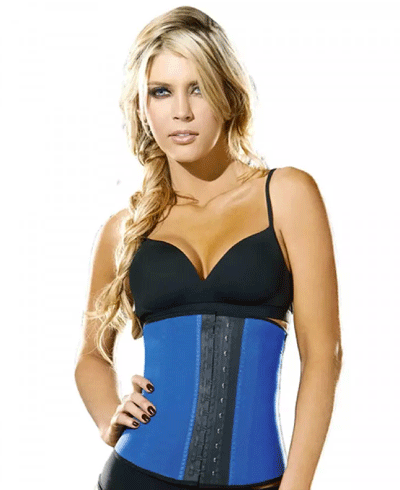 Reviewed: Workout Waist Trainer by Ann Chery
"I bought this item thinking that it will fit. I am a plus size woman. My size is 40 waist. It fit around my waist but I was bulging at the top and bottom. Would love this item if it was longer. - Lady Millz
It's important to know that most workout bands are typically shorter styles of waist trainers. This allows for more freedom of movement during exercise. While this works great for many sizes, it can create problems if you are plus size or very tall.
While the waist measurement on a shorter trainer like this one might technically fit, it's important for you to take note of the length of your torso. If you are taller than about 5'8", we recommend looking into a waist trainer designed for the longer torso, like the Long Torso Sporty Exercise Band by Caribbean Shape 9490. This waist trainer also happens to come in plus sizes (up to 4XL), so it should have you covered.
If you're unsure about your torso length, you can also take a torso measurement. Find someone to help you as you run measuring tape full circle from your shoulder at the neck, over the fullest part of your bust, down between your legs and back to the starting point. See the chart in this article to determine if your torso is longer than average.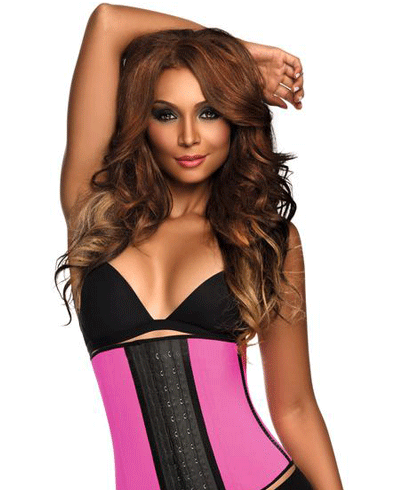 Reviewed: Faja Deportiva 3 Hook Workout Waist Trainer By Ann Chery 2023
"I'm disappointed. It doesn't fit. I tried to force it and the hook broke. I'm sad I wasted my money." - AshaNtim
Oh no! We hate to hear stories like this. One way to prevent this from happening, remember to never, ever force a garment on! It can be tempting to do it because you know a waist trainer is supposed to be tight. However, the hooks are not invincible, especially if you stress them beyond their capacity.
Keep in mind that if you order a garment and it doesn't fit, we have a very easy exchange policy. Our 100% guarantee ensures that you can return unused items in their original condition and packaging within 30 days for a free exchange or prompt refund. We'll repeat that: we have a 100% guarantee that you will find the right size (at no extra cost if you have to exchange an item). See here for more instructions about exchanges and returns.
Reviewed: when sizing works out perfectly…
"The size chart allowed me to pick the right size. Fit perfectly. Combined with the high quality and quick shipping - hard not to love the purchase. Took about an inch or so off my waist and took me from a boy figure to one with some shape/curves. All my clothes fit better with it on and it didn't show through which was one of my fears. Will likely buy another one someday." –MJ9J
We want this to be everyone's experience! While everyone's body type is different, we test all of our products in order to produce customized sizing charts—so you can be pretty confident that what you order is going to be the best fit for you.
To ensure that we get your sizing right, be sure to follow these tips:
Take accurate measurements. Remember that the waist measurement is the most important when it comes to waist trainers. Measure your natural waist, keep the tape level with the floor, and don't pull it too tight.
Follow the custom size charts for each garment. Don't simply go by your dress size, pant size or bra size. Note that different brands will differ in sizing, even though the products are very similar. Remember, with high compression garments like those manufactured by Ann Chery, a precision fit is very important. When in between sizes, always go a size up for the best results.
Consider any unique characteristics about your body type. Are you very curvy, plus-size, tall, or short? You'll want to do your research and find the best option for your needs. Curvy women may enjoy the extra bust support that a vest style provides (remember about adjustable straps if necessary!). For shorter torsos you might want to stick to a sporty waist trainer, while there are specially designed waist trainers for longer torsos and plus sizes. Here are recommendations for long and short torsos, and here is our plus size collection. If you need more specific recommendations, you can always contact a stylist on our customer service team. We're happy to help!
Read the reviews. These can help you identify any sizing issues you could potentially encounter. Look for reviews that provide very specific information about what worked and what did not for the most helpful advice.
Try your garment on carefully. Remember, you shouldn't have to force it. Waist trainers in particular can be a little tricky to put on if you're not used to them. Fasten them from the bottom up, holding the hooks above your waist. As you work your way up the row of hooks, slide the waist trainer down over your midsection. It should feel very tight, but you shouldn't experience any pinching or discomfort. In order to return it in its original condition, make sure you don't keep it on for more than 5–10 minutes.
We hope you found this discussion helpful as you try to find the best size. When the fit is right, Ann Chery waist trainers definitely do not disappoint! Thanks to all of our customers for sharing their honest feedback—it truly helps us to better understand how to meet your needs and serve you best. In fact, if you've never left a review, please do so! You'll help us help others to find their best fit too.