Posted by hourglass angel on Sep 8th 2017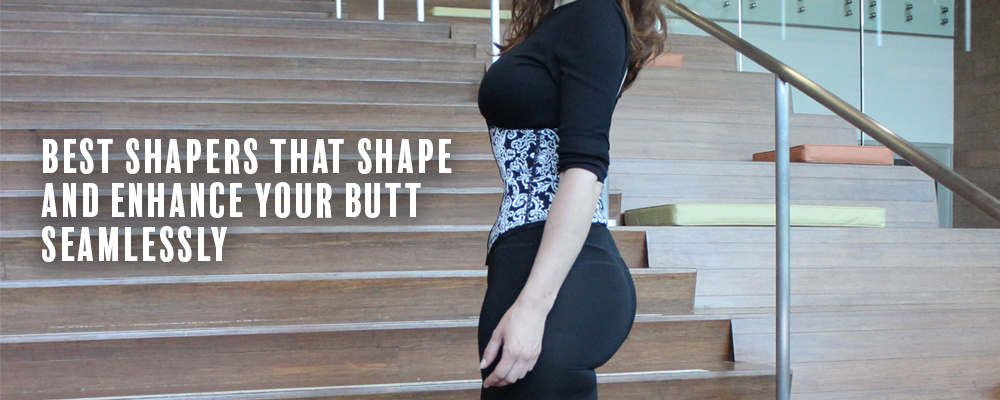 Want a great butt? Who doesn't!
While we highly recommend having a butt-enhancing workout plan to help you with that, you can also get a round, full and smooth rear by using the right shapewear.
There is a wide variety of butt-enhancing shapers available, and what is best for you depends on several factors, including your natural shape, the results you desire and the occasion you're dressing for.
Here are four types of butt-enhancing shapers and some of our favorite recommendations that will give you a seamless finish. For the best results, we recommend having several shapers that you can have ready in your wardrobe so you'll be best dressed for any occasion.
Shaping Panties
We've heard many people say that once you try shaping panties, you won't want to wear anything else. It just make sense: you're going to be wearing them anyway, so why not choose a pair of panties that lifts and rounds your butt? Many styles also create a slimmer, smoother midsection, in addition to lifting your behind. Choose from panties that enhance with padding, or for a natural look you might try and an open-bottom design.
For effortless, natural enhancement of your backside, we recommend the Butt Lifter Panty by Fullness. It is comfortable and easy to wear and comes in three different levels of enhancement—making it no-brainer solution for everyday wear or for special occasions and nights out. Adjust the straps based on your mood and the occasion you're dressing for. The high waist design also flattens and slims your midsection for a smooth, hourglass silhouette. This style of panty pairs well with skinny jeans, skirts, shorts and dresses, as it enhances your natural curves with an open-bottom design.
Don't just take our word for it. One customer said, "Am using this daily. Makes me look great in my jeans and dresses!" As we said, once you find a butt-lifting panty you like, you won't want to wear anything else!
Shaping Shorts
For a little extra smoothing and sculpting, shaping shorts might be just what you need. Most styles come in a high-waist slimming design that prevents muffin top and flattens the tummy. As with shaping panties, butt-enhancing shaping shorts can enhance your rear through a combination or a selection of padding, stitching and an open-bottom design. Some are designed for workouts and others are ideal for everyday wear. Pick yours (or more than one!) based on your personal needs.
Our recommendation for simple and natural butt enhancement is the lightweight Perfect Butt Thermal Pant by Flakisima. It combines control and comfort with maximum curve creation with its stunning open-bottom design. The hosiery weight makes it comfortable enough year-round, making it ideal for a variety of styles from summer dresses to your favorite tight pants. It also uses a thermal tummy control panel to provide extra slimming and stimulate thermal activity in your core with it targeted compression. Once customer said, "This is the best I've tried so far. Looks so beautiful in dresses. OH MY GOODNESS! You will be amazed! unlike some that show the seams... no.. these do not."
The thermal pant is ideal under a variety of outfit styles, both formal and casual. It is a seamless design, which makes it ideal even under light materials.
Bodysuits
When you're needing all-over slimming, sculpting and enhancement, a bodysuit can do just the trick. There are a variety of styles you can try. Some of the options you may want to consider include compression level, type of coverage and enhancement, whether or not you want straps, and how much butt enhancement you desire. Most bodysuits have an open-bust design and pair well with your favorite bra. If you're on the fence about whether to try a bodysuit versus a shaping slip, bodysuits generally provide more butt lifting and enhancement.
Hands-down, when it comes to butt enhancement one of our favorite bodysuit selections is the Alexandra Butt-Lifting Shaper by Vedette. You can feel confident in your own shape and skin with the open-bottom design. It is ideal under dresses, skirts and slacks. While it naturally firms and lifts the butt, it also provides firm slimming compression for your waist, hips and thighs. You might easily fit into a smaller size outfit (although that depends on how tight your outfit is around the butt!).
This bodysuit is not only effective at creating an hourglass figure, but it's comfortable. It uses a cotton inner lining that feels soft and cool against the skin—which you'll definitely want for all-day wear. As one customer said, "This is exactly what I was looking for! Great quality shaper, very comfortable, after having a baby my body hasn't looked the same as it did but with this shaper I really gained some self esteem!" We're so glad to hear it!
Leggings
No wardrobe is complete without a few pairs of leggings, and shaping leggings are a convenient way to combine sensible, comfortable style with figure-enhancement. We love leggings because of their versatility; they can be used for casual or dress-up attire, and are especially comfortable and effective during workouts. They're a go-to style choice year-round no matter where you live!
For everyday wear and powerful figure-sculpting we highly recommend Vedette Rachel Shaping Leggings. These are a perfect combination of form and function, as they can be used as shapewear underneath dresses and skirts or add an extra layer of warmth under your favorite denim or slacks. Their design utilizes a combination of cotton, rubber, latex, spandex and nylon. The result is compression throughout the pant that slims the waist, hips and thighs while rounding and lifting the butt. Grab your pair in black or nude, depending when you want to wear them.
To sum it up, there's really no reason you can't have a great butt, no matter your body type. Which style of butt-lifting shaping do you want to try? If you have any questions, especially about styles and sizing that are ideal for your needs, our expert stylists are available to make recommendations just for you. Also be sure to check out our other articles on butt-enhancing shapers and apparel on our blog.