Posted by hourglass angel on Mar 29th 2012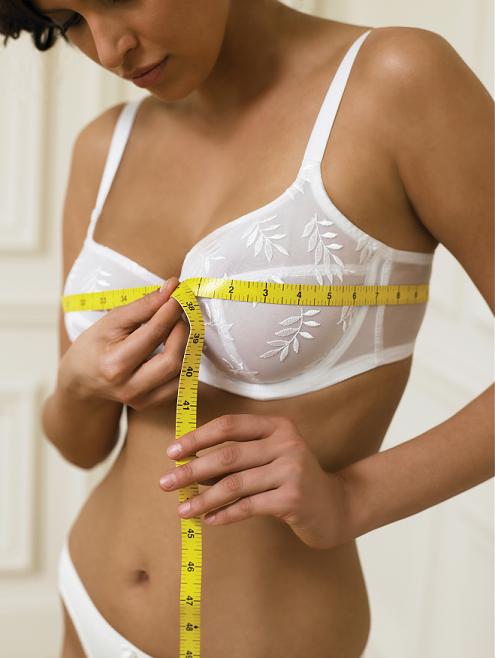 At this point it is widely known that many and even perhaps a majority of women wear the wrong size bra. This fact, while often stated, is rarely actually addressed. How do you even know if we're wearing the wrong size or type of bra for your body shape? There are so many styles and options when selecting a bra that we may fear making a mistake and choosing the wrong bra. It's important to remember that picking the right garment for you is an art, not a science. And while there are tools that can help you begin the process, the key is actually putting on the bra and seeing how it fits once you think you have a winner.
So let's start with the basics. You'll need a measuring tape to get started. Pull the tape around your back towards the front, keeping it under the arms and bringing it to the middle of your chest. Take a snug measurement there under your bust. Insure that the tape measure is flat on your skin and straight across your back. If you get an odd number, round up to the next even number. That number is your band size. Now for the cup: Measure around the fullest part of your bust, but with a slightly looser touch than you used when you measured for the band. Now pull the tape straight around your back, bringing it to the front of your torso. Next, subtract the band measurement that you previously determined from the number you got from the bust measurement. Each inch remaining is one cup size. So if you have 36 inch band size, and a 38 inch cup size, the difference is 2. And that's a a B cup. 3 inches would be a C cup and so on.
But that's just the beginning. Now it's time to choose the right style for you and troubleshoot. Once you're trying on a bra, you can eliminate a lot of common size issues for yourself. For starters, fit to the loosest hook once you've chosen your band size. After you wear a bra, it tends to stretch out. That's what the extra hooks are for, so prepare in advance for the change in the shape of the garment. Now look at the fit of the cups. If they are overfilled or there is a double bust look when you put your shirt on instead of a nice round curve, consider choosing a full coverage cup or double checking that you have the right cup size. Try a size larger or stay away from demi cup style bras. Now look at the center between the cups. If there is more than one inch there, choose another bra or a smaller band. If you like a little less bra, you don't have to skip the support. Picking a bra with less space between the cups and a proper band size allows you to look great while keeping a lighter touch. If a minimizer is more your speed, fit is crucial, as flattening breast tissue can actually damage it. Small busted wearers on the other hand may want to explore a side bump to create a natural but round look.
And last but not least, never hesitate to contact us directly. Hourglass Angel created its expert fitting department to insure that you're always able to benefit from a perfectly fitting foundational garment. We love to answer your questions and will work with you to insure that you look and feel your best at all times!
Bra-vo, bellisima!