Posted by by hourglass angel on Apr 16th 2016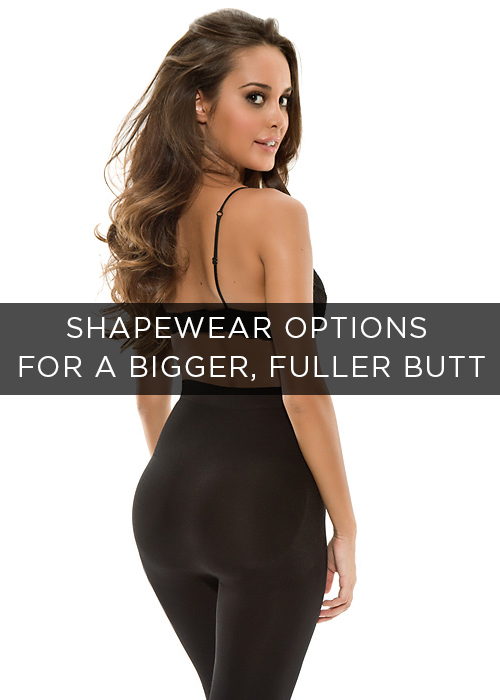 Beyonce, the Kardashians—everyone wants that tiny little waist and that big round booty.
Don't have the naturally curvy body type? Or maybe you do but you just need some smoothing and support? Don't worry. When it comes to your perfect butt, we've got you covered!
Many styles of butt-lifting jeans and leggings can provide the extra oomph you'll looking for. These garments use special seaming and other smart design features to make your butt fuller, rounder and perkier—instantly. But depending on your figure, you may need some other garments to provide the enhancement you need
Here's how to choose butt-enhancing shapewear based on your unique body type.
Round Figure
If you have this common body type, your waistline is wider than your bust and your hips. When it comes to your butt, you want slim down your waist so that your rear's natural curves can stand out. We highly recommend any of our maximum compression waist trainers or corsets. If you want a little extra support and smoothing for your thighs, butt and hips, try the Bio-Ceramic Capris by Delfin Spa. These pair perfectly with a workout waist trainer.
Straight Figure
You have a shape that is long and elegant, but you probably desire more curves. We have a lot of great butt-enhancing options to help you get the look you want. You'll love the benefits of an open-bottom shaper like the Amie Mid Thigh High Waist Open Bottom Enhancer By Vedette. We also recommend any of our waist trainers and corsets, which help bring in your waistline and create curves.
Curvy on Bottom Figure
Chances are you already have an enviable booty with a great waistline too. To enhance what you've already got, choose a shaper that smooths that waistline and gives control to your hips so your butt can stand out. Try the Lacey Control Hip Hugger by Cocoon for firm control.
Hourglass Figure
Congrats, you've got the curves—now make them look flawless. When it comes to enhancing your butt, choose a shaper that makes your waistline smooth and naturally lifts your rear. We think you'll love the coverage and shaping from the Alexandra Butt-Lifting Shaper by Vedette.
Curvy on Top Figure
You already have lovely curves on the top half of your body, so your goal with shapewear is to create a perfect hourglass balance. Look for garments that slim your waistline while adding volume to your butt. The High-Waisted Panty Shaper With Booty Lift By Leonisa does it all perfectly so you can enjoy a perkier butt with more balance in your body shape
All Figures
That's right, some garments are ideal for all body types! No matter what size or shape you are, you will look great when you slim and smooth your waist while firming and rounding your butt. That's why we think every woman should have these two things in their wardrobe: waist trainers and butt-lifting jeans! Bigger butt guaranteed.