Posted by by hourglass angel on Feb 25th 2016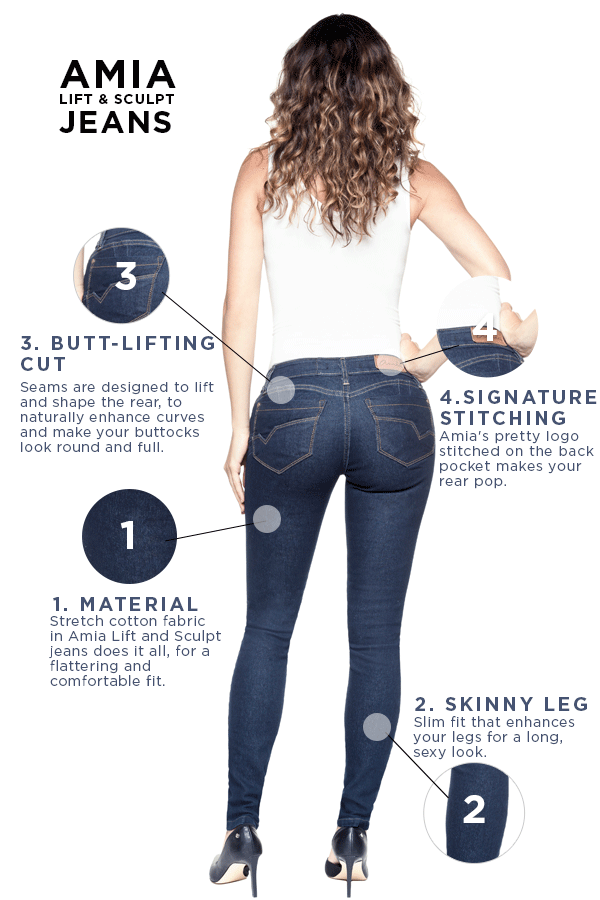 The Secrets Behind Seriously Curvy Style
Butt lifting jeans are the new must-have for any stylish woman's wardrobe. If you're already curvy, these jeans help lift, shape and enhance your rear in all the right places so you can show it off confidently. Even if you're naturally slimmer around your backside, these jeans help add volume and definition.
Wondering how they work? Here's what sets buttlift jeans apart from everyday denim.
Material
To enhance your curves to their fullest potential, you need to start with a fabric that fits perfectly. The best jeans cling to your figure and smooth your hips and thighs. Stretch cotton fabric in Amia Lift and Sculpt jeans does it all, for a flattering and comfortable fit, available in three different denim washes.
Leg cut
For the sexiest look, a skinny design enhances your legs and makes them look long and lean. Add heels for the perfect touch, although casual flats look nice as well.
Strategic seaming
Here's where the butt-lifting effect comes in: unique seaming in the rear, inspired by popular Brazilian styles. A diagonal seam extends in a heart shape around the rear and hips. This results is naturally enhanced curves—for a round and full buttocks. Your bottom looks perkier and perfectly curvy.
Attention-grabbing detail
The signature design on back pockets is to draw attention to those curves. The Amia design is subtle and stylish.