Posted by Hourglass Angel on Sep 18th 2019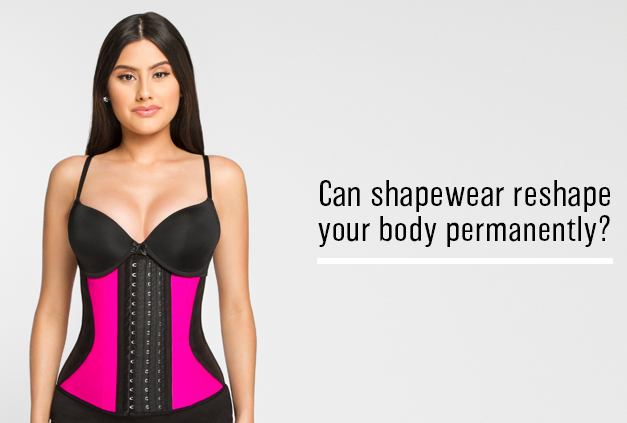 Here's an odd question we hear every once and while: "Can shapewear reshape your body permanently?"
The answer is an unequivocal no.
Shapewear is intended for instant slimming and control underneath your clothing. A typical shaper provides a thin, but firm layer of compression, which helps to create a smooth foundation beneath other garments. It can help to eliminate the appearance of common trouble areas, like love handles, belly pooch, bulges and so on. Numerous styles of shapewear exist, allowing you to wear them underneath almost any style of clothing: from formalwear to everyday outfits.
So while it's true that shapewear can flatter your body, it absolutely cannot permanently reshape your body. When you take a shaper off, your natural silhouette is unchanged.
That said, shapewear can be used as part of a long-term slim-down plan that incorporates healthy eating and exercise – especially if you're using waist trainers to maximize your workouts.
Does your shapewear feel too restrictive? If so, it's probably not the right size for your body. Here are some helpful tips on proper shapewear use and fit.
Dispel the myths. Focus on better fit.
Another question that people who are new to shapewear sometimes ask is whether or not shapewear will move or displace internal organs. Usually, they're referring to high-compression waist trainers or steel-boned corsets. But again, the answer is no – none of these garments are designed to move your organs beyond what you would normally experience when you are moving and stretching through the daily activities of your life.
There are things that you can do to make sure that you do not cause yourself discomfort when you use waist trainers or shapewear:
For starters, make sure you purchase the right-size shapewear - know your measurements and buy one that will fit you comfortably. Always check the sizing guides and measure your body to make sure it's the right fit.
Do not rush into using shapewear once you have purchased one (particularly if it's a waist trainer). Ease into it so that your body can adjust to the garment on a graduated pace.
When waist training, be aware that it can take a few days or weeks to get fully accustomed to its use – your body will naturally adjust to its use during this gradual use. But you should NOT feel any pain or pinching. (If you do, take it off and get a different size.)
Make sure you are adapting your physical activities and your water consumption to reflect the use of the shapewear. Again, this is primarily in reference to waist trainers. Since waist trainers can make you sweat harder, it's important to make sure you're properly hydrating your body.
Shaping a better YOU
Besides the instant slimming, what other temporary, but wonderful benefits can you attain with the use of shapewear?
Increased confidence!
What's not to love about a slimmer waistline or a smoother figure? Even if the shaping is just temporary, the results can motivate you to make other heathy lifestyle changes. That's where it can be beneficial to pair a waist training regimen or shapewear routine with a consistent exercise program.
Choosing the right garment and the right fit
If you happen to choose the wrong size shaper, you will likely be uncomfortable due to tightness (if you go too small) or sagging (if you buy too large). Again, know your measurements and make an informed purchase so that your use of shapewear is comfortable and effective.
Also, don't forget that there are numerous types of shapers to choose from. Some target specific areas of your body, while others provide all-over control.
To identify the right shaper, ask yourself:
●Do you want all over shaping?
●Do you want a waist slimming shaper?
●Are you looking for a thigh slimming assist?
●Do you desire a butt lifting shapewear?
●Are your lower abs your problem area?
●Looking for shapewear to hide a bra bulge?
●Does your bra line need a lift from a shaper?
●Or, do you need a posture assistant?
Sizing your shapewear
At Hourglass Angel, we customize the sizing charts for every product, based on how they fit our own models, who have different sizes and body shapes. We've already tested out the garments and fine-tuned the size charts, so you don't have to do the guesswork!
Some things to keep in mind:
Your shapewear size may be larger than the size you wear for regular clothes. Don't get discouraged. It's not you—it's the manufacturers. Shapewear brands tend to run small! Popular brands are unfortunately the top offenders, including Amia, Ann Chery, Vedette, Leonisa, Co'coon and Fajate.
In-between sizes? Don't go smaller. We wholeheartedly recommend going with the larger size. Shapewear needs to stay in place and cover the areas it is supposed to with no visible bulges or wrinkles. If it's too small, it won't make you look slimmer – it will create an unflattering effect.
How to make the most of your shapewear
Remember that while the waist trainers and other firm-control shapers can be used over long periods of time, you should ease yourself into them. Also, be sure to make informed decisions about the type of support, adjustability, breathability and cut of the shapewear you select for purchase. In other words, make sure it's right for your body.
●Research how to begin and continue wearing shapewear
●Throughout the day adjust it as necessary to stay comfortable
●If using waist trainers, rotate more than one throughout the week, so that they have time to "rest" following all-day wear
Putting this myth to rest
Getting back to the original question - can you do permanent reshaping to your body with the use of any of these types of shapewear garments? No, you cannot. Yes, shapewear can be used as part of a long-term slim-down plan, supplementing fitness and proper nutrition. But as for permanently reshaping your body or organs, that is nonsense.
Get yourself a shapewear garment that fits comfortably, properly supports your intended goals and use it wisely. You and your shape will thank you for the well informed decision in the long run!