Posted by Hourglass Angel on Jan 9th 2019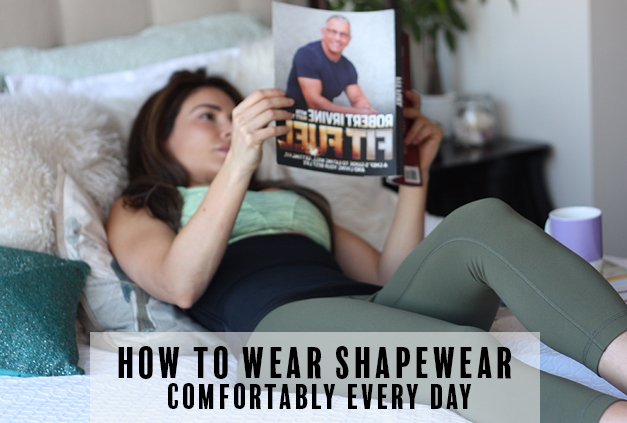 When you think of shapewear, do you only consider it as something to wear for special occasions? Like having a really stiff girdle to help you squeeze into a tight dress?
Or do you think of shapewear as something that you effortlessly use, every day, as an essential part of your wardrobe?
We hope it's the latter!
In the modern wardrobe, comfortable shapewear is a key piece to helping you look your best and feel confident no matter what you're wearing. Whether you're dressing for work, for a night out, or for some casual downtime, there's a shaper for that – and if choose the right style, you'll hardly notice it's even there.
One of the keys to dressing well is having clothes that fit well and that are well suited for your body type. And in order for them to fit well, it helps to have a smooth, curvy foundation for them to fall on. Wearing shapewear everyday helps accentuate your natural curves as well and also makes your clothes fit better!
Keep reading if you're wondering how to wear shapewear comfortably every day, for work, for fun and for casual attire.
Start with Shaping Panties
If you've never tried everyday shapewear, a great place to start is with shaping panties. You're going to be wearing panties anyway, so it makes sense to wear some that enhance your figure.
Some benefits of shaping panties include controlling your midsection, flattening your tummy, and preventing muffin top or love handles.
High Waist Control Panties by Spanx 2746 smooth your silhouette underneath skirts, dresses, work attire or your everyday outfits. A strip on the waistband keeps it in place and prevents rolling. But they're also quite comfortable, since the lightweight microfiber fabric releases gently and gradually for greater comfort and movement.
Some shaping panties are also designed to enhance the butt if you want to create more curves or firm up the ones you already have. Mid-Waist Mutt-Lifting Control Pnaties by TrueShapers 1275. Shaping zones in the rear lift your buttocks while also creating a smooth finish, so your behind looks incredible in your form-fitting jeans, leggings and other attire. This seamless garment is also lightweight and provides all-day comfort.
Our recommendation is to have several shaping panties that best suit your figure and your wardrobe, so that you can rotate them throughout the week if you want comfortable, effective shapewear every day.
Layer Up with Shaping Camis
Do you ever wear a tank top or cami as the foundational layer of any of your outfits? (We bet you do.) Then it only makes sense to make that layer a shaping cami that controls your midsection and creates a smoother silhouette.
A must-have in every wardrobe is an open-bust cami that you can pair with the bra of your choice for optimal fit and support. The Control Camisole by Amia is a closet staple. A control panel slims the midsection right in your core, while a high U-back smooths bra-lines. Wear this piece invisibly, in nude or black, under most garments to look, slim, trim and polished.
For the occasions when you need a no-fuss layer, a shaping cami with a built-in bra can help you feel slim and confident even while going casual. The V-Neck Slimming Tank by TrueShaper 1370 can be worn on its own or underneath other tops and sweaters. The flexible stretch fabric feels soft against your skin and offers free range of movement, making it unbelievably comfortable to wear. It is uniquely designed to give your torso a slimmer, smoother appearance.
Shape Up in Workout Attire
Did you know that you can also wear shapewear to the gym? Not only will you feel more confident, but you might get a better burn as well. There are a couple ways you can add shapewear to your daily workout routine.
Waist trainers are well known for amping up exercise routines. The Latex Workout Band Curve Creator by Hourglass Angel HA101 is an easy-to-wear option for a variety of workouts. Simply wrap it around your midsection and secure it with double Velcro closures, for a custom fit every time. You'll love the way you look and sweat harder, for a more intense workout.
Another must-have for workouts are leggings like these Slimming Black and Pink Leggings by Bon Bon Up 1064. An internal girdle slims your midsection, while the unique construction of the leggings help you achieve a rounder, fuller butt. What's more, thermal reduction technology in the fabric helps to make your skin feel cooler, making these workout leggings the most comfortable you own!
Slim Your Waist Everyday Waist Trainers
If you're serious about slimming your waistline, we highly recommend starting a waist training regimen. While there is an adjustment period if you have never tried it before, if you gradually increase the amount of time you wear your waist trainer each day, you'll feel comfortable wearing it for up to twelve hours.
The Classic Waist Cincher by Amia is a simple wardrobe staple we love. You can wear it under almost anything, as it comes in both nude and black. Instantly sculpt 1–4 inches from your midsection while creating a flat tummy—and supporting your posture. It comes with a cotton lining so you'll be cool and comfortable all day.
Customer Kelly D. said that this waist trainer is "not messing around…After trying a corset, a full body suit, and a flimsy waist cincher, I finally found this one. LEGIT. Takes 3 off my waist. I am so grateful."
If you want extra support for your back and bust, you might prefer a vest style waist trainer like the Waist Cincher Miracle Vest by Squeem 26MV. This popular style runs in sizes XS to 5XL and is a reliable piece to add to your shapewear collection. It also has a cotton lining, making it comfortable for everyday use.
So there you have it – the right shapewear IS comfortable enough to wear every day to work, at home, or when you go out. We'd love to see how you shapewear is making you look and feel fabulous, so share it with us @HourglassAngel #BeTheHourglass!