Posted by hourglass angel on Aug 20th 2010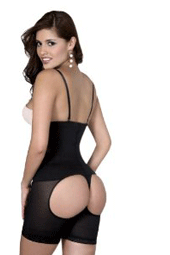 When you think of body shapers do the words sexy, lacy, and comfortable come to mind? Or do you think of the words boring, old fashioned, and painful? We have come across many shapewear misconceptions over the years. We decided it was time to put an end to all these common shapewear myths!
First and foremost, the most common shapewear myth is "Always size down when purchasing a shaper. Smaller shapers provide more control." This is not true! A well made body shaper will shape and form your body without the need to size down. Sizing down means that you will be wearing a shaper that is too small. This may cause the shaper to roll up. It can also cause discomfort, misshape your figure, and damage the shaper. Always make sure to size according to the size chart for each garment and pay attention to fit comments in order to get the best fit.
---
Another myth is that "Shapers are uncomfortable and will roll." If a shaper is uncomfortable or is rolling up or down, there is a good chance that you are wearing a shaper that is not made for your body. It can also mean the shaper is too small. If you are curvy on the bottom, you may want to look for shapers that have a wider leg and more stretch in the thigh to prevent dig in. If you are shapely on top, you'll want to find a shaper that supports your bust. If you have an hourglass figure or have curvy hips, you should look for shapers that have zippers or hook and eye closures to make it easier to pull up over your hips.
"Body shapers are old fashioned and out of style" is another common myth. Body shapers of today have evolved into fashionable and dare I say, SEXY undergarments. You can find shapers that look like lingerie, shapers that are built into jeans, dresses and even swimsuits! They come in pretty colors and soft textures. They are also much more functional and go unnoticed under your tightest fitting clothes.
Lastly, "Body shapers are only for plus size women." Shapers are great for any size or figure. No matter what your size is, body shapers are available to enhance all figure types. A shaper will slim your thighs, hold your tummy, and make your love handles disappear. Even thin celebrities and men wear them!
Finding a comfortable and modern shaper has never been easier. If you need a little help, a great place to start browsing is our page with the best selling items. If you have any questions about finding a shaper, you can always send us an email at info@hourglassangel.com. For sizing support, you can use our sizing support page. Once you find the right shaper, words like sexy, lacy, and comfortable will start coming to mind!