Posted by Hourglass Angel on Sep 22nd 2019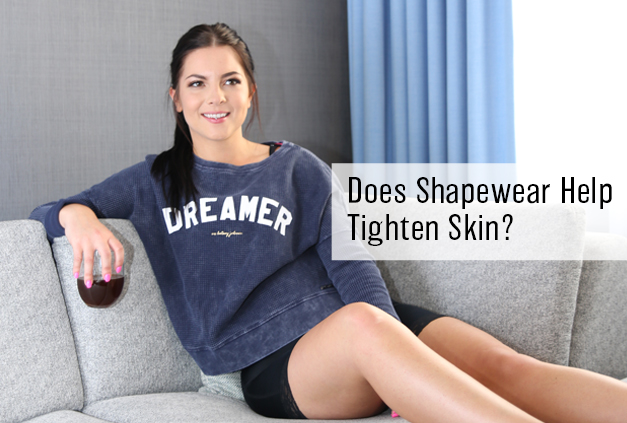 Wearing body shaping garments has many obvious benefits including creating a smooth figure, enhancing your best features, targeting your problem areas and making your outfits more flattering. But are there other less obvious benefits? One question we often hear is, does shapewear help tighten skin?
While shapewear can't erase skin damage, it can play a role in helping you have healthier skin—if you're using the right garments and skincare regimen. Healthy skin is naturally firmer and brighter, so if you take good care of your skin, it's going to look less saggy.
In other words, yes, shapewear can play a part in your plan to firm up the appearance of your skin and help you achieve your goals for a healthier lifestyle and your ideal figure.
Here's how to be strategic about your shapewear so that it can enhance your features and help you be more confident in your own skin.
The Best Shapewear for Your Trouble Spots
Not all shapewear is made the same, and so not all of it will have the same effect on the appearance of your skin. So be sure you know what you're looking for.
Most people who want to look firmer and tighter will want to target common trouble spots including the tummy, thighs and hips. You may especially want to tighten these areas after having a baby, as a pregnancy can stretch your skin to its maximum capacity.
For the best results, use a garment constructed with high-compression material. High compression is important because it stimulates heat and blood flow to the skin. Here are some our favorite high compression shapewear options:
Waist trainers are effective at tightening the waistline up to several inches when you put them on. They work by stimulating heat, blood flow and perspiration around your core. The added heat stimulation can benefit your skin, while the garment dramatically slims your waistline.
Compression shorts and leggings are other types of clothing that can target areas with cellulite and loose skin. Heat Maximizing Capris by Delphin Spa are designed to hide trouble spots by instantly smoothing your silhouette around the tummy, thighs, hips and legs. Their unique material reflects body heat, maximizing blood flow and circulation. You'll work up a sweat in the areas that need it, while enjoying instantly visible smoothing from the garment itself.
For the best results, we recommend pairing your high compression slimming garment with a gel that will infuse the skin with moisture and nutrients. The Amp Your Curves Gel targets toxins and fat deposits around the waist, hips, and thighs with powerful, clinically proven body contouring ingredients. Paired with daily use of your favorite high compression garment, this naturally enhancing slimming gel enhances thermal burn and contouring your body into a slimmer, hourglass figure.
While these garments are ideal to use during workouts, you can also benefit from slimming shapewear that you wear under your everyday attire. Be sure to choose shaping garments that target your trouble areas with high compression material to get dramatic sculpting results and the heat stimulation you need.
Shapewear Plus Lifestyle Practices for Healthier Skin
One of the benefits of wearing shapewear is that it can be one component of a healthy lifestyle. When you're investing in the way you look, you'll feel more confident and achieve a more flattering look with your wardrobe. This can go hand in hand with beneficial lifestyle habits like eating well and regular exercise.
A healthier lifestyle leads to healthier skin. Here are some ways that healthy lifestyle practices that go hand in hand with wearing shapewear can benefit your skin's appearance.
First is adequate hydration. When skin appears dull or lifeless, it can be a sign that your body is dehydrated. By regularly consuming enough water, you'll inject new life into your skin's appearance by making it look brighter and tighter.
When you wear high compression shapewear, you don't want to diminish the benefits by not replenishing your body with water. You will probably be sweating more, especially if you're wearing a waist trainer or compression pants during workouts. Aim to get a half-ounce to an ounce of water per pound of body weight per day—more if you're in a hot climate or work out a lot.
Yep, Nutrition Matters Too
What you eat also plays a big role in your skin's health. You may find that you are motivated to eat better when wearing shapewear, as it gives you a vision of what you can look like if you stick with your goals. It can also remind you to consume smaller portions if it's not comfortable for your waistline to expand far during meals.
How much you eat isn't as important as what you eat, however, especially when it comes to your skin's health. You need a variety of fresh fruits and veggies to ensure you're getting the nutrients you need for glowing skin. This is important to remember if you're planning to lose weight with your shapewear or waist training regimen—give your body the nutrients it needs as the skin retracts its size.
Lastly, exercise plays a role in healthy skin. It stimulates blood flow, which in turn flushes away toxins and carries oxygen and nutrients to your cells, improving its appearance. You can see how compression garments and a regular exercise routine can work together to benefit your skin.
Choose the Best Shapewear for Your Health and Lifestyle
The only way to discover the many ways shapewear can benefit your lifestyle is to try it for yourself! Check out the many high compression shaping garments we've carefully curated and tested for quality that can target even your peskiest trouble areas.
Got questions? Our blog has dozens of articles that answer your questions about what shapewear is best for any body type, any occasion. You can also check out our before and after gallery to see real-life shapewear results. Lastly, you can contact our team of expert stylists and figure out the best shaping solutions for your needs.