Posted by hourglass angel on Jun 24th 2016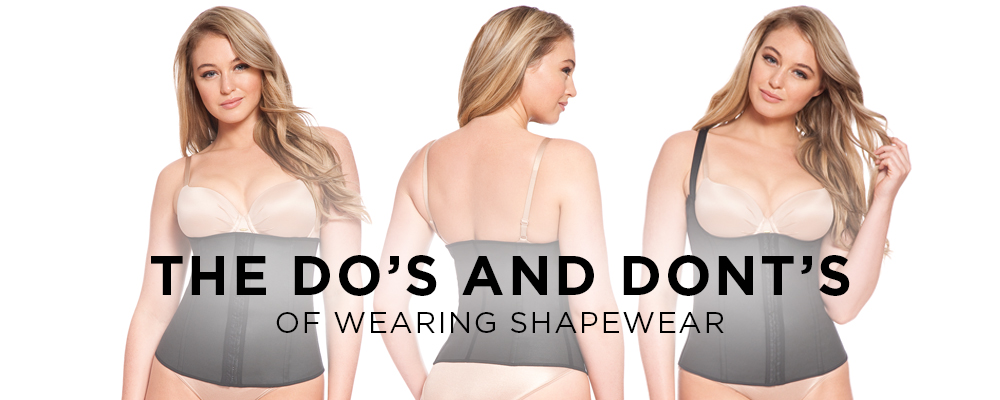 Everyone from red carpet celebrities to working moms are using shapewear to look their sexiest, whether at home posing for Instagram or at special events. But there's a difference between trying out shapewear without any knowledge about how it works and then totally rocking it like a Kardashian.
To get the most out of your shapewear, it's crucial to have some basic knowledge about what works…and what doesn't. Follow these tips and you can't go wrong.
Do: learn how to put it on. This one is simple, but so important. Shapewear needs to be tight in order to work! Don't stretch it out or warp it because you don't know how to use it. Some general rules:
Step into it; don't pull it over your head.
Be patient; don't tug or stretch with excessive force.
Think about how you wear pantyhose: bunch it up, and then work it on slowly.
That leads to the next point…
Don't: wear shapewear that doesn't fit. Follow each garment's sizing guidelines very carefully. Also make sure you're knowledgeable about how to take your measurements. If the garment doesn't fit, it is not going to be flattering—especially if it's too small.
Do: select shapewear for your body type. Not every piece will work on every body. You should be picking a garment based on your target areas. Know your body type and the solutions you should focus on.
Don't: expect to transform your figure without working on your fitness. For the best results, you absolutely have to work out and eat well! Wearing shapewear and waist training are supplemental to a fitness regimen (check out these tips for making it all work).
Do: get advice from the experts for inspiration. Check out this post from one of our favorite fashion bloggers. You can also contact our customer service team for advice for your specific style and fitness needs. Follow us on Instagram, Facebook and Twitter for continuous inspiration, tips and trends.
Don't: feel like you're doing it alone! Thousands of women are on this journey already, so use our resources to connect and learn (and invite your friends!).