Posted by hourglass angel on Oct 21st 2013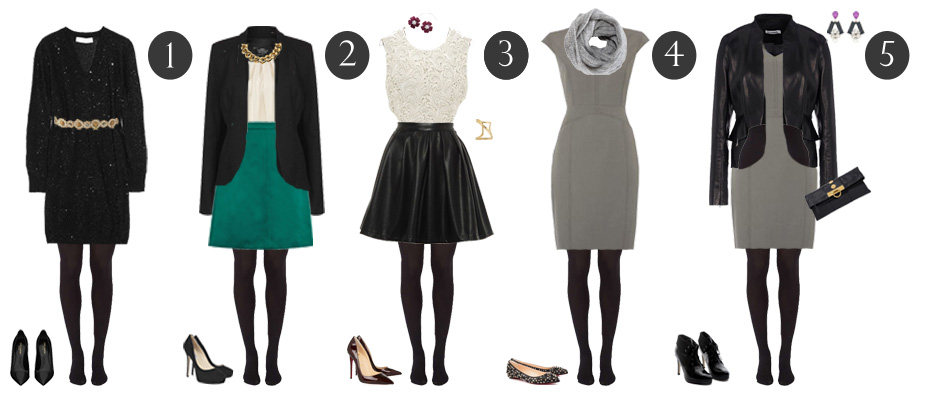 How did it happen? Summer was just here it seemed, but sudden fall has come again and brought with it cooler temperatures that switch from comfortable to chilly over the course of the day. When temperatures fluctuate, you need to be ready to adjust. One of the top tools to accommodate the shifting temperatures of the season is a great pair of tights.
One of our favorite legwear offerings in the Hourglass Angel store is the High Waist Get Fit Tight by ShaToBu. These tights don't just look great, they pack a special caloric burning punch. Resistance bands woven into the garment make your daily activities better calorie burners. Simply slide in your tights to experience the fitness benefits of this garment.
So how should you wear this versatile accessory? Well let's start with a seasonal essential: the sweater dress. These tights give an extra layer under any sweater dress and create a smooth silhouette underneath.
Need a look you can take to the office, add this shaping essential to the a pencil skirt and blazer. They will smooth your shape, make you legs look leaner and make your walk to work more beneficial with their special resistance bands.
Take your flirty skater skirt to the next level. Start with the lean and mean look of these tights and you'll feel confident in this airy look. Pair them both with a pretty blouse and you've got a fun look for fall that you'll want to wear both day and night.
But what if you need your look to go from day to night. Start with a fitted dress. Pair that with a signature scarf for the office or a fun necklace! You'll want to stay comfy while you're working so a chic ballet flat is perfect for the easier day look. After dark, kick it you a notch with a smart pair of pumps and denim jacket.
No matter what you wear, when you start with the High Waist Get Fit Tight by ShaToBu your seasonal look is good to go!