Posted by hourglass angel on Mar 4th 2014

Bikini season is around the corner, ladies. If you take the opportunity during the colder months to surgically fix up your midsection or backside, you're going to need some compression shapewear to help your body heal and look its best.
Don't just grab any type of shapewear. You'll find that many pieces on the market are designed for "stage one" and "stage two" after surgery. You will need both for the duration of your recovery.
Initially after a cosmetic surgery like a liposuction, tummy tuck or buttocks lift, you'll experience swelling and drainage, depending on the type of surgery done. During those tender first days post-op, a stage one compression garment will help your body drain the fluids that collect beneath your skin. This is important because it minimizes bruising and the chances of infection. Compression flushing will also reduce swelling as your tissues heal, reducing the amount of pain you feel and leading to a shorter recovery period. Stage one garments are different from stage two because they provide gentle pressure and are sized slightly larger.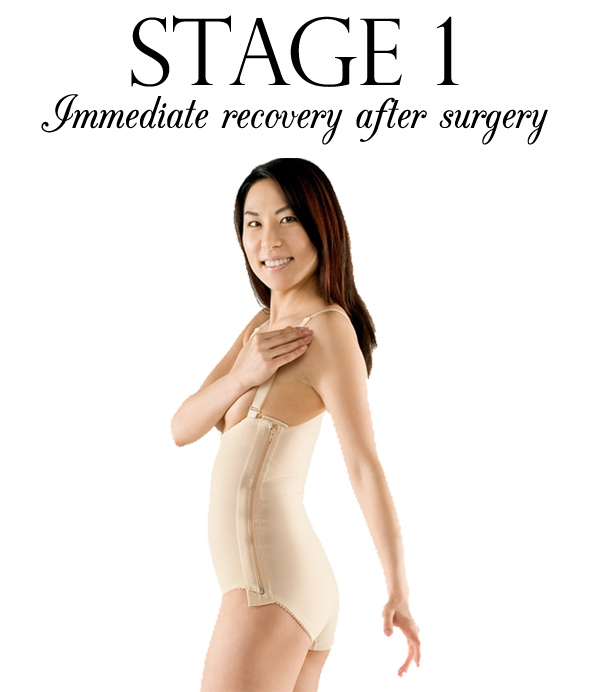 For stage one, we recommend the First Stage Marena Suit with Suspenders and No Leg by Comfortwear FBA. This comfortable garment provides the gentle compression you'll need to recover immediately after surgery. It zips on and off easily and has a hook-and-eye closure gusset for bathroom convenience. Constructed from F5 certified (high quality compression) fabric, its durability will last through the duration of your early recovery.
Once most of your post-op swelling has reduced, you can switch to a stage two compression garment. The stronger compression and tighter fit will contour and shape your body, helping your tissues to adhere properly in their new positions. As scar tissue forms, particularly following a liposuction, ongoing compression will help subcutaneous tunnels stay collapsed – maintaining a smooth contour on the surface of your skin.
For stage two, we recommend our best-selling Contour Shaper by Leonisa. This comfortable shaper provides moderate control from under your bust to your hips. Since you'll be returning to your normal lifestyle during this phase of your recovery, this garment goes on and off easily, is breathable, and provides smoothing and control in all the right places.
Ask your doctor about any compression specifications you'll need following your cosmetic procedure. After surgery and using the right shapewear, you'll feel more confident than ever in your own skin.