Posted by hourglass angel on Jun 9th 2014
Compression Goes Beyond Just Helping You Look Great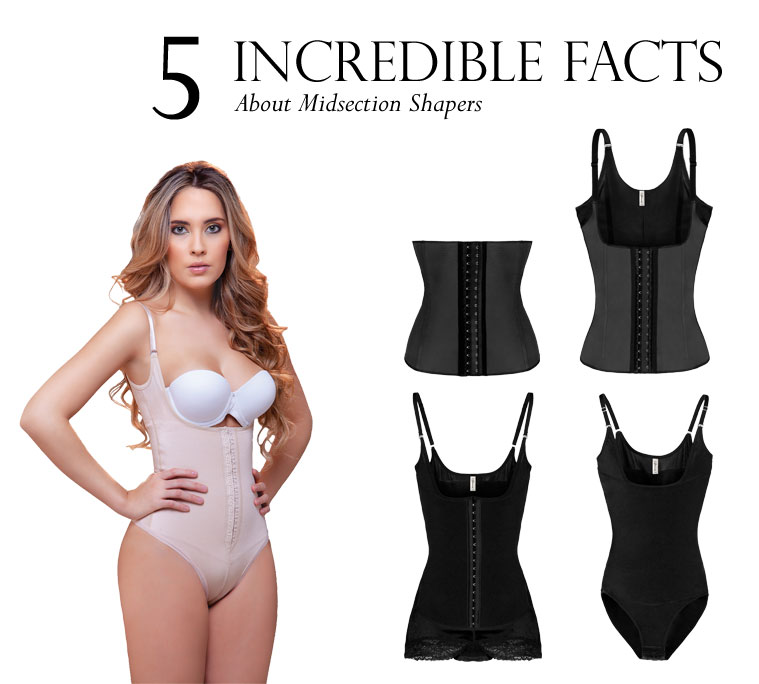 Do you enjoy the benefits of wearing midsection shapers or are thinking about getting one? Midsection shapers are known to make you look even more stunning for a big event or help you lose a couple of inches from your waist. But did you know that compression technology does more than make your dress fit better?
The various definitions for midsection shapers can be confusing, so here are a few terms sorted out. Fajas and cinchers are waist-slimming bands with various levels of compression; they sit below the bust and certain designs may have shoulder straps. Girdles, while very similar, are generally longer than cinchers and provide shaping from your bust to your hips. Waist-trainer garments are designed to be worn regularly to sustain loss in the waistline.
Midsection Shaper Benefits
1. Improved Posture
One instant benefit you'll notice any time you're wearing a midsection shaper is that you'll automatically be sitting and standing straighter. Not only will you look more poised, but you'll alleviate back pain by stabilizing weak muscles in the lower back and abdomen. A shaper can be a life-changing garment if you experience a lot of pain in your occupation – particularly if you do a lot of static sitting or standing.
2. Semi-Permanent Reshaping
Many women don't know that some shapers have the power to reshape their figures over time. With regular use in as little as 30 days, regular wearers have reported sustained losses of one to four inches in their waistlines!
3. Abdominal Strengthening
Midsection shapers give your abs a little workout all day long. Firm compression engages your core and helps you strengthen your abdominal muscles. This muscle building also contributes to benefits 1 and 2 listed above. This can be a huge benefit if you're in postpartum recovery!
4. Fat Mobilization
Many compression shapers are designs with thermal panels that increase the flow of heat in your midsection. Boosting thermal activity in your core increases blood flow and helps eliminate toxins – which with regular use means less amassed fat.
5. Mental and Emotional Boost
Compression around the midsection feels like a constant hug and may provide the emotional benefit of decreased generalized anxiety, panic attacks and depression. This is called deep pressure therapy. Women who wear shapers and experience the physical benefits like better posture also enjoy greater confidence and self-esteem.
As you browse all of your midsection shaper options, consider all the surprising ways that you could benefit!