Posted by by hourglass angel on Jun 4th 2016
Do you love waist trainers but could do without the latex? Many women have latex sensitivities, which can make typical waist trainers uncomfortable or even impossible to wear.
However, there haven't been many alternatives to latex available that provide the same level of compression and dramatic slimming effects—until now.
We're excited to introduce you to TrueShapers – a line of latex-free waist trainers that provide the maximum slimming power without the latex.

Just what makes TrueShapers different?
Unique fabric blend: an alternative to latex that works! It blocks sweat and repels odor while being silky soft and lightweight. Wear it day or night.
Instant shaping: unlike off-the-rack waist trainers from the department store, you'll notice that your TrueShaper will fit like a glove and create an instantly sexy figure—perhaps even a size or two smaller!
Stimulates perspiration comfortably: waist training works because it helps you sweat harder, but TrueShapers will wick away the excess moisture so you won't feel hot and sticky.
All-day hold: for the most effective results in waist training, you need to wear your garment at least eight hours a day. TrueShapers is up to the task; flexibly internal steel boning keeps the firm compression up all day long.
Easy to clean, hypoallergenic: without the latex you'll find that this garment won't irritate your skin and will wash up easily.
If you've been wanting to try waist training but the latex in most designs just isn't an option for you, your answer is here. You can try out these TrueShapers options here at Hourglass Angel: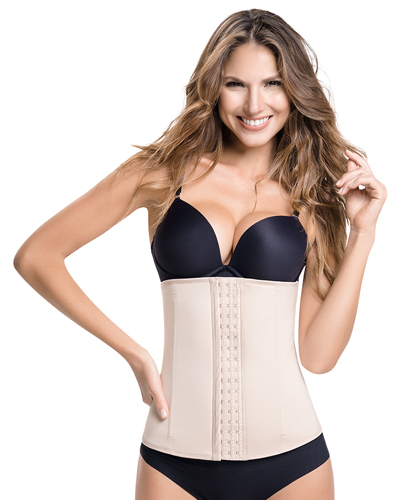 Wear this belly-slimming waist trainer any time you want to look and feel incredible.

This sexy workout waist trainer is guaranteed to turn heads at the gym.

Create dramatic hourglass curves at the gym and beyond.