Posted by Hourglass Angel on Jan 30th 2019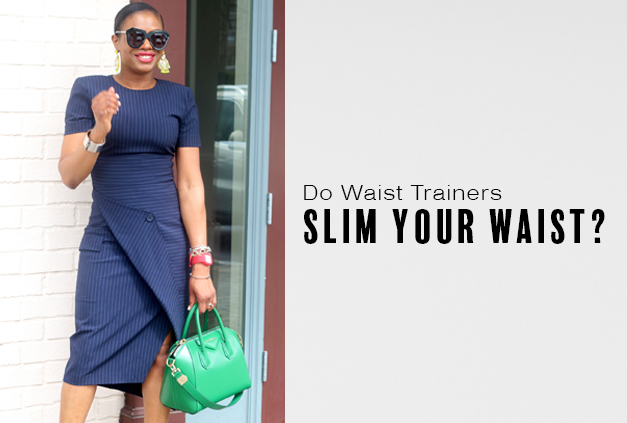 If you struggle with your waist and tummy being a trouble spot, you're not alone.
Whether it's tummy pooch, muffin top or love handles that you're wrestling with, having a slimmer waist can go a long way in helping you feel more confident and look more polished.
Fortunately, you don't have to start an impossible diet or work out like an Olympian to get a beautiful waistline. With the right shapewear, you can get a slimmer waist instantly—simply by wearing the garment. In fact, with a waist trainer you can support your long-term slimming goals as well.
If you've ever been frustrated with the question "How can I slim my waist?" or wondered, "Do waist trainers slim your waist?" you're in the right place. Our expert stylists know all the tricks for getting a slim waistline and a flat tummy with a simple garment that both celebrities and everyday women love: a waist trainer.
What Is a Waist Trainer and How Does It Work?
A waist trainer is a waist-slimming garment that uses firm compression to slim your waistline. It flattens your tummy and eliminates the appearance of trouble spots around the midsection, like love handles, muffin top, or a pooch at the lower abdomen.
"Waist trainer" most commonly refers to a latex-style garment with hook-and-eye closures in the front. However, a steel-boned corset with laces that pull tight in the back can be used to a similar effect.
Waist trainers work by using compression to tighten up your midsection. By wearing one, you'll get the immediate effect of losing 1 to 3 inches from your waistline and dropping one or more dress or pant sizes. You'll also conceal trouble spots and get a smoother silhouette, making your clothes fit better. If you use a steel-boned corset, you'll get a more dramatic hourglass cinch at the natural waist, which can potentially tighten your waist by 4 inches or even more.
Some women love wearing a waist trainer during their workouts. Otherwise known as a workout band, this style of garment helps you sweat harder during exercise, effectively helping you boost the intensity of your workouts.
Practicing a Daily Waist Training Regimen
While a waist trainer is an effective way to enhance your figure as a piece of shapewear, it can also be used as part of a healthy lifestyle routine. Wearing a waist trainer can help you stay motivated if you're trying to lose weight or slim down and it will remind you to stick with your goals.
To get the most out of a daily waist training regimen, we recommend wearing your waist trainer up to 8 to 12 hours a day. It takes some time to work up to this, however, as your body will need time to adjust to the way that a high compression garment feels all day.
Start by wearing your waist trainer for no more than 2 hours the first day. You'll want to gradually increase the amount of time you wear it. You may find it helpful to break it up into two sessions per day when you first start out, or take an occasional rest day. After the first month of growing accustomed to your garment, you should feel comfortable wearing your garment for at least 8 hours on a daily basis.
If you want to practice a daily waist training regimen, we highly recommend incorporating a well-rounded exercise routine into your daily schedule as well. There are many types of workouts you can do with a waist trainer, including cardio, HIIT and strength training. But if you're short on time, even just taking a brisk walk around the neighborhood while wearing a waist trainer can be beneficial.
Since workout bands are constructed differently than everyday waist trainers, we recommend having both styles if you want to wear a waist trainer every day. Rotating garments gives your workout band a chance to air out between workouts, and you'll be more comfortable in a waist trainer constructed for all-day wear.
Healthy Lifestyle Tips for Waist Training
Always keep in mind that waist training is not magic and won't replace a healthy lifestyle that includes adequate sleep, hydration, a nutritious diet and regular exercise. Here are some general tips to treating your body well for the best waist training experience:
Drink a lot of water, especially since you'll be perspiring more around your midsection. Shoot for half an ounce to an ounce of water per pound of bodyweight.
Eat nutritious, whole foods and avoid processed foods and sugars. Work with a nutritionist if you're concerned that you have any allergies or metabolic issues. We don't recommend following a radical, unsustainable diet that will only hurt your progress in the long run. While wearing a waist trainer, you may find it uncomfortable to eat large meals, so shoot for 5–6 small meals/snacks per day (which is healthier).
Do a variety of workouts that improve your cardiovascular health, flexibility and muscle strength. You can burn fat and build strength with HIIT cardio and moderate weight-lifting—both of which can be done while wearing a waist trainer.
Treat your body and your mind well with adequate rest—this includes sleep, healthy relationships and recreation. When your life is full of positive activities and influence, you'll be less likely to fall back on unhealthy habits.
Waist-Slimming Results from Wearing a Waist Trainer
While everyone's experience with waist training is different, real women have loved the results they've gotten from wearing a waist trainer. Here are some real reviews:
"When I looked in the mirror, I instantly fell in love! The shape looked great, even without a garment on top." – Yuliza R.
"Every single person who has ever known me has commented on my results, begging me for my secrets … They think I look amazing and I've been told that it doesn't look like I've ever had a baby." – Lillie H.
"I can see drastic results … People tell me they really like how my waist is cinched, and that's been when I'm not wearing one! I lost 4 inches—more than what I expected!" – Suzie C.
If you're ready to slim your waist, it's time to try waist training. Remember to set the right expectations, follow size charts carefully and incorporate an active lifestyle into your waist training regimen. Let us know if you have any questions and we'll be happy to assist on your journey!