Posted by Hourglass Angel on Jun 21st 2020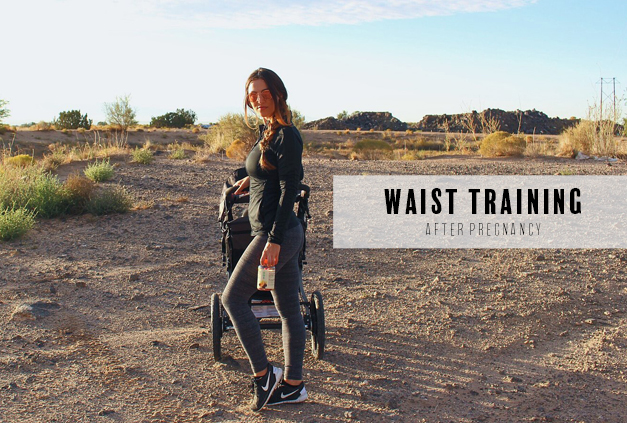 How Can a Waist Trainer Help After Pregnancy?
A woman's body undergoes tremendous changes during pregnancy. After childbirth, many women are eager to "get their body back" into pre-pregnancy shape.
While it takes time for nature to take its course, you can aid the postpartum recovery process with help from a waist trainer, adequate nutrition, rest and appropriate exercise when you're ready. Here's how a waist trainer can help after pregnancy so you can look and feel great.
Note that this is not medical advice. Ask your physician about whether waist training is right for you following your pregnancy.
Using a Waist Trainer for Postpartum Support
Pregnancy stretches out your abdominal muscles and ligaments to accommodate a growing baby and shifting organs. Since your body takes approximately nine months to stretch out, it doesn't snap back overnight.
While your abdominal muscles should heal naturally following birth, a "belly binding" garment can provide additional support. Think of it as a splint; it holds everything in place while your muscles heal and your organs return to their pre-pregnancy positions. It encourages good posture. You may find that you have better body awareness when wearing a waist trainer after pregnancy because it will remind you not to slouch.
In the first six weeks or so postpartum, you can use a waist trainer that provides gentle support. The goal is healing rather than slimming or weight loss at this stage. Whatever belly binding garment you use should be firm enough to feel supportive but should not pinch or feel uncomfortable. You may need to wear your waist trainer on the loosest setting or try a size bigger than you normally would.
And of course, take extra care not to irritate your incision if you've had a c-section.
Benefits of Waist Trainer Compression
Another reason to wear a waist trainer after pregnancy is that compression has several benefits. In the first six weeks of recovery, your midsection will be reducing swelling and your muscles will be healing. Compression stimulates blood flow as well as perspiration, so you can aid the natural process as your body flushes excess fluid.
Compression in general is also known to be therapeutic and can reduce pain. Results can vary from person to person.
Once you're past the initial healing stage after pregnancy, compression can continue to provide benefits. Wearing a waist trainer will continue to stimulate heat and perspiration in your core while supporting your posture. This can enhance your workouts and help you stay on track with your post-pregnancy slim-down goals.
Slimming with a Waist Trainer
We think everyone should love their body in every stage and feel great about their appearance. A waist trainer can help you feel confident in the skin you're in by creating an hourglass shape, even if you still have some baby weight to lose.
Once you're past the first six weeks, you may want to start tightening your waist training garment and wearing it for longer periods. A fitted waist trainer will slim your midsection instantly up to about three inches and conceal extra baby weight. People will wonder your secret to slimming down so smooth!
Waist Training as Motivation
You can continue wearing a waist trainer as your body slims down in the months following pregnancy. In fact, you may find that a waist trainer helps you stay motivated and on-track with your slimming goals.
We highly recommend tracking your progress with waist training. Take photos and waist measurements every week to see how your body is changing. Over time you'll see that your efforts are really working, and you may be more likely to stick to your goals.
Even just having a waist trainer on can give you a vision of what your own body can look like if you continue to slim down. This can be much more motivating than unrealistic expectations you can get from comparing yourself to other people.
Healthy Lifestyle
Waist training after pregnancy is only as effective as you make it, by pairing it with a healthy lifestyle. This includes nutritious food, adequate water intake, proper exercise and as much rest as you can get.
We know that it's difficult to be healthy when you have a baby in the home and you're making a huge adjustment to your everyday routine. So be patient with yourself, but also try to focus on what's going to help you feel good. The healthier you are, the more energy you'll have to give to your child.
Once you have the go-ahead from your physician, a workout band waist trainer can be your best friend as you incorporate exercise into your daily routine. Whether you go for a brisk walk or want to do strength training and higher intensity cardio, a waist trainer will intensify your physical activity by stimulating heat and perspiration in your core.
As mentioned above, a waist trainer can also give you an added boost of motivation and encouragement to stick with a nutritious diet. When you get a vision of your slimming goals, you'll be more likely to stick to them. A compression garment can also remind you to eat in sensible portions, as large meals can be uncomfortable to consume.
Steps to Waist Training After Pregnancy
In the first few weeks after childbirth, the goal of a waist trainer is to provide support and promote healing. It should feel comfortable and therapeutic when you wear it. Wear one as long as it feels good, which will probably not be around the clock but rather when you're sitting up or standing. You can wear your waist trainer as firmly as feels comfortable.
Once you have the go-ahead to resume exercise from your physician (around six weeks postpartum), you may want to start wearing a workout band as part of your workout routine. Start with gentle workouts and gradually increase the intensity as you feel comfortable.
In the period six to twelve weeks postpartum and beyond, you can also start implementing a daily waist training regimen. This may be a natural transition if you're already wearing a waist training garment to promote healing. The next step once you're fully healed is to increase the level of compression.
Start with just an hour or two at a time wearing a waist training garment with firmer compression. You may need some time to adjust to the way it feels, as a waist trainer can be snug and will prevent you from slouching. Gradually try to wear your waist trainer tightly for longer each day, until you're wearing it 8–12 hours a day.
Once you're comfortable wearing a waist trainer all day, it can easily become a part of your routine. If you have a lot of weight to lose, you can continue sizing down to a tighter setting on the garment or to a smaller garment altogether. Don't forget to keep up your exercise routine and other healthy lifestyle practices for the best results!
Recommended Waist Trainers to Use After Pregnancy
Here are some of our favorite waist trainers we recommend for moms following pregnancy:
Firm Control Cotton Waist Cincher by Flakisima: We love how this waist trainer pairs firm compression with comfort. This cotton waist cincher combines powerful shaping with the comfort of cotton so you'll feel slim, smooth, confident and comfortable all day long. Underneath the soft lining, the middle latex layer manages your middle and immediately reduces your waistline while wearing it. Flexi-boning prevents this garment from rolling up, supports your back and improves your posture. It's a great option for the early stages after pregnancy.
Clasica Latex Waist Cincher by Ann Chery: If you're ready to take the next step, this faja style waist slimmer dramatically slims the midsection and can be a part of your regular waist training regimen. It immediately creates a beautiful curvy shape sculpting inches off of your midsection. This high compression shapewear creates a smooth silhouette and instantly removes inches from the whole midsection. This garment is supported with two reinforced columns of hook-and-eye closures in the front.
Faja Reductora 3 Hook Workout Waist Trainer by Ann Chery 2023: If you want more space for slimming down, this garment is for you. It features three rows of hook and eye closures down the front, giving you the ability to loosen or tighten it as you need after pregnancy. This garment will also serve you well in your workouts. It maximizes any fitness routine by increasing thermal activity in your core and ramping up your perspiration. You'll sweat more with minimal effort during exercise, sports, walks, runs and other physical activity. Cotton lining ensures that it feels comfortable against your skin.
Whatever method and garment you choose for waist training after pregnancy, be patient and love your body at every stage. A waist trainer will enhance the body you have, but you have to choose to love your body first.
Have more questions about postpartum waist training? Be sure to check out more shapewear and waist training tips on our blog, or reach out to one of our expert stylists for help.