Posted by Hourglass Angel on Dec 17th 2021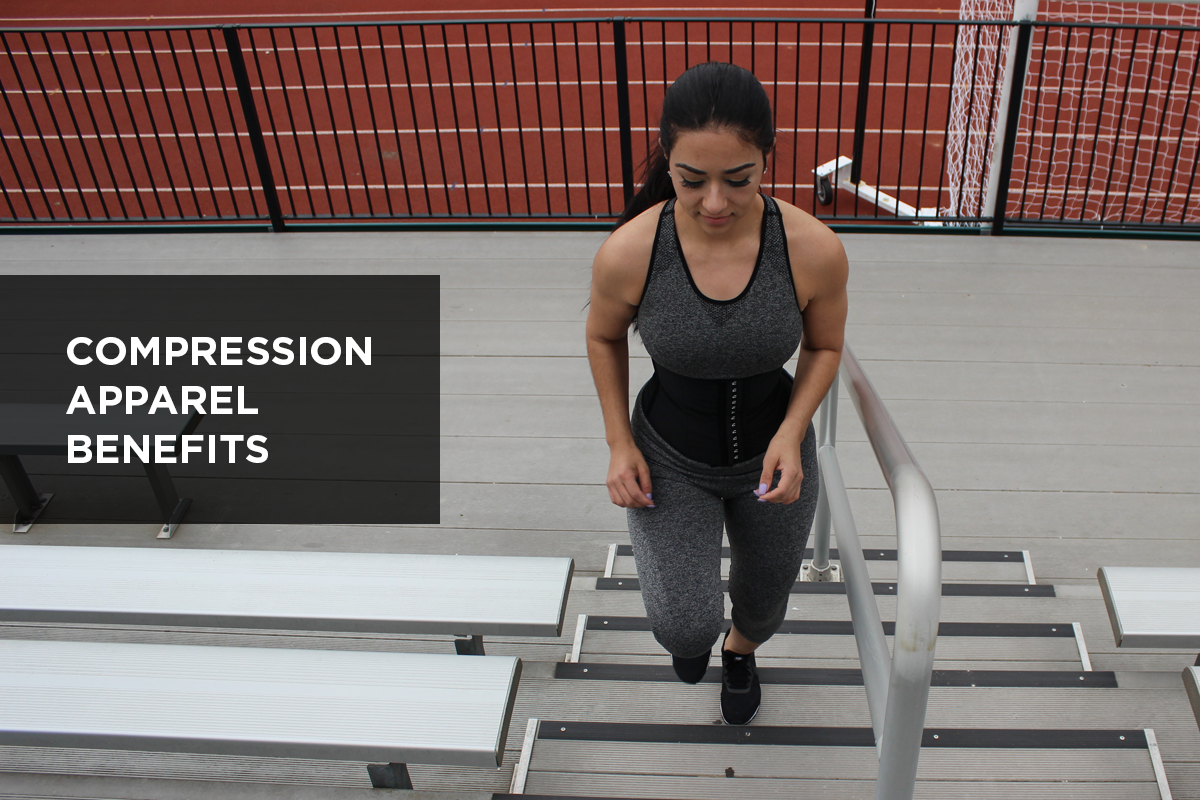 As we get ready for the new year and many people begin setting fitness goals, we're betting a lot of Christmas gifts under the tree are workout apparel and gear! Performance compression apparel is a must-have for working out, whether you're just getting started or want to step up your routine.
But how does compression apparel work? Is it better than wearing sweatpants and an old t-shirt? The short answer is yes, it's absolutely better, for several reasons. There are at least five ways it can improve your workout and recovery.
What Is Compression Clothing?
Compression clothing fits tightly around the body and provides support and pressure. It comes in different levels of compression, from light hosiery weight to medical-grade pressure.
You can find compression apparel in many forms of outerwear and undergarments. It includes socks, leggings, shorts, shirts, tanks, bras, waist bands and other varieties of shapewear.
The level of compression that is best depends on what kind of garment it is and what you hope to get out of it. For example, a high compression workout waist band or waist trainer is ideal for most people in order to have firmer pressure, while lighter compression shirts and shorts might be ideal to give you more flexible and freedom of movement.
5 Benefits of Compression Clothing During Workouts
While there are many ways that compression clothing can help you during your workout, here are five of the most beneficial.
1. More Support
There's a reason most women prefer a sports bra to a regular bra during exercise; an everyday bra just doesn't cut it when you're bouncing around or stretching your body to its limits.
The same logic applies to other styles of clothing. By applying pressure, compression clothing supports and stabilizes your body while you work out. This is especially true for high compression socks for supporting your feet and legs, and for waist trainers in support the core and back.
Compression apparel also helps you improve your flexibility during workouts. Tight clothing is less likely to catch on anything or cause friction. When you're stretching, lifting and extending, you get the support you need without being caught up in loose fabric.
Because of the added support, you may find that you are more comfortable in compression apparel when working out—as well as afterwards. There's a reason that leggings also make great loungewear!
2. Better Blood Flow
Compression apparel not only provides more support, but it can stimulate heat wherever you wear it. Warm muscles mean more blood flow and more oxygen to the area you are working, and an enhanced performance.
And where there's more heat, there's more perspiration to help cool you down. Fortunately, most compression activewear is designed with moisture-wicking material so that you can stay dry during your workouts, even while you're working hard.
3. Increased Exertion
With increased blood flow and heat to the muscles comes the ability to push harder during your workouts. This is especially true when you're exercising in cool weather—you can push harder with less concern about injury. This is why winter sports athletes like skaters and skiers wear performance compression apparel.
You can maximize your workout when wearing compression apparel even when you're doing something relatively light, such as a brisk walk. Strap on a waist trainer and some compression leggings when you're short on time and take the dog for a walk for a quick and effective workout.
4. Less Strain and Soreness
If you wear your compression garments during and after exercise, you put less strain on the muscle and reduce muscle soreness. Soreness isn't necessarily a bad thing since it means that your muscles are rebuilding themselves and getting stronger. But the less sore you are, the sooner you'll recover—meaning you can push yourself harder in your training.
Compression also speeds up the process of rebuilding muscle by reducing muscle fatigue and increasing blood flow.
The logic follows that if you're serious about maximizing your performance, quality compression activewear is a necessity for your workouts and can help you achieve your results faster.
5. Style
The mental game is an important piece to the puzzle when it comes to sticking with a workout plan. And for many people, how you look is vital when it comes to motivation.
Whether you go to the gym and work out socially, or if you post a lot of pictures of yourself on social media, showcasing your style can be highly motivating. Compression apparel can help you conceal trouble spots while showing off your physique in the right places.
Women can benefit from a great waist trainer that dramatically slims the midsection while enhancing the intensity of a workout. Compression leggings can also slim the thighs and lift the butt, outlining your curves in all the right places.
Not only is compression apparel effective in boosting your confidence in front of others, but it can also be self-motivating if you take progress photos. If you are starting a new workout plan, take a selfie regularly and watch your figure transform.
Recommended Compression Activewear
We carry some of our favorite compression activewear options for women that provide all of the benefits of compression while also creating an hourglass shape. You can get the most out of your workouts and look great while you're doing them.
Waist trainers provide high compression around the midsection from beneath the bust to the hips. It stimulates heat and perspiration in the core, intensifying your exercise when you wear it.
The Zipped Up and Snatched Workout Waist Trainer by Hourglass Angel HA108 can be slipped on in seconds, while maintaining the firm compression you want. Increased heat boosts perspiration, maximizing the effectiveness of nearly any workout routine. A high-strength zipper gives the waist trainer a firm, secure fit, while a double Velcro strap provides extra reinforcement to maintain your curves.
The Max Air Flow Breathable Waist Trainer by Hourglass Angel HA111 provides the benefits of full compression around the midsection in a comfortable, breathable package. This garment features three hooks of hook-and-eye closures, making it easy to adjust when you slim down. The mesh body lets your skin breathe, even while the waist trainer ramps up perspiration in your core, which will help you achieve results you'll love with more comfort.
A classic waist training favorite is the Workout Waist Trainer by Ann Chery 2026. Wear this waist cincher anytime you're active, whether at the gym, a run outside or your home workout. Wrap the band around the midsection and workout as normal; the garment will provide ongoing compression that stimulates thermal activity in the back and core along with perspiration.
Compression shorts like these Thigh Trainers by Amia A105 provide gentle, comfortable compression around the butt and hips. They also stimulate heat and increase perspiration during exercise while slimming and smoothing the thighs.
Compression leggings are also a must-have for any workout.
We love the Bon Bon Up Black and Blue Leggings 1067. They provide the slimming power of a girdle around the waist while lifting the rear, giving you the compression support that amplifies your workout.
If you prefer simple style, the black Butt Lifting Leggings by Bon Bon Up 1012 give you the shaping support you need along with everyday comfort. Designed to shape your waist, hips, butt and thighs, these innovative leggings use comfortable compression and advanced seaming to transform the way you look and feel.
The Best Workouts to Do in Compression Apparel
You can do practically any workout in compression apparel, perhaps with the caveat that swimming and winter sports require specialized gear. To get the most out of your workouts, however, it's recommended to have a variety of approaches that build muscle strength, cardiovascular endurance, flexibility and balance.
Try to incorporate these four types of workouts into your weekly routine. These styles of workouts often can overlap (such as yoga, which can help you work on balance, flexibility and strength). Wear compression apparel for the best performance and results!
Strength training: this can include traditional lifting exercises with weights or weighted machines. Try to work each muscles group every week. Exercises that engage large muscle groups like your legs have the double benefit of utilizing the stabilizing muscles in your core and back!
If you don't have weights or don't like them, there are also a variety of bodyweight and resistance band exercise that are effective too. Just remember to push yourself to get the most benefit.
Cardio exercise: There are many ways to approach cardio, from long routines like running, rowing or biking, to short circuits like HIIT. Sometimes if you lift heavy enough, you can exert quite a bit of cardio. Try to incorporate a variety to build the most endurance.
Flexibility:It's important to incorporate stretching into your daily workout routine, and you can also work on it on standalone days when you need to rest your muscles from strength training or high impact exercise.
Balance:Do workouts that challenge you to keep balance when you're exerting energy. Focusing on one muscle group at a time or one side of the body of the time can help you with this.
Whatever workout style you choose, your apparel can and should enhance the experience. Choose compression attire that looks good, feels good and improves your performance.