Posted by Hourglass Angel on Mar 6th 2019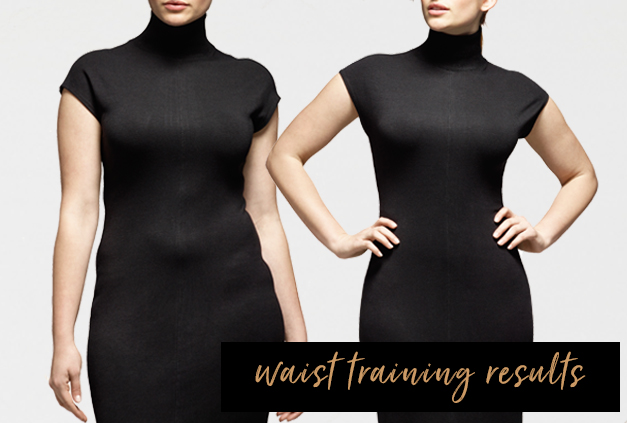 Getting started with wearing a waist trainer can be exciting, especially if you're doing it to supplement a fitness routine as part of a long-term slim-down journey. But you may have wondered, how long do you have to wear a waist trainer to see results?
While we can't promise an exact date that you'll start noticing a different in your waistline, we can show you what some of customers' experienced!
Many of our customers have shared their stories with us over the first few weeks of wearing waist trainers. Here's what they said:
Lillie H: 2–3 Weeks
Lillie is a stay-at-home mom who keeps active chasing a toddler around but who also struggled with losing the baby weight. Here's what she said after trying the Ann Chery Workout waist trainer:
"The waist trainer absolutely met my expectations and then some! I honestly had a curvy hourglass shape naturally and didn't think it was going to make a huge difference in that area. Turns out that there was a wonderful difference made that I am beyond excited about! I am not only tiny all around, having almost completely lost my belly pooch, back fat, and side fat, but I'm also so much curvier than I ever thought I could be!
Wearing the waist trainer alone gives you an instant 1-2 inches off your waist, but to start seeing a change in my body that started staying more permanent, it took me about 2-3 weeks."
Suzie H: 4–5 Weeks
Suzie is a fashion designer with a busy schedule who wanted to firm up her midsection and emphasize her curves. She didn't notice how drastic her results had been with the Classica Latex Waist Cincher by Ann Chery until her friends pointed it out:
"At first I didn't really notice much – it wasn't until friends started to tell me. At about week 4, I saw a photo of week 1 and week 5, side by side, and I COULDN'T BELIEVE IT!...friends and family members both say my results have been drastic."
Ana P: 2 Days
As a soldier in the U.S. Army, Ana P. likes to be in shape, but as a new mom she was having trouble shedding the post-baby weight. She decided to try the Waist Trainer Corset Vest by Amia A103 to work towards getting more of an hourglass figure. She noticed results almost immediately:
"I wore it every day, 8–10 hours a day, sometimes more. I also worked out in it. Sometimes during the weekend, I would just take a break but that's it!
I saw results two days after using and I'm still seeing results now…(My friends) said, "How your waist is getting so small?" I told them that I waist train and they should consider it too."
Yuliza R: 5 Weeks
As someone balancing a job with studies, Yuliza didn't have a lot of time to work out. But when she decided to try waist training, she felt more motivated to stick with it! With consistency, she saw big results:
"I was eating much healthier food choices and working out 3 times a week for an hour. I've had some issues with losing weight in the past, a lot of the times I wouldn't work up a sweat. Wearing the garment made me sweat around my midsection and back—areas where I wasn't perspiring much before, even when I worked out.
I started seeing results around week 5 and so did my co-workers! They would consistently compliment me and my achievements."
Want to hear more real waist training results? Be sure to check out the rest of our Before and After Waist Training Gallery.
How to Get the Best Results with Waist Training
Feeling inspired and excited to get started? There are a few things to consider about getting the most out of your waist training routine.
First, choose a waist trainer that is a good fit for your body type and your lifestyle. Check out our most popular waist trainers and be sure to follow the sizing chart for the garments accordingly. Some features to consider:
Garment length: if you have a tall or short torso, you may want a waist trainer that provides more or less coverage.
Shoulder straps: vest-style waist trainers are ideal if you want more coverage for the upper back and support for the bust.
Closure type: most beginners start with hook-and-eye closures that fasten in the front, although you might also like to try a zipper or Velcro closure. If you want more dramatic slimming, you may want to try a steel-boned corset with a lace-up back.
Workout vs. everyday style: some waist trainers are designed specifically for workouts so that you can sweat harder and up the intensity, while others are best worn under your everyday clothes (why not try both?).
Number of rows of hooks: if you plan on sizing down significantly during your waist training journey, you may prefer three rows of closure hooks over two.
Once you have the ideal garment, be sure to follow best practices with waist training, including:
Consistency: we recommend wearing a waist trainer for at least 8 hours a day, for a maximum of 12. When you first start, wear your garment for just an hour or two, and then gradually add more time until you are comfortable with all-day wear. While it's okay to skip a day occasionally, you'll meet your goals faster the more you wear your waist trainer.
Healthy diet: when it comes to weight loss, diet is one of the most powerful tools you have. Wearing a waist trainer can help you stay motivated and on target with a diet. Eat lots of complex carbohydrates like veggies, along with lean protein and healthy fats at every meal. You may find it most comfortable to eat 5–6 small meals a day, which can help with appetite and portion control.
Exercise: do a variety of cardio and strength training in order to burn fat and lose weight. Working out with a waist trainer will help you intensify your workouts by stimulating heat in your core and causing more perspiration.
Wondering what your results will be with waist training? The only way to find out is to test it out yourself!