Posted by Hourglass Angel on Aug 15th 2018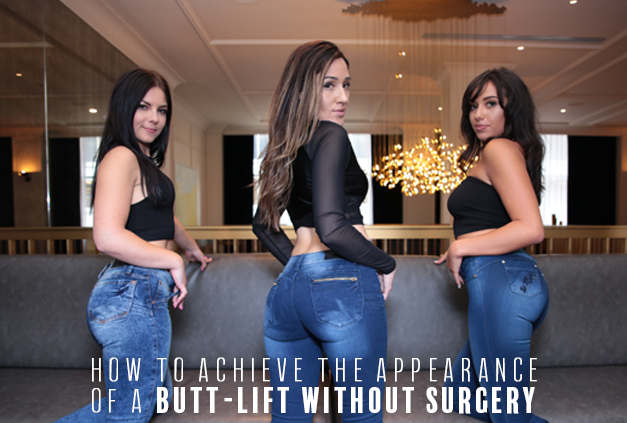 Want to know the secret to a full, firm butt, even if you're not so naturally endowed in that area? You may think surgery is your only option, but you may reconsider that opinion when you see how many ways you can sculpt your backside with shapewear and shaping apparel.
So skip the knife and check out all the ways you can redefine your curves in a natural, comfortable way. Here are our favorite butt-lifting shapers and pants, how to style them, and what results you can expect.
Butt-Lifting Bodysuits
When you're dressing to impress, it can be a challenge addressing all of your trouble spots while trying to make your rear look round and full. Even if you wear shapewear, you may find that some styles are actually designed to minimize your rear and hips.
But not all shapewear is created the same, which is why you should consider a butt-lifting bodysuit anytime you're dressing up or wearing business attire.
The Dayanna Butt-Booster Bodysuit by Vedette 913 is one of our favorite curve-creating shapers. It is constructed with an open bottom that will lift and enhance your natural curves (no padding required!). It also trims your midsection and lower abdomen so you get an all-over hourglass look.
If you prefer more coverage for your legs, the Vedette Amelie Open Bottom Mid-Thigh Shaper by Vedette 914 slims the thighs while still producing stunning butt-lifting results. Both styles of garment are designed with open busts and straps so you can pair them with your bra of choice, for a custom fit from bust to bottom.
These bodysuits work beautifully under skirts and dresses, whether formal attire, cocktail dresses or even flirty casualwear. Choose the color closer to your skin tone if you're wearing light-colored fabrics on top to keep your butt-lifting secret invisible.
Butt-Lifting Shorts
If you want some of the results you get with a bodysuit, but without having to wear the full garment, butt-lifting shorts may be the way to go. This style of shaper can shape your lower abdomen while still enhancing your backside.
The Amalia Rounder Rear Shorts are constructed with an open bottom, resulting in a fuller, firmer butt using your natural curves. The garment uses Powernet microfiber: powerful but light material that will slim your midsection and lower abs while keeping your backside perky—without weighing you down.
This is an ideal garment for warm weather and wears well under short skirts and shorts.
If you are wearing a longer skirt or pants and want a bit more thigh control, then a butt-enhancing thigh shaper should do the trick. The Amie Mid-Thigh High Waist Open Bottom Enhance by Vedette 911 is another open bottom shaping option that is light but packs a powerful punch when it comes to sculpting your curves. This high-waist shaper keeps your tummy and midsection in check, slims and smooth the thighs, and also creates a full rear with Vedette's signature open-bottom design. This garment will provide powerful enhancement while helping you avoid visible panty line under tight skirts and pants.
Butt-Lifting Panties
You're going to be wearing panties anyway, so why not try some that slim and enhance all the right places? Most shaping panties slim the waist, but you can also choose some that enhance the rear.
The Butt Lifter Panty by Fullness is a one-of-a-kind butt-shaping panty that shapes and enhances in several ways. The high waist slims the midsection and eliminates muffin top and love handles. But it doesn't stop there. It combines a thong back with adjustable butt-enhancement straps that fasten beneath the buttocks. Tighten them to your desired enhancement level and watch your rear get a dramatic but natural lift, instantly. This panty works under endless styles and is especially effective in any form-fitting attire that draws attention to your backside.
Butt-Lifting Jeans
You don't have to always rely on shapewear to achieve a round, full butt. We love the results achieved from innovate butt-lifting attire like Brazilian style butt-lifting jeans.
Butt-lifting jeans originated in Brazil as a way to naturally create full, firm curves. But this trend has exploded to well beyond Latin America so that anyone can enjoy natural curve enhancement.
The All-Night Curves Butt-Lifting Jeans by Ava Cultura are crafted from stretch cotton and constructed in a way to draw the eyes to the roundness of the rear. Unlike other jeans, which use flat seams, butt-lifting jeans used curved seams in the back, along with a snug fit, to make the butt full and firm. These jeans also provide slimming and control for the waist and thighs, so that the rear can stand out even more in a luscious hourglass shape.
You can wear butt-lifting jeans pretty much anywhere denim is appropriate. Dress them up with heels and a flirty top, or dress them down with flats and a t-shirt. No matter what the occasion, your can feel great about your curves.
Butt-Lifting Leggings
Last but not least, don't forget about having a round and full butt during your workouts. Butt-lifting leggings are the obvious choice for anyone who wants to look good even when working up a sweat.
Bon Bon Up Leggings are among our favorite leggings options for workouts because of their powerful but invisible butt-lifting power. Each pair is constructed with an internal girdle that shapes and lifts the butt while also taming the midsection and lower abs and slimming the thighs. The result is stunning curves for any body type. These leggings are a must-have whether you're out on the trail or in the gym.
No matter what the occasion, there's a butt-lifting option for you that will help you feel more confident in your own skin—without cosmetic surgery. Check out our entire selection of butt-lifting shapewear and apparel to find the best butt-lifting look for your needs.