Posted by hourglass angel on Jan 30th 2017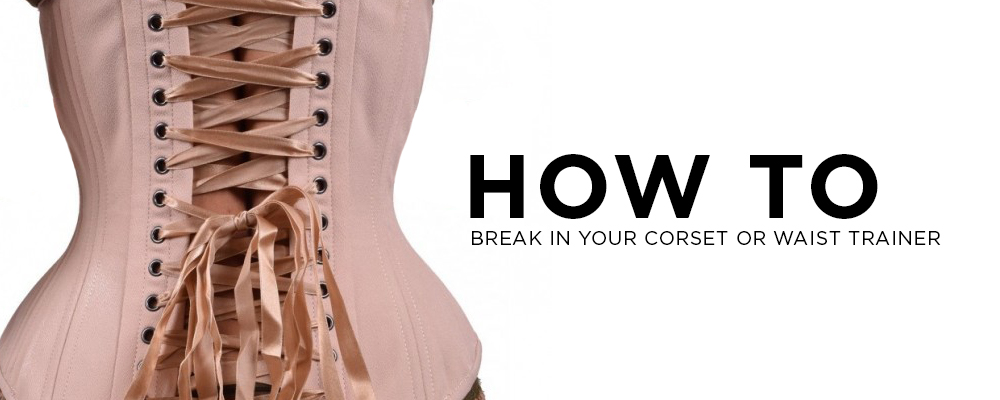 When you first receive your steel-boned corset or cincher-style waist trainer, it can be very tempting to want to see your results right away! But it's very important that you take the time to break in the garment before you simply start wearing it nonstop. This will provide the most comfortable effect for you, and it will ultimately create the best slimming results.
Corsets and cinchers are both effective for waist training, but they are slightly different when it comes to trying them on and breaking them in. Be sure to follow the instructions for each style of garment carefully.
How to Break in a Cincher-Style Waist Trainer
The first step in breaking in your brand new cincher, which is probably made of latex, is to try it on and make sure that it fits correctly. If it's the wrong size, you risk damaging the garment, and it will not produce the most flattering results for your figure.
If you've never tried on a waist trainer with hook-and-eye fasteners, it is a little tricky the first time. The easiest method we recommend is starting with the bottom hook and fastening it around the narrowest part of your waist. You should be using the loosest setting so that you will have room to size down. Work your way up the garment one hook at a time, pulling the waist trainer down over your abdomen as you go. When the garment is completely fastened, it should be very snug and sculpt your torso into an hourglass curve. If you have much difficulty fastening the hooks, even with this method, it may be because the garment is too small. Don't force it into place; consult its size chart online, take your measurements again, and try to determine what would be a more appropriate size. In some cases, you might enjoy a different style that will suit your body type better.
Once you've determined that your garment fits and that you love the results, it's time to slowly break it in. We recommend that you wear it for the first day for only about an hour; this will help you grow accustomed to the way it feels. If you've never worn one before, it might feel slightly restrictive and will take some time to grow accustomed to.
If you plan on participating in an ongoing waist training program, increase the time you wear the waist trainer by about half an hour to an hour a day. This gives your body opportune time to adjust to the way it feels, and it also allows the materials to mold to your unique body shape. After a few weeks, you should be wearing the waist trainer for about 8–10 hours a day to achieve the best results.
If you plan on wearing your waist trainer only for special occasions, we still recommend that you break it in before the event. Wear it at least 4–5 times, again increasing the amount of time you wear it so that you can grow accustomed to the way it feels. If you plan on wearing it at a long event like a wedding, you'll want to make sure that you've prepared for that in advance (just like your shoes!).
Finally, we'll add that it's very important to take proper care of your waist trainer, for when you're breaking it in and beyond. Let it air out over a chair or on a clothes hanger when you're not wearing it, which allows the latex to regain its shape. Spot clean using a very mild detergent, or clean in a bucket of warm water when needed. Always hang to dry.
How to Break in a Steel-Boned Corset
The process of breaking in a steel-boned corset is called seasoning, and it's a very important step in getting the most out of the waist training garment. Like cinchers, the first step is putting it on and making sure that you have the right size. First, loosen the laces completely, put it on and fasten the busks in front.
If you've never tightened a corset before, you may want to ask for some help; at the very least, do it in front of the mirror. You'll want to do it gradually, starting at the top and the bottom of the laces and working towards the middle. It's kind of like tightening shoelaces, only you will tie them off at the middle instead of at the end.
This is very important: do not completely tighten the corset the first time you wear it, or you risk warping the steel boning inside. The modesty panel underneath the laces should only just reach the other side. You should still be able to slip your hand underneath. It will feel very rigid, and that is normal. Wear it for about 30 minutes, and then tighten it slightly. Then, after no more than two hours of wear, take it off for the rest of the day.
As with a latex cincher, if you plan on doing a waist training regimen you'll want to increase your time of wear gradually, by no more than about an hour a day. Lace it up a little bit tighter each time, but don't force it. You'll find that as time passes, it will more naturally mold to your figure, and you should be able to pull it very tight after about two weeks.
If you only want to wear your corset for a special event, it's still important to use the seasoning process—again, just like you would break in dance shoes. Order it well in advance and wear it for a couple of hours a day for a couple of weeks before your event.
It's also important to take proper care of your corset while you're breaking it in and beyond. Place it lining side up over a chair or hanger when not in use and spot clean as needed.
We hope you find this information helpful as you prepare for waist training or a special event. As always, contact us with any additional questions, or see our tips for shapewear care.