Posted by hourglass angel on Aug 11th 2017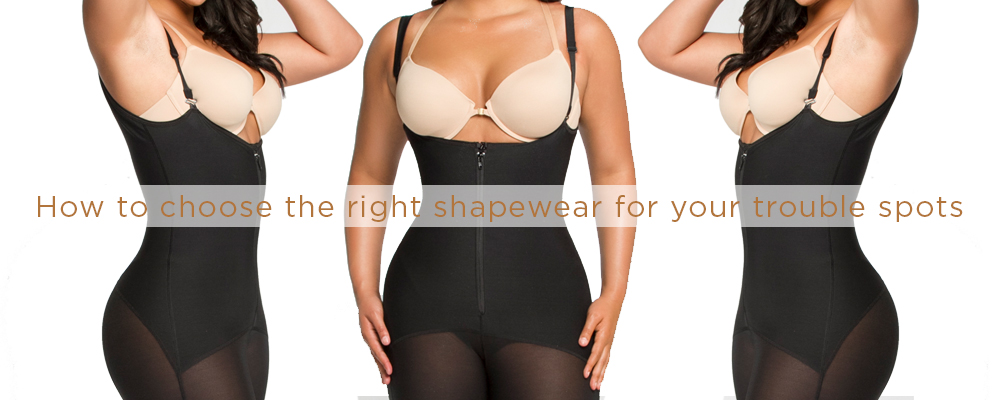 When you're trying to get a flawless look, whether or not you should use shapewear isn't even a question. Stunning celebrities—like the Kardashians, Halle Berry, Oprah, Jessica Alba and more—swear by it, so there's no reason to be bashful. The question is, which is the right shapewear, especially when you consider your own personal trouble spots?
While the options might feel a little overwhelming, especially if you're not accustomed to wearing shapewear, finding your perfect shaping solution online is not as hard as you think.
Step 1: Identify Your Trouble Spots
Do you know what body type you are? That's usually a helpful place to start when identifying your trouble spots. Women's shapes can fall into several categories:
Round figured (apple): You have a fuller bust and midsection, with narrow shoulders and hips. Your challenge is defining your waistline.
Straight figured (rectangle): Your shoulders, waist, bust and hips are all close in size. Your challenge is adding curves in the right places.
Hourglass: Your figure resembles an hourglass: the waistline is smaller than the hips and bust. Your challenge is curve control.
Curvy on the bottom (pear): Your hips are wider than your upper half. Your challenge is enhancing your bust or controlling those hips and thighs.
Shapely on top (inverted triangle): Your upper half is noticeably larger than your hips. Your challenge is defining your waist and softening your shoulders.
You can determine which of these shapes best describes you by taking measurements of the bust, waist and hips. But chances are, you probably already know what you are. Based on your body type, you can figure out which areas on your figure need some shaping, slimming, and smoothing with the help of shapewear.
Step 2: Know Your Occasion
Once you know your trouble spots, next decide what occasions you will want to use shapewear for. Here are some factors to consider:
Formal vs. everyday: Generally you're going to want a lot of compression and shaping power for formal events like weddings. You may want something a little more breathable for everyday use, whether you're at home or at work.
Workout apparel: What you wear during your workouts is going to be different than what you wear to the office. Workout shapewear is designed to make you sweat for a more effective workout but can also be breathable and is designed to retain its shape during vigorous movement.
Temperature: You may want to select your shapewear depending upon the weather and what you're planning on wearing over the top. In hot weather when you're wearing very light tops, some shapers might be uncomfortable and hard to hide. In cooler weather you won't mind some heavier shapers.
Step 3: Know Your Shaping Options
There are many options when it comes to shapewear, but they generally fall into a few categories. Choose your category based on your trouble spots and the occasion.
Step 4: Choose Your Support Level
Once you have some options in mind, the next factor you'll want to consider when targeting your trouble spots is the level of control those options provide.
Contrary to what you might think, the key to powerful shaping is not a smaller shaper (proper sizing and good fit is imperative—see below). Rather, the level of compression your garment offers is what's going to determine your results. Check out garment descriptions to determine the level of shaping power.
Light shaping: these are thin garments that provide smoothing but don't offer a lot of extra support or figure contouring. These are most comfortable for casualwear and warm weather.
Moderate shaping: these provide firmer smoothing and light shaping by using firm materials like light spandex and tummy control panels.
Firm compression: these type of garments provide figure contouring and firm support and can help reshape your figure. They are typically reinforced with extra control panels and firm spandex.
Maximum compression: this is as good as it gets when it comes to shaping and control. Powerful shaping materials like latex are typically used and can be reinforced with plastic or steel boning.
Step 5: Determine Your Size
This is a vital step in finding the right shapewear for your trouble spots. Our shaping garments have been tested and each one has a custom sizing chart. Do not simply guess what size you need. Using a soft vinyl or fabric measuring tape, take measurements before placing any order to ensure the best fit.
When it comes to shapewear, the most important sizes are your bust, waist and hips. Your measuring tape should lie flat and firm against your body, but it shouldn't be stretched tight. Also be sure that it is level with the ground when you take your measurements (use a mirror or a friend for assistance).
Bust: measure the fullest part of your bust.
Waist: measure the narrowest part of your waist where there is a natural bend, typically two inches above your belly button.
Hips: measure the fullest part of the hips.
Once you have taken your measurements and consulted the custom sizing chart for your garment, choose the closest fit. For waist trainers, the most important measurement to go by is your waist. For other garments that provide shaping for multiple target areas, always go with the largest measurement.
When in doubt or in between sizes, always go a size up, rather than down. Not only can garments that are too small be uncomfortable, but they won't provide the most flattering results. Remember, firm compression is the key to shaping power, not garment size.
A little tip if you have a larger bust: stick with open-bust garments with adjustable straps for the best-fitting and most flattering shaping results.
Step 6: Trying It On and Looking Fabulous
Once you receive your shapewear in the mail it might be a little tricky to try it on at first. Step into it carefully and fasten slowly from the bottom up, adjusting as you go. You should not have to yank, stretch or pull hard on garments that fits correctly, or you risk damaging it. Shapewear that fits should look flattering instantly; put on garments over it just to make sure.
And that's it! Now you know the secret to targeting your trouble areas. If you have any questions, contact our professional stylists who will be happy to assist you.