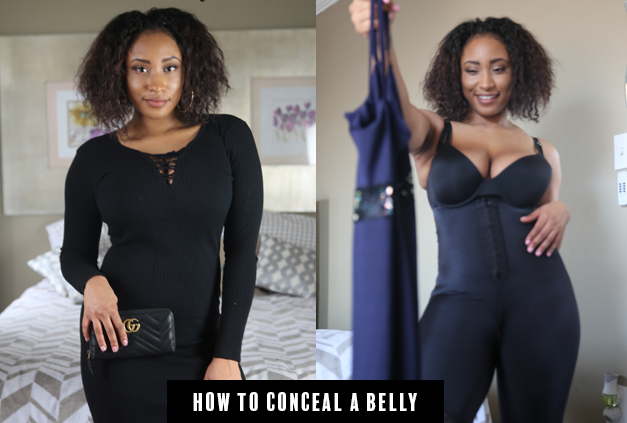 One of the most common "problem areas" that women have, regardless of body type, is the belly. Challenges like muffin top, belly pooch, mommy tummy and more are something most of us try to conceal at some point in our lives.
Fortunately, it's not difficult to conceal a belly with the right shapewear and clothing that minimizes the waist and highlights your other curves. Here's what you need to know in order to create a coveted hourglass waistline for any occasion.
How to Conceal Your Belly with Shapewear
A simple yet effective way to conceal that extra weight at your middle is to incorporate tummy control shapewear into your everyday wardrobe. There are a variety of styles to choose from that be worn casually, professionally and formally.
Different styles of shaping garments are designed to sculpt different target areas. Here are some of our top recommendations for minimizing your tummy.
Shaping Panties and Shorts
Shaping panties and shortsused as undergarments instantly create a smoother midsection and a flatter tummy. Choose a style with a high waist that provides slimming and control from the lower abdomen up to the natural waist or higher.
The Convertible Panty Shaper by Vedette 210 uses a light but firm latex core, resulting in a visibly reduced waistline and smooth lower tummy. It's fully adjustable with straps and pairs with your favorite bra. This garment is ideal under everyday and professional attire, including dresses and skirts.
The High-Waisted Panty Shaper with Booty Lift by Leonisa 022239 is a high rise brief style shaper that also features bottom-lifting construction so you can slim your waistline and boost your butt all in one comfortable garment. Use this garment to enhance your look under tight pants and skirts.
Held Together Shaper Shorts by Bewicked 2006 feature tummy-sculpting material in a high waist cut reinforced with boning, all with the lightweight feel of hosiery. The bottom half also smooths your hips, butt and thighs. Try out these shorts under any outfit and watch your figure transform.
Waist Trainers
Using a waist trainer is another effective way to flatten the tummy and create a smoother midsection. You can use a latex cincher with a front closure during your workouts or under everyday attire. And if you want the most dramatic results, a steel-boned corset can drastically reduce your waistline by several inches.
The Zipped Up and Double Snatched Workout Waist Trainer by Hourglass Angel HA112 provides maximum compression with a zip-up, double-strapped closure that will help you amplify your workouts and achieve a flat belly while you're at it. You can wear this garment underneath workout attire or show it off with your favorite sports bra and workout leggings.
The Max Air Flow Breathable Waist Trainer by Hourglass Angel HA111 provides firm compression with latex and flexible boning, while the mesh design helps you feel cool—combining comfort and performance. Wear this garment under casual or professional tops to create a smooth foundation.
The Short Underbust Cotton Corset by Hourglass Angel HA200 is made with cotton and feels soft against the skin, while the steel boning and lace-up back provide powerful slimming and sculpting of your midsection into an hourglass shape. You can wear this corset under your tops in order to create a cinched waist, or over your tops as a statement piece.
Body Shapers
If you want all-over slimming in addition to tummy control, an all-over body shaper may be the way to go. Many of these types of garments firmly compress the midsection while also shaping your other features so that you can accentuate your curves in all the right places.
The Strapless Body Shaper by Vedette 123 firmly shapes and enhances your figure using a dual-layer design that will eliminate love handles, trim your lower tummy and reshape your whole torso. This shaper is ideal under cocktail dresses and gowns.
The Naomi and Nicole Unbelievable Comfort High Waist Thigh Slimmer appears seamless and is light and comfortable, yet provides powerful control of the belly, lower abdomen and thighs. Wear this garment under casual attire as well as under professional and formal clothes.
The Strapless Slimming Shaper by Ann Cherry 4013 is a versatile shaping garment that provides shaping and coverage from just beneath the bust to the upper thighs. It features a flat-belly latex panel to keep your tummy firmly in check. It also enhances your natural curves in your rear. This garment functions well under many styles of dresses.
How Can I Make My Stomach Look Flatter in Clothes?
In addition to wearing belly-slimming shapewear, you can also conceal a tummy with the right kinds of clothing. Note that which styles are most flattering can depend on your body type. But in general, here are some tried-and-true tips that work well no matter what your natural shape and size.
Wear Loose Over Tight Clothes
It's easy to hide your imperfections with flowing fabrics. Tight, thin and sheer clothes tend to highlight them instead. Choose layers, flowing skirts and pants, and loose tops. If you want to add a little more texture, try layering a short jacket over a loose top.
Cardigans are great accessories you can use over many types of outfits and easily draw the eye away from the waist. Ruching in your fabric is also a great trick easily hides the belly/
Draw Attention to Your Best Features
While it's ideal to have flowing clothing, you don't want to look like you're wearing a bag. The way to avoid this is by using accents like belts, knots, hems, patterns and prints in places that you do want to accentuate, like the natural waist, the rounded part of the butt, your bust, your legs or your shoulders.
If you're wearing a loose top like a long button-down or sweater, this look usually pairs well with leggings or tighter pants.
Go Monotone or Use Vertical Stripes
Single colors tend to make you look leaner than patterns. Dark clothes work best, but you can experiment with lighter colors as well. In general, you can't go wrong with black or other
Vertical stripes also have the effect of elongating your figure and drawing attention away from your waist.
Wear Longer Skirts
If you want to wear a skirt or a dress, choose a style that stops just below the knee or is even longer. This has the effect of making your legs look longer and drawing attention away from your middle.
Choose High Waist Bottoms
Whether you're wearing pants or a skirt, you'll always do well to go with a high waist. This prevents muffin top and conceals your lower abdomen.
If you want to wear a belt, be careful not to choose something too flashy or with a big buckle. It can draw too much attention to your middle and have the opposite effect you want.
How To Hide Belly Fat in Jeans
Jeans are a staple in every woman's closet, but if you want to minimize your belly, it can be difficult to choose the right pair. You want to look fashionable but not in a way that is unflattering.
That's why butt-lifting jeans can be one of the best pieces to add to your wardrobe. These Brazilian-style jeans are designed not only to naturally lift and accentuate the butt, but hide belly fat and create the appearance of a slimmer waist.
Here's how they work: butt-lifting jeans use a unique seaming technique that draws attention to your rear while creating fuller, rounder curves with stretchy denim. The high-waist cut works with the butt-lifting effect to create a shape that looks like an hourglass. A finally, a skinny cut elongates the legs and creates a curvier look that flatters every body type.
Butt-lifting jeans function well whether you want to wear a flowing top with tight bottoms, or a shorter, texture top. They're versatile and come in several styles and colors.
Perk Up Butt-Lifting Jeans by Bon Bon Up 4613 feature a three-button closure and a lightly-faded look, with rear and front pocket details.
If you're going for a more dramatic look, Dramatic Fade Butt-Lifting Jeans by Bon Bon Up 3201 come pre-faded for a casual but dramatic flair with embellishments on the back pockets that draw attention to your rear.
And you can't go wrong with black; Sassy Black Butt-Lifting Jeans by Bon Bon up 4903 are made with stretchy black denim that flatters your figure with a high waist cut and curve-creating seams. Gold buttons finish the looks so you can feel sexy and confident.
Conceal Your Belly with the Right Shapewear and the Right Styles
To sum everything up, there are many ways to conceal a belly. With the right shapewear in your wardrobe, along with some smart style choices (and jeans you love), you can be confident that you are drawing attention to your best features and creating the hourglass look you dream of.
Need help with sizing or creating the perfect shape? Browse our curated shapewear collection, read our blog, or contact our experts if you need help.