Posted by Hourglass Angel on Sep 30th 2020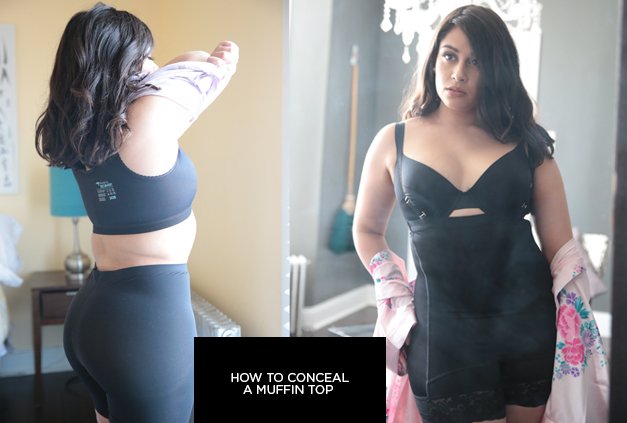 1.Wear more flattering pants and bottoms. Most muffin tops are caused by pants that are tight and squeeze your waist in the wrong place.

If you wear high-waist pants and skirts, they'll stop at your natural waist, rather than around your hip bones. This is naturally more flattering because that's the part of your figure that you actually will want your clothes to fit a little tighter on. It's also best to choose bottoms that have a bit of stretch in the waist, which can be more forgiving.
2.Wear waist-slimming shapewear under your outfits. If you don't always want to wear high-waist bottoms, wear a layer underneath that holds everything in place and prevents the spillover effect. Camis, waist trainers and shaping panties are all effective garments (we'll recommend our favorites below!).
3.Choose flowing or structured looks over tight-fitting dresses and tops. Unless you're going for the bodycon look, most people look better in material that flows rather than clings. This is especially the case if you want to wear pants that don't come up to the natural waist.
4.Emphasize your curves. Choose attire that draws attention to your bust, shoulders, legs or butt and away from your waist. You can enhance your look even further with shapewear underneath.
5.Wear an empire waist. Just as pants look better near your natural waist, an empire waist dress has the same effect. There are tons of cute styles with a waistline that sits just below the bust.
Camisoles: You can get a smooth silhouette under your clothes with a shaping cami like the Naomi & Nicole Unbelievable Comfort Torsett 771. With its underbust design, you can pair it with your favorite bra while getting slimming and smoothing for your whole torso. It stays in play with silicone bands and creates a seamless look under most styles.
Shaping Underwear: You wear panties every day anyway, so why not wear some that slim and enhance? The High-Waisted Panty Shaper with Booty Lift by Leonisa 022239 fits comfortably under your everyday attire while trimming your tummy and eliminating love handles and muffin top. It has the added bonus of boosting your backside!
Tummy Control Shapers: You can find shapewear of varying cuts and compression levels depending on your shaping needs. Some zero in on the midsection, while others are all-in-one shapers that target everything from your waistline to your butt, hips and thighs.

The Strapless Body Shaper by Vedette 123 can be worn with almost anything. It seamlessly slims your whole torso and creates a velvety smooth foundation for even your tightest tops and dresses.
Muffin-Busting Leggings
One of the main offenders when it comes to causing muffin top is leggings. Even though they're comfy, they're also tight and can squeeze in the most unflattering ways.
That's why shaping leggings are must-have for your wardrobe, for workouts or for casual days. The right kind will keep your whole midsection in check, so you never have to worry about a muffin top peeking out.
The Classic Black Butt-Lifting Leggings by Bon Bon Up 1062 function as shapewear that controls the lower abdomen and slims the waist. These leggings also effortlessly lift and firm the butt. The secret is the internal seaming and compression built right into them, which makes them function like a girdle.
And for when you wanted to have a splash of fun and color with the same stunning waist-snatching effects, try the OMG Butt-Lifting Leggings by Bon Bon Up 1160. You'll love the bright colors and 90s vibes along with the powerful waist-trimming finish.
Say Goodbye to Muffin Top Forever!
With the right clothes and shapewear, you never have to worry about muffin top again. Check out the many styles we offer and get a body-shaping wardrobe you love.
Still need help or advice? We're here for you! Check out the shapewear and waist training advice from our blog, or contact us to talk to our expert stylists. We'll help you find the right shapewear and the right fit for any occasion.