Posted by hourglass angel on Apr 23rd 2017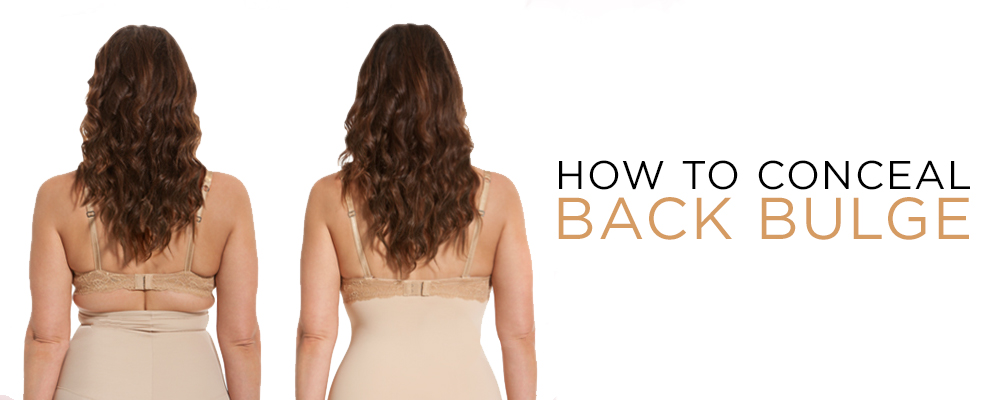 Back bulge: a super-popular topic, right? We know it's not something most women enjoy thinking about, letting alone talking about, but nonetheless, most of us struggle with it in one form or another. That's why we thought it would helpful to pull together some of our best and tips and resources to battle back bulge!
What is Back Bulge?
Just as we come in different shapes and sizes, so do the problem areas on our back. Generally speaking, you're going to wrestle with these two varieties (or both):
Bra bulge: the bra line creates an indent on your upper back, especially at the sides.
Muffin top: your get bulging that gathers around the top of the waistline of your pants or skirt, especially around the sides.
We know you hate it. We hate it too. So here's what you can do about it:
Get a Great Bra That Fits You Well
It doesn't matter what size you are; if you don't have a bra that fits, you are going to get some unflattering bulging in the back (yes, even if you're on the slim side!). In some ways, this should be a relief because it's a relatively easy fix.
You should measure your bra size about every six months—yes, you read that correctly! Women can go through all sorts of changes, particularly if your weight has fluctuated or you've gone through a pregnancy.
To get an accurate measurement, measure the fullest part of your bust as well as just underneath your bust. For the underbust measurement, round up to the nearest even number; this will be your band size. To get your cup size, subtract the band size from the number of inches of the fullest part of your bust. Each inch of difference represents a letter of cup size, starting with A at 1 inch. So, if your band size is 34 inches and the fullest part of your bust is 36 inches, your bra size is a 34B. If your band size is 40 inches and the fullest part of your bust is 45 inches, your bra size is 40DD. And so on.
Now, once you have an accurate cup size, we hope it goes without saying that you should invest in a high-quality bra. Not only will you be more comfortable with the ideal amount of support and the most flattering bustline, but you'll notice immediately that you'll have less or even no back bulge.
Check out our collection of sexy bras for all shapes and sizes.
Use Back-Concealing Shapewear
Once you've got a great bra in place, you can further conceal upper back bulge using shapewear that is designed to provide coverage over the bra line. These styles typically provide shaping for the midsection, complete with supportive straps with more coverage for your back. We recommend using open-bust designs because you can customize your fit by pairing them with your favorite bras. What's more, they provide additional extra support for your bust, making them ideal for women who are extra curvy on top.
Check out this selection of shapewear bras specially designed to conceal bra bulge.
Let's talk about the other type of bulge: the muffin top of the mid to lower back. We've got you covered there too. Choose a waist-slimming shaper like a waist trainer, or a high-waist panty shaper to smooth out your whole midsection and create hourglass curves.
Check out our waist training choices as well as shaping panties. For special occasions, you might also want to check out our collection of full body shapewear that shapes and smooths your whole torso.
Dress for Your Shape
Once you've got the perfect bra and some great shapewear in place, the final touch to concealing back bulge is to create overall balance in your figure. How to do this depends on your particular body shape. Here are some general tips:
Shapely on Top: If your shoulders and bust are wider than your hips, you don't want to draw too much attention to your top (and you probably battle with bra bulge frequently). Wear outfits that define your waist—perhaps with a waist trainer—and try to add volume to your rear, either with a shaper or butt-lifting jeans.
Curvy on Bottom: If your hips are wider than your shoulders and bust, you'll want to do everything you can to emphasize your waistline as well as add volume to the top. Choose shapewear that smooths your midsection and enhance your bust. Top it all off with tops that draw attention to your bust to provide that all-over balance.
Hourglass: Your main goal is to provide all-over smoothing, especially around your torso. Choose back-concealing and waist slimming shapewear as well as a supportive bra and some fitted jeans or another style of bottoms. Do that and you'll look good in pretty much anything!
Straight Figured: Your objective when dressing is to create curves while still concealing the bulging you're dealing with. Like every body shape, it starts at the foundation with a great bra and shapewear. You are going to look curvier by using a waist-slimming cincher as well as any butt-enhancing panty or jeans.
Round Figured: If you have a small waist-to-hip ratio, you can do a lot of figure enhancement with the right shapewear. A vest-style waist trainer will look very stunning by slimming the waistline while providing extra support for your bust and coverage for your back. Shaping camis and panties also work great with your figure by providing a smooth, controlled waistline and back. Wear styles that draw attention away from your waist—you'll look especially flattering in skinny jeans and leggings.
No one likes back bulge, and no one has to put up with it either. Arm yourself with the right shapewear, bra and styling tips, and you're well on your way to a smooth, sexy silhouette from top to bottom. As always, if you have any specific questions for your shaping needs, contact our customer service team at any time!