Posted by Hourglass Angel on Jun 30th 2022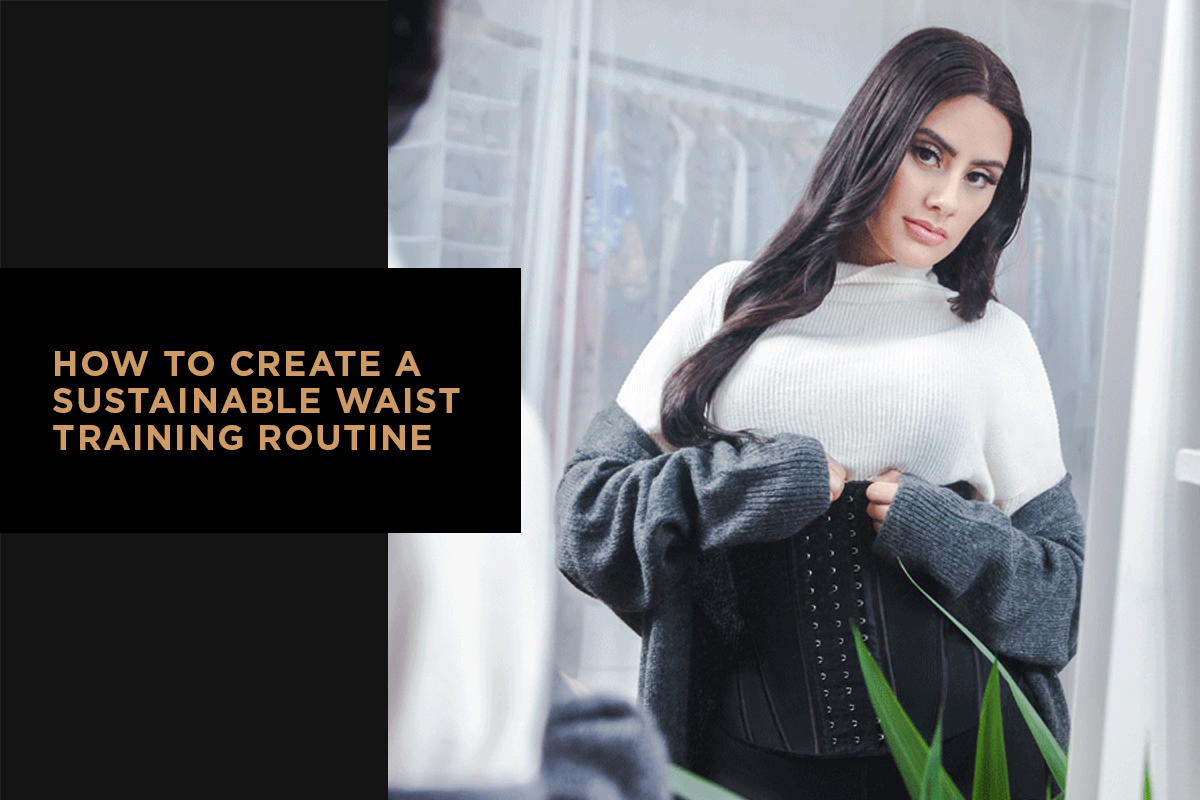 If you're looking for a way to complement your slim-down journey with a simple routine that fits you're your lifestyle, waist training is a great way to go! But there's one key strategy you need to know. If you're starting a new waist training routine and want to see results, the most important thing you can do is be consistent.
While many people are enthusiastic about waist training when they first start, it can be difficult for some to maintain motivation over the long term, especially if they don't have a plan. A waist trainer is not just another piece of clothing, and it can take some time to get used to. That's why it's important to get started the right way, so you can create a sustainable waist training routine that you'll be able to stick with easily, week after week, month after month.
Here's everything you need to know about how to create a sustainable waist training routine, including how to make it more comfortable when you're first starting out.
Waist Training Crash Course: How to Get Started
Waist training is the practice of wearing a high-compression garment around your waist as part of a healthy lifestyle that includes a nutritious diet and regular exercise. Wearing a waist trainer from 8 to 12 hours a day works in conjunction with your lifestyle to help you achieve a slimmer, more defined waist.
Getting started with waist training is simple. All you need is a waist trainer, which should fit correctly in order to create the best results. Be sure you follow the size charts on our website for your specific waist trainer.
One mistake people can make when getting started is to immediately wear their waist training garment all day, every day. If you're not used to wearing a waist trainer, it can feel a little stiff and uncomfortable at first, especially since the garment hasn't been broken in.
Instead, begin by wearing your waist trainer for only an hour or so the first day, and then gradually add a few more hours each day. Your body will get used to wearing the garment over time and will adapt to the compression, and the waist trainer will also mold to your natural body shape.
After a few weeks, you should feel comfortable wearing your waist trainer for up to 12 hours a day. If you set yourself up for success from the beginning, it will start to feel like second nature.
How Long Do You Have to Wear a Waist Trainer to See Results?
This is one of the most frequently asked questions we receive, and the answer depends on a variety of factors.
Your waist slimming and weight loss goals, your fitness level, your body type, your diet, and your genetics all play a role in how quickly you'll see results and how dramatic those results will be.
In general, the more consistently your wear your waist trainer and the more drastically you adjust your lifestyle, the faster and more dramatically you'll see results. Most people start to notice a difference in their figure after a few weeks of consistent wear in tandem with a nutritious diet and exercise.
We highly recommend tracking your progress, especially as you first start out, so that you can see how effectively your waist trainer is working. You might not notice the difference day by day, but if you take photos and waist measurements weekly on a regular basis, the documented results will speak for themselves.
Lifestyle Practices for the Most Effective Waist Training
The most effective waist training regimen involves incorporating a variety of healthy lifestyle practices into your routine, including a sensible diet, regular exercise, and plenty of hydration. A sensible diet includes whole foods, minimal processed foods and sugar, small frequent meals and drinks, and enough water to keep your body well-hydrated.
The best exercises to combine with waist training include cardio of varying intensity and strength training. Cardio can help build endurance, and strength training helps to increase your lean muscle mass, which in turn helps to keep your body in shape and helps to increase your metabolism. The best workouts combine both cardio and strength training to help increase your metabolism, strengthen your muscles, and keep your body strong and healthy.
It's also important to stay hydrated while you're waist training. Fluid intake is especially important when you're wearing your waist trainer, since the garment helps to increase your body heat and sweat levels. Try to sip some water throughout the day to keep your body well-hydrated.
How to Make Waist Training a Habit
Any time you're starting a new habit, like waist training, there are a few things you can do to make it easier and more sustainable in the long run.
First, as stated above, it's especially important with waist training to start out gradually. Otherwise, it can be easy to feel uncomfortable at the end of the day and associate the discomfort with the waist trainer.
Make your waist trainer a part of your daily routine with practices like:
Setting out your waist trainer along with your other clothes the night before.
Add putting your waist trainer on as part of your morning routine—along with something else you already do like brushing your teeth or drinking coffee.
Working out at the same time each day, and wearing your waist trainer as part of your workout.
Once you're comfortable wearing your waist trainer all day, taking it off at the same time each evening and hanging it up to air out.
Wearing your waist trainer to bed at night if you can't get 8–12 hours during the day.
Adding a Waist Trainer to Your Workouts
Adding a waist trainer to your workouts is a great way to maximize your waist training results. Wearing a waist trainer while working out helps to increase heat and sweat in the core, which makes your exercise feel more intense.
The more you incorporate waist training into your life, the more the effects snowball. When you feel good and see the results, you'll be more motivated to keep up with a new habit. And the more motivated you are, the less you have to think about it, making your waist trainer a part of your daily routine.
How to Make Your Waist Trainer More Comfortable: Our #1 Tip
One of the biggest hurdles to a consistent waist training routine is the discomfort of wearing the waist trainer. Our #1 tip for ensuring the most comfortable waist training experience is to make sure you are wearing a garment that fits correctly!
It's very important to take your waist measurement before you order a new waist trainer, even if you think you know your waist size or your garment size. Using a soft vinyl or fabric tape measure, take your waist measurement at the narrowest part of your waist. Then, consult the sizing chart for the specific garment you're ordering to ensure you're getting the right size. When in between sizes, we recommend ordering a size larger than you normally wear. It can be adjusted to fit.
When you receive your waist trainer, be sure to try it on before starting your waist training routine. If you have a garment that uses hook-and-eye closures, fasten it from the bottom to the top of the garment. Pull each hook and eye together at the waist, and then pull the waist trainer down as you work your way up the hooks.
A waist trainer that properly fits will feel snug but should never pinch or dig into your skin. You should be able to breathe comfortably when you wear it, and you should not have to yank it or pull hard to get it on. If you have trouble fastening it, this is a sign that it is not properly fitting.
You may also need to consider the garment's length, particularly if you're short in stature or have a short torso. If your waist trainer is too long, it may dig into your ribs or your hips. If that is the case, you may want to order a waist trainer with a shorter cut.
When you have a waist trainer that feels good to wear, don't forget to begin your waist training regimen gradually. The progression to wearing it all day will feel natural and comfortable.
Start Your Comfortable, Sustainable Waist Training Routine Today!
A successful waist training routine is easy to maintain when you approach it the right way. Follow these tips and let us know how it goes.
For more inspiration about waist training and the results it creates, be sure to check out our Before and After Gallery, where real women share what worked for them. Get the ideal waist trainer for your goals in our shop with exclusive waist training garments designed with every shape, size, and lifestyle in mind.
Got questions about finding the right fit for you and getting started? We have a plethora of information on our blog, and our expert stylists are happy to answer your questions.