Posted by hourglass angel on Sep 4th 2014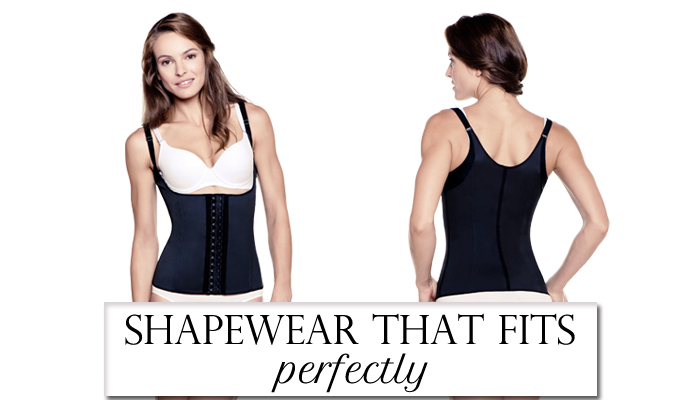 Getting the Most Flattering and Comfortable Results
When you're dressed to impress the last thing you want is your figure-enhancing shaper to migrate out of place! If yours is rolling, bunching or sliding, you're either not wearing the right size or you're not using the ideal garment for your figure.
This problem can easily be prevented when you know what types of shapewear works best for you. Equip yourself with some basic shapewear knowledge and you'll never have to battle with roll-down again.
Wear the Right Size
While it might be tempting to try a size too small in order to slim down a bit more, you'll find that it has the opposite effect! If your shapewear is rolling up or compressing you in an unflattering way, it might be because it just doesn't fit correctly. For the best results, use a shaper true to your size; if you're in between sizes, then go a size up. You'll still achieve smooth and slim results, without bunching and discomfort.
Choose an Ideal Control Level
Shapers come in several levels of control. Maximum control garments use up to three plies of fabric, heavy support stitching and/or boning. If they fit correctly, they're not going anywhere. Strong control garments are a step down from maximum control, typically with two plies of fabric and sometimes boning. Likewise, they are unlikely to shift out of place with the correct fit. Where you can run into more problems is in light control garments, which typically use one ply of soft, stretchy fabric. If your light control shaper isn't staying in place the way you want it to, it might not be the ideal level of control for you. But if you prefer the level of comfort and flexibility that light control garments provide, try a different size or style.
Choose Your Most Figure-Flattering Style
There is no one-size-fits-all shaping solution, which is why it's important to determine what style of garment is going to enhance your figure the most. In particular, if you're trying to shape your midsection, you'll want to use a garment designed to prevent muffin top. Try a shaper that provides coverage all the way up to your bra line, which either uses strong control or shoulder straps to keep it in place. Bodysuits, cinchers and high-waisted panties are all great waist-shrinking solutions, but you might prefer one over the other for your body's needs.
Try a Variety
It might take some trial and error to figure out what works best for your body, so we recommend trying a variety of solutions! Worst case scenario, if you're dissatisfied with a shaper's performance, send it back and try something else. But chances are, you'll find several styles that are ideal for you that you'll want to regularly rotate through your wardrobe.