Posted by hourglass angel on Aug 14th 2015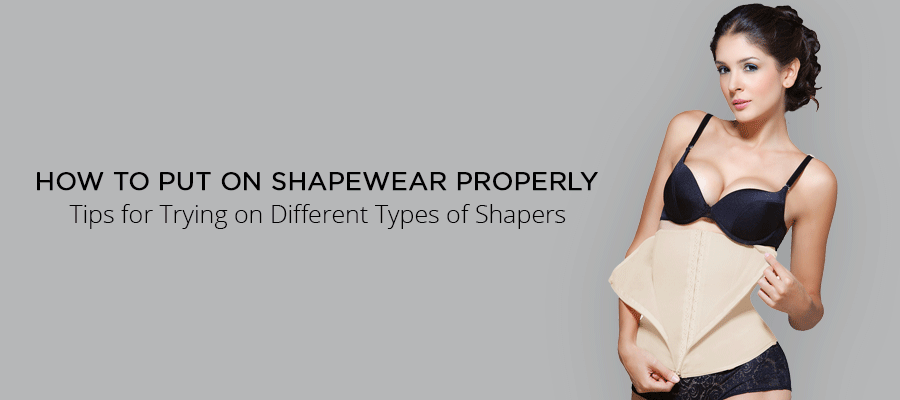 Tips for Trying on Different Types of Shapers
If you're trying on a new shaper for the first time, it is probably apparent that this is not your normal undergarment. Putting it on correctly is key to experiencing the best results (and the most comfort). You'll want to be careful that you aren't stretching or pulling the garment too hard, although it will be snug if it is doing its job right.
Before you try anything on, be sure that you ordered the right size. A garment that is too small will be very difficult to get on and won't provide the results you want. A garment that fits will firmly hold you in place, without pinching, for a flattering finish.
To ensure you're getting the results you want, put shapers on over the top of panties and a light tank top and then try on some attire over it. If they aren't satisfactory, you can return or exchange them for a better fit.
Depending on which type of garment you have, how to put on shapewear varies:
Slips
Always step into a slip, even a full-body one. If you pull it over your head you will feel stuck and frustrated. Shimmy it up into position a little at a time. Many of our Shapewear Slip have silicone lining that should keep the skirt in place once it is on.
Bodysuits
Make sure any zippers or clasps are completely undone. As with slips, you always want to step into bodysuits. If the garment has thigh/leg coverage, it may be easier to start in a sitting position and pull up the material one leg at a time. Once you're into the legs, stand up and pull up the rest of the garment. Fastening and adjusting zippers, clasps and straps might be difficult the first time; you may need some assistance getting the right fit.
Corsets
Wondering how to put on this strange package of ribbons? First, pull the laces very loose so you can slip the corset on easily and hook up the front. Using a mirror for guidance, begin tightening the pull loops. Pull on the "Xs" made by the laces from the top towards the middle and then the bottom towards the middle, tightening the pull loops more as you go. Do this repeatedly while smoothing out the modesty panel underneath. When it's the right tightness for you, tie the laces. Your corset should be a little looser the first couple of times you wear it until it molds to your shape; then you can pull it tighter.
Cinchers & Waist Trainers
Wrap the waist trainer high around your torso so that you're holding the bottom clasps just below the bust. Fasten from the bottom up, pulling the cincher down around your waist as you go. Start with the looser fit; once you get the hang of it, or if your waistline shrinks, you can start fastening with the tighter fit.