Posted by Hourglass Angel on Jul 26th 2022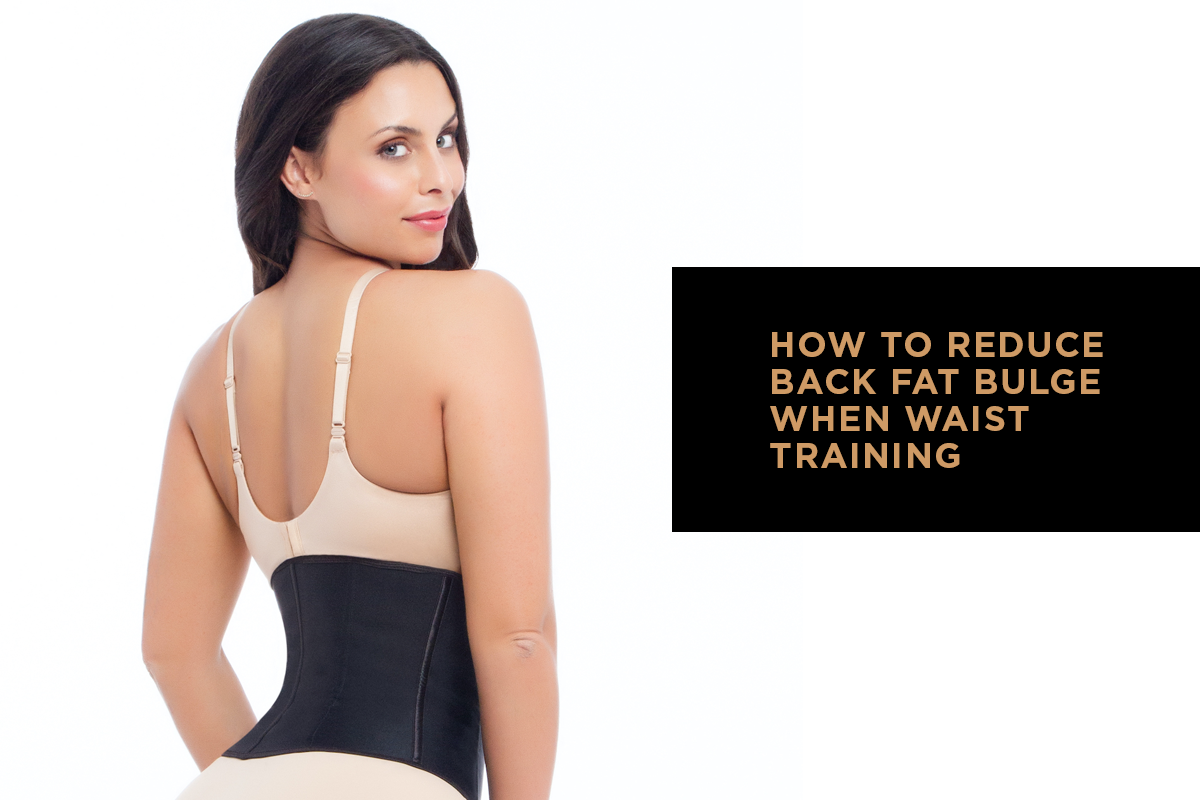 How to Reduce Back Fat Bulge When Waist Training | How to Pair Your Waist Trainers
Waist training is an unbeatable way to slim down your waistline and look your best in any outfit, no matter what your body shape and size.
But sometimes you can end up with some unwanted bumps in the wrong places. Rather than having a smooth hourglass shape, you may find that your waist trainer is squeezing your back, creating a bulge over the edge of the garment. This is frustrating when you have a slim and smooth waistline but problems with your figure elsewhere!
Don't worry; we've got you covered. Here's what you need to know to reduce back fat bulge when waist training.
Why Back Fat Bulge Happens with Waist Training
First, let's explore the cause of the problem so that you can focus on the right solutions.
The reason why some people experience back fat bulge when waist training is simple. The high compression of the waist slimming garment pushes the soft tissue on your body; it shifts to above the waist trainer, below it, or both, depending on your body type. This causes the unwanted back fat bulge—which can be annoying even if it's somewhat small.
If you carry some of your weight in your upper back or bust, you may experience an unwanted bulge right around the bra line. If you carry weight in your lower abdomen and hips, the soft tissue can bulge right around your pant line. Both the upper back bulge and the lower back bulge are common. Even if you don't normally see such bulging, the waist trainer can make it visible because of the level of compression it uses.
Fortunately, these issues are easy to fix, with the right waist trainer for your body type and the right garments to pair with it.
Wear the Right Size Waist Trainer
The most important piece of advice we can offer you is to make sure you are wearing the right size waist trainer. One of the reasons you might be experiencing back fat bulge is because your waist trainer is too small. If there isn't enough material to shape your midsection, the soft tissue will tend to spill out.
We've tested the sizing on all of our waist trainers and have a customized sizing chart for each of them. If you're ordering a new waist trainer, be sure to consult its sizing chart, even if you think you know what your size is. Also be sure to take a waist measurement right before your order, as you'll want to be precise.
For an accurate waist measurement, use a soft vinyl or fabric tape measure. Pull it taught around the narrowest part of your waist, which is typically a couple of inches above your belly button. It should be level and should lie flat, but it shouldn't be so tight that it pinches.
If you're in between sizes, always choose the larger size waist trainer. Remember, it can be tightened to give you the optimal amount of compression for the most stunning waist-slimming results.
Try a Different Style of Waist Trainer
Not all waist trainers are made alike. Choose a style that is better suited for your body type and creates the results you want.
If you are taller and struggle with carrying weight around your lower abdomen and hips, you should try a waist trainer or corset with a longer cut. This will ensure that you get the coverage you need to create a smooth hourglass shape.
The Hip Control Latex Waist Trainer by Hourglass Angel HA109 offers slimming for your midsection through the hips and eliminates bulging below the garment. A high-compression latex core gives you stunning hourglass curves. It also maximizes your workouts by stimulating thermal activity in your core, which increases your perspiration during exercise, sports, runs, walks and other physical activity.
If you have a larger bust size and struggle with bra bulge, we recommend a vest-style waist trainer. It provides support and coverage for the upper back and eliminates bulging around the bra line—in fact, it may cover the back of your bra entirely.
The Latex Waist Trainer Vest by Hourglass Angel HA103 is designed to support your bust and back while sculpting your midsection. This sculpting vest waist trainer helps you maintain your hourglass shape all day with its high-compression latex and three rows of large hook-and-eye closures.
Wear a Soft, Supportive Bra
Many women find that a different kind of bra works better when they wear a waist trainer. Since the high compression of the garment adds volume to your breasts and upper back, a soft, supportive bra, or even a sports bra, will be the most comfortable (and the most flattering) when you're wearing your waist trainer.
To eliminate upper back bulge, use a bra with wide straps and a high back. This will put less pressure on the soft tissue of your upper back and shoulders. It will also conceal any of the bulging directly above the waist trainer.
Wear a Light Tank Underneath Your Waist Trainer
There are also a few benefits to wearing a moisture-wicking tank top underneath your waist trainer. It will keep you cool and dry, and it will help to minimize the visibility of any bulging above or below the garment. It will be especially helpful if it's made with a light compression material that helps smooth out your figure.
The V-Neck Slimming Tank Top by TrueShapers 1370 is a tank top that is designed to give you a smoother, more seamless look and a slimmer appearance. The fabric lays flat against your body without bunching or rolling, creating a smooth, seamless look under your waist trainer.
Pair Your Waist Trainer with Other Shapewear
You don't need to focus solely on your waist; try other shaping garments that enhance your whole figure. There are many options that can be paired with a waist trainer for a complete figure-flattering look.
Choose thigh-shaping, butt-lifting, and hip-slimming shapers that have a waist that will tuck up underneath your waist trainer. This will ensure that you have a smooth silhouette from the bottom of your waist trainer through your thighs and hips.
The Thigh Trainers by Amia A105 help you work out better and make you look slimmer. They compress your lower half gently but powerfully, from your waist to your thighs. The fabric is thin and lightweight, so you can hide them under almost any clothing. It's a great solution for eliminating those tricky bulges that appear in close-fitting attire with a waist trainer.
The Perfect Butt Thermal Pant by Curveez is another great option to pair with a waist trainer. This shaper's stretch fabric is good for slimming without adding extra weight or heat. A special weave in the legs of the garment provides additional thigh control and holds the garment in place. The open bottom design of this item creates a lifting effect that rounds the rear into a perfect shape.
Butt-lifting jeans and leggings can also be a waist trainer's best friend. These styles of shaping apparel use a high waist design and clever seaming to naturally lift your butt and slim your lower abs and back, so you look like one smooth hourglass from top to bottom.
The Flawless Butt-Lifting Jeans by Hourglass Angel HA3810l are designed to lift and round your butt. The seams on these jeans are placed to flatter a curvy bottom. They're made of stretch denim for a comfortable fit that slims your legs. The high waist with two-button closure pairs perfectly with a waist trainer.
Butt Lifting Leggings by Bon Bon Up 1012 are designed to shape your waist, hips, butt, and thighs and will smooth out your figure beneath your waist trainer comfortably and flawlessly. These leggings use comfortable compression, advanced seaming, and thermal reduction to transform the look and feel of your body.
Adjust Your Waist Trainer to Eliminate Back Bulge
This may seem obvious, but it's worth saying in case you haven't tried it; adjust your waist trainer after you put it on so that it covers any problem areas. All it takes is a quick tuck into the top or the bottom of the garment to eliminate unwanted bulge. The high compression of a high-quality waist trainer will keep everything in place all day long.
Be Patient and Trust the Waist Slimming Process
If you're using a waist trainer as part of a daily regimen to slim down your waist and create an hourglass figure, be patient as your body changes. If you are eating sensibly and burning fat through exercise, you will gradually lose fat all over, and the bulging will be less of a problem.
In the meantime, love your body the way it is, keep working towards your healthy lifestyle goals, and enjoy the benefits of your waist trainer. Be sure to check out our shop as well as the many resources in our blog to help you make the most of your waist training journey.