Posted by by hourglass angel on Apr 24th 2018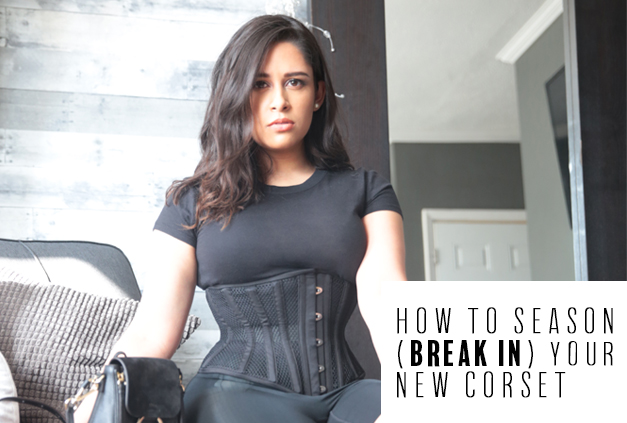 You found the perfect corset for sale and unwrapping it is an exciting day! You may be eager to try it on and pull it tight, but it's good idea to thoroughly break in your corset first. This will ensure that the garment isn't damaged and that you have the most comfortable corseting experience.
Here's everything you need to know about how and why to break in a new corset, whether you're planning on using it for a waist training regimen or occasional or special occasion use.
Reasons to Season Your Corset
There are two main reasons to season your corset. The first is to break in the corset so that it fits well and isn't damaged. The second is to help your body adjust to the way it feels. It is similar to breaking in a new pair of shoes.
Steel-boned corsets are constructed with durable material, but it is also pliable enough to mold to your body. By wearing it loosely for short periods of time, you allow the materials to adjust to your shape and movements. In particular, the steel boning needs time to mold to your shape. If you don't break your corset in properly, you risk warping, bending or ripping the material.
Seasoning your corset is also important if you are new to corseting or don't do it regularly. Your body will have an adjustment period as well, and we don't recommend wearing your corset for more than an hour or two at a time if you're not accustomed to it.
For these reasons, be sure to give yourself adequate time to season a new corset whether you're planning on wearing it for a waist training regimen, or you're saving it for a special occasion. Let your body and the corset have an adjustment period before you wear it. This is why it is very important to order your corset well in advance of the time you desire to wear it!
Best Methods for Corset Seasoning
Most experts recommend about two weeks to properly season a corset. For the first three days, wear it no more than two hours at a time. Pull the laces tight enough so that the corset is snug, but it shouldn't constrict. You should be able to slip several fingers in the top or bottom. After you have been wearing it for about 30 minutes or so each session, you can pull it slightly tighter.
You can wear it for two hours a day for two weeks if you want, or you can gradually increase your wear. One rule of thumb is to add an hour every three days. So on the fourth day you'd start wearing it for three hours, on the seventh day you'd start wearing it for four hours, and so on. By the end of two weeks you can be wearing it for up to six hours. Once your corset is fully seasoned, you can pull the laces much tighter to achieve significant slimming of the waistline.
Remember, if you're planning on wearing your corset for an all-day event like a wedding, be sure your body is accustomed to the way it feels before the big day. You may also want to have your corset fully seasoned prior to final dress fittings.
How to Know When Your Corset is Seasoned
There are several ways to know that your corset is ready to be pulled as tight as you desire. The first things to look at are the top and bottom edges. They should hug your figure tightly and shouldn't leave any gaps anywhere.
When you put your corset on, the hooks and pins should also easily pop into place, as if the garment was custom made for you. Likewise, the laces should glide easily through the grommets in the back, so you should be able to tighten them smoothly.
It is normal to have a little bit of wrinkling of the fabric around the grommet panel and in the lining due to tension when you pull the laces tight. Some things that aren't normal include boning that is permanently bent or kinked, loose grommets, broken threads or ripped fabric and any gaps in the lining. These are signs that the corset is damaged—which shouldn't happen if you season it properly.
The Lowdown on Corseting
Women have been wearing corsets for centuries. Modern corsets are beautiful, durable and designed to create a stunning hourglass shape. They are typically constructed with steel boning and get their waist-cinching power from tightening their laces in the back. While they provide similar results to latex waist trainers, many women prefer them because they are latex-free, more durable and can produce more dramatic results.
You can wear a steel-boned corset as part of an everyday waist training regimen by wearing it eight or more hours a day. Corsets are also popular as undergarments for special occasions or anytime you want to accentuate an hourglass waistline. Many women also like to wear corsets as outerwear as a bold and sexy way to highlight their curves.
Here are some of our favorite corsets:
Underbust Waspie Mesh Corset By Hourglass Angel HA201: This short corset lets you show off some skin while providing significant slimming power at your natural waist. It's ideal for providing that extra cinch for your midsection and makes a stunning piece of outerwear.
Underbust Cotton Corset By Hourglass Angel HA202: This classic and comfortable black corset provides powerful slimming at an affordable price. Its classic cut covers the whole torso and enhances the breasts while slimming your waistline by several inches.
Underbust Mesh Corset By Hourglass Angel HA206: This is the mesh version of our cotton corset, which is breathable but provides full coverage from beneath the bust to the hip. Get a dramatic waistline with a flirty look that functions as an undergarment or outerwear.
We hope you enjoy corsets as much as we do! Just remember to season your corset when it arrives, so it looks great and lasts.