Posted by hourglass angel on Nov 9th 2015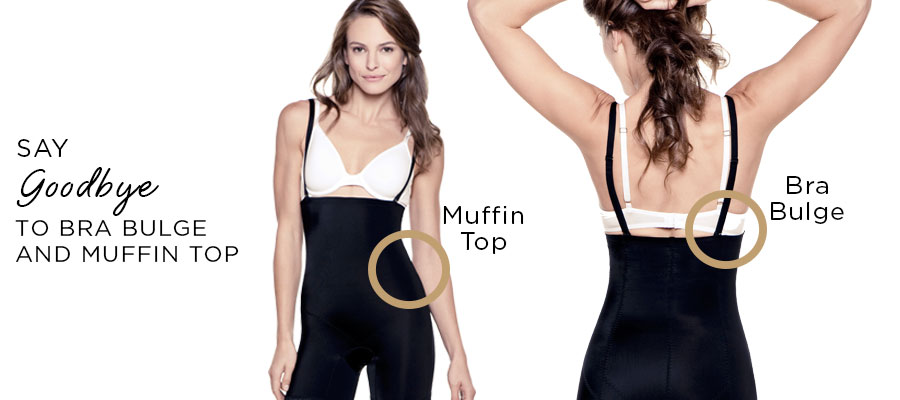 Say Goodbye to Bra Bulge and Muffin Top
The key to looking your best on any occasion is having a smooth foundation. No matter what your shape, a number of outfits can look flattering once you've eliminated problem areas. Two problem areas that women of all shapes and sizes deal with are at the bra line (bra bulge) and above the pant line (muffin top).
You have several options when it comes to smoothing these trouble areas. Choosing the right intimates can be helpful, and shapewear can add an extra level of control. Shapewear choices include various levels of compression. You might want lighter compression for casual use and firm control for special occasions.
Here are some of our top picks for managing these common trouble areas:
Halo Lace Full Coverage Underwire Bra by Wacoal
This soft bra provides the support and coverage a full figure needs, while the leotard back gives an overall smooth look and prevents bra bulge. The elastic straps are close-set, soft and adjustable. Elastic also lines the top and bottom of the wings, preventing the bra from slipping and adding overall comfort and control.
Sculpting Vest Waist Trainer by Amia
Get all the waist slimming power of a waist training cincher, with additional coverage and support thought the back. The firm compression vest goes over the bra of your choice, smoothing your bra line and eliminating any bulk. It provides full torso coverage, preventing any occurrence of muffin top.
CoCoon Perfect Fit Braless T-Shirt
This garment is manufactured with specialized lifting and toning technology. The waist slimming t-shirt is designed with bi-directional smooth fabric that comfortably trims the waist and abdomen and smoothens the whole back. It also comes down over the hips to minimize muffin top.
This everyday essential gives moderate control and smoothing to the midsection, waist and lower abdomen, providing a flawless foundation for pants and skirts. Two control panels at the tummy and sides provide slimming and support, eliminating muffin top. A gripper at the waist prevents roll down.
Mid-Thigh Bodysuit By Amia A107
This is a go-to piece for special occasions. It provides firm coverage from over your braline to your thighs. Nothing but smooth from top to bottom.