Posted by Hourglass Angel on Aug 22nd 2018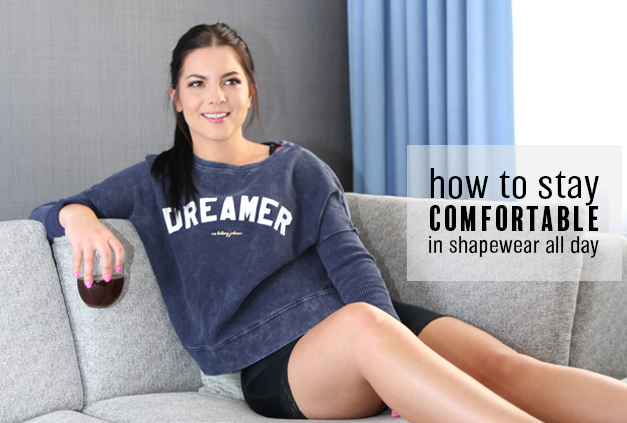 One of the main reasons many people might be reluctant to wear shapewear is concern about comfort. Can you really wear shapewear all day every day and stay comfortable?
The answer is yes!
You absolutely can and should be comfortable in any attire that you're wearing for a full day. You just need to be strategic about what you're wearing (and when) in order to enjoy maximum shaping and enhancement, along with maximum comfort.
Here are a few tips that will help your shapewear be more comfortable.
Use the Proper Size
If your shapewear is chronically uncomfortable, it could be an indication that it simply doesn't fit right. Shapewear measures differently than other types of clothing, so if you went off your standard dress or pant size when you ordered your garment, it could be the wrong size!
You should take measurements of your bust, waist and hips every time you order a new shaping garment. If you're ordering a piece that focuses on the waist like a waist trainer or corset, the waist size is the only measurement you need.
Using vinyl or fabric measuring tape, measure the fullest part of your hips or bust, and at your natural waist (about two inches above the belly button, or where there is a natural bend in your torso when you lean to one side). The tape should lie flat, but should not be pulled so tight that you can't slip a finger underneath. Also, use a mirror to make sure that the tape is level and not drooping, angled, or twisted anywhere.
Once you've obtained your measurement, be sure to follow the sizing chart for your garment precisely, as they are customized for each garment and have been tested by our team. If you're in between sizes, or if one part of your body like your hips measures bigger than others, then always go with the larger size. (Trust us, you'll get better results!)
Once you order your garment, be sure that you try it on before you start wearing it regularly. It should feel snug but shouldn't pinch—and the results should be flattering. If it isn't giving you the results you want, you'll want to try a different size, or perhaps even a different style.
Wear the Right Style
Another huge factor for feeling comfortable is making sure that you're choosing a garment that is the right style for your body shape and the occasion that you're wearing it for.
Some factors to consider when choosing shapewear style:
Support: Do you require extra support in your bust? Try a garment with straps like a vest-style waist trainer.
Adjustability: Some garments have adjustable straps and fasteners while others do not. You may find with your particular build that you need to tighten or loosen these straps. If your garment is uncomfortable and doesn't fit quite right, even if it's the right size, then consider a different garment that you can adjust more easily.
Breathability: Some garments are made with breathable fabric like cotton and nylon, while others are designed to make you sweat, like latex. If you're in a warm season or climate, consider choosing lighter, more breathable materials that are going to help you feel cool.
Cut: Some cuts and styles work better on some body types than others. In particular, if you have an especially long or short torso, you may want to consider garments that are designed as extra long or petite, to ensure that you're getting the results you want, comfortably.
Use the Appropriate Compression Level
What makes shapewear work is compression, otherwise known as shaping power. Some garments offer slight compression for smoothing, while others offer maximum compression for contouring.
Compression levels make a huge difference when it comes to comfort. Maximum compression makes garments feel very stiff, while light compression is more flexible. Which is more comfortable for YOU really depends on your personal preferences. Some people love the extra support that high compression offers for the bust and back, while others prefer the soft flexibility of light compression. It may also depend on what you want to wear the shaper for.
In general, a well-rounded shapewear wardrobe has a variety of compression levels so that you can have what you need, depending on the occasion.
Tips and Tricks for Waist Training Comfortably
Waist trainers are among our most popular shaping garments, but since they're high compression, they can also be difficult to get used to and to be comfortable in. For this reason, we thought it would be helpful to offer some tips that are unique to making your waist training experience more comfortable:
1. Know how to start a waist training regimen:In order to get the best results out of your waist trainer, we recommend that you follow a regimen of wearing a waist trainer for at least eight hours daily. But don't just jump into a new program! It takes time for your body to adjust to the way it feels.
Start out wearing you waist trainer for just an hour or two a day, and then gradually add a little time over the course of 2–3 weeks. By doing it this way, you'll become accustomed to what it feels like with a high compression garment around your midsection for several hours at a time. We also recommend this approach if you're planning on wearing a waist trainer for a special event like a wedding, so you can work up to your long day of wear ahead of time.
2. Adjust your garment as needed throughout the day: Most people know that you can adjust your waist trainer and have the goal of eventually sizing down. But there is another reason you can adjust one: whenever you need to adjust it. As your body takes in more water throughout the day, you may feel like your waist trainer is tighter. There's nothing wrong with loosening it later in the day when you need a little more breathing room because of water weight.
3. Wear a cami underneath:Some people find it uncomfortable to wear a waist trainer directly against their skin. The solution is simple: wear a light cami underneath the waist trainer. This will also help it last longer, as it will prevent the natural oils on your skin from damaging it.
Still having questions about staying comfortable? Contact our expert stylists, and we'll be glad to answer your questions.