Posted by Hourglass Angel on Jul 23rd 2021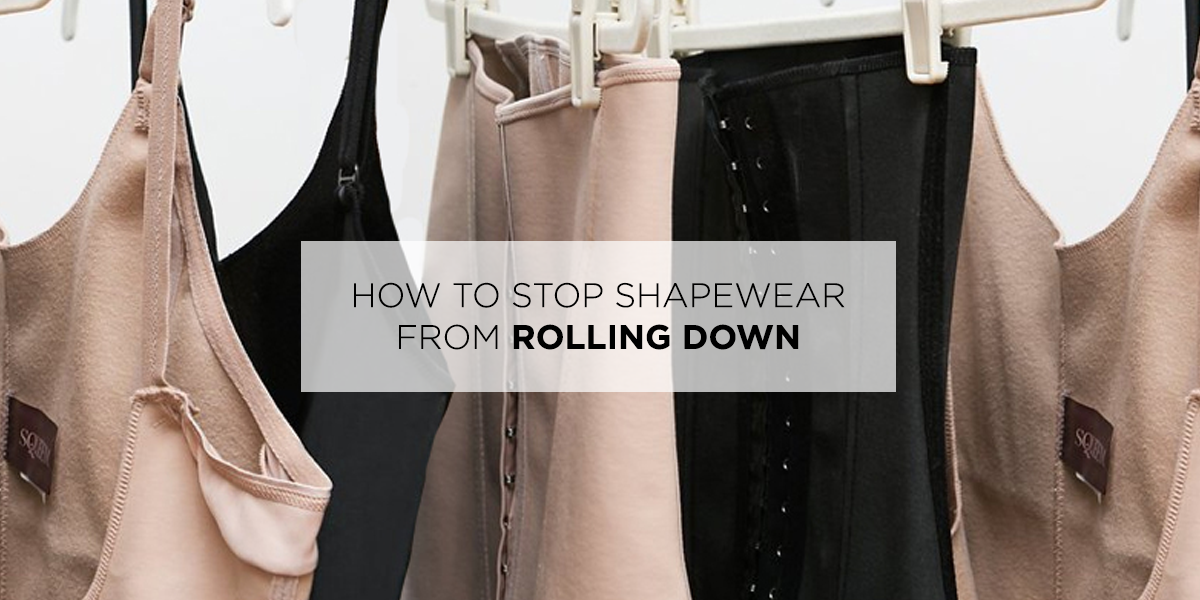 There are so many reasons to love shapewear. It can boost your confidence, make your favorite clothing look fantastic…it can even help motivate you on your slim-down journey, showing you the gorgeous shape you can achieve with a balanced diet and regular exercise routine.
But there's one thing women around the globe agree on when it comes to how shapewear can let us down—and that's the rolling down!
Not only is it uncomfortable and much less supportive when your shapewear rolls down, but it can create bumps and lumps that show through your clothes. And just like that, all of those benefits and reasons to love shapewear go out the window.
We want you to always be happy in your shapewear—to rock your favorite dress, to feel gorgeous and comfortable on your next night out, and to live your life with confidence.
So, here's how to prevent the dreaded shapewear roll-down!
1) Choose the right size for you
This tip is major—not only will purchasing shapewear in the right size help you to look your best, but it will give you the most comfortable fit on your body, too.
Besides preventing your shapewear from rolling down, choosing the right size also guarantees the shapewear will target the right area—you don't want the expertly designed compression to miss a spot or focus on an area that doesn't need attention.
There are three key measurements you'll need to take before shopping for shapewear, especially when you're shopping online. We've taken care to make our size charts very precise, so the more accurate your measurements are, the easier it will be for you to find the ideal fit.
Keep in mind that it's best to use a fabric or vinyl tape measure and for it to lie flat on your body. Here are the best ways to measure:
Bust - Place the measuring tape around the fullest part, making sure to keep it level.
Waist - Lean to one side in front of the mirror—the point of the natural bend is where you want to lay the tape. It's usually about two inches above your navel.
Hips - Again, place the tape around the fullest part. It can help to have a friend assist you, or to look in the mirror to make sure the tape is level.
Now, how do you use those measurements when shopping for specific shapewear styles? Here are some tips:
ÞBodysuit and All-Over Shaper: Use all three measurements when choosing these styles, since the bodysuit and all-over shaper target all three areas of your body: bust, waist, and hips.
ÞWaist Trainer Corset, Waist Trainer Vest, and Workout Waist Trainer: You can use just your waist measurement for these. If you're in doubt, choose the larger size since most of these styles feature adjustable closures.
ÞButt Lifter and Thigh Shaper: For this style, you'll need to refer to both your waist and hip measurements, since it targets both your tummy and your rear.
It's best to take measurements every time you order a shapewear piece, since even the slightest difference can affect which size will be best for you.
And here's the last point on sizing: A popular opinion is to go down a size because you'd think a smaller size will make you look slimmer, but a too-small size will absolutely make your shapewear roll and lead to the spillover effect. Choosing a size down is a major no-no!
2) Find the right fit for your body type
Tall frames - Choose styles that have good coverage and extend over your lower abdomen. Styles that feature adjustable straps will allow you to customize to the most comfortable fit.
Petite frames - Go for shapewear that is cut shorter at the waist for the smoothest look. Styles that are cut too long will bunch up and roll for sure.
Plus size - Stick with styles that are specifically designed for plus sizes, in order to get the best, most comfortable and secure fit possible.
Sometimes trial and error works best. You can always return shapewear to us that's not quite right for you—just try them on over undergarments and send them back unworn with the tags still on.
3) Go for high quality and high compression
What you spend on high-quality shapewear will be well worth it (and you don't even have to spend a fortune!).
Higher-quality garments are constructed and designed for a better fit and will last longer. They also usually feature a non-slip silicone grip detail at the straps or waist that helps keep the shapewear secure and prevents it from rolling down.
Another reason for the roll may be because you're wearing a lighter-compression-level garment. This may be why your shapewear bunches up and shifts when you're active or sit down.
By wearing a firmer compression level, you'll know your shapewear will stay in place and never move around. Examples of higher compression level garments are bodysuits, corsets, and waist trainers.
4) Wear the right shapewear with the right clothes
Did you know that specific shapewear styles are more well suited for certain outfits than for others?
Whether it's a casual weekend, long day at work, or festive night out, different occasions call for different support styles so that your shapewear won't bunch, shift, or roll under your favorite clothes.
Here's the scoop on what to wear with what:
ÞDresses - A shaping slip or bodysuit work the best with a dress, for all-in-one shaping and a smooth, sculpted look. For strapless dresses, try a strapless bra corset.
ÞSkirts - Thigh shapers, thong back shapers, and butt enhancers all work wonders to target your tummy, rear, and thighs—they'll make your favorite skirts fit smoothly and look amazing.
ÞSuits -Corset-style shapewear or vest-style waist cinchers will give you an hourglass figure for where your pant or skirt waist meets your blouse. Thigh shapers keep your legs looking smooth and enhance the fit of suit pants or skirts.
ÞTees and Jeans - Wear a waist trainer if you want that cinched-waist look—you can easily tuck this style into your jeans so that it will never shift. Shaping camis are great, too, for a super smooth look. You can target a muffin top with shaping panties and lift your rear with a butt enhancer. You can even go for butt-lifting jeans and skip the shapewear on the bottom, eliminating the possibility of a shapewear-roll altogether!
ÞWorkout wear - You're most highly active when working out, so it's crucial to wear the right shapewear styles that won't roll and shift. Workout bands are ideal because they stay in place and amp up your core temperature so that you perspire more and ultimately get the most out of your workout. Try workout shaping leggings, too, for useful support and compression.
5) Put your shapewear on the right way
We know, you've been getting dressed for years—how complicated can it be? But there really is an art to putting on shapewear that will guarantee your day is comfortable and worry-free.
First off, never put your shapewear on right after taking a shower. Even if your skin is slightly damp, your shapewear garment will roll and bunch up. It's best to put it on when your skin is completely dry.
Next, never rush when putting your shapewear on. It takes a little time to make sure it's placed properly on your body, and when it is, it will rest secure for the duration of the day or night.
If you're going to wear a butt lifter, thigh shaper, or body shaper, roll up the legs just like you would if you were putting on pantyhose. Then step into the garment and slowly work it up your body, taking time to fit your rear into it perfectly. If your shapewear is misaligned there, it will roll, drag, and be super uncomfortable.
A neat little trick for high-waisted thigh shapers and butt lifters is to pull the top part up and tuck it under your bra for extra security.
Lastly, move around, jump, and twist a bit…even do your favorite dance. This helps the garment settle into your specific shape and curves and really stay in place.
6) Take care of your shapewear
The way you treat your shapewear has everything to do with how it performs.
As we just mentioned, don't rush—pulling up your shapewear ever-so-gently will prevent it from stretching out.
When it's laundry time, always hand wash, never throw your shapewear into the machine. And absolutely never put your shapewear in the dryer. When you hang dry it, make sure it's far from any direct heat, too. You want to maintain your shapewear's stretchiness so it stays in place and doesn't roll—machine washers, dryers, or radiator-drying will take all that stretchiness away.
Lastly, replace your old shapewear in a timely manner. If you're wearing styles in regular rotation that you've had for ages, there's no way they'll stay in place. Investing in new shapewear will be well worth the comfort you'll enjoy.
All the tools you need
Taking correct measurements, considering your body type and shapewear quality, plus knowing what shapewear to pair with which outfits will get you way ahead of the game when shopping for your ideal styles.
Then, putting your shapewear on properly and caring for it in the right way will ensure that the high-quality stretch and compression will last.
Now you're completely equipped to eliminate the shapewear roll! Go ahead and shop now!
If you have questions about what shapewear will target your curves the best—plus stay secure and comfortable—just reach out to our stylists who are here to help!