Posted by Hourglass Angel on Aug 28th 2019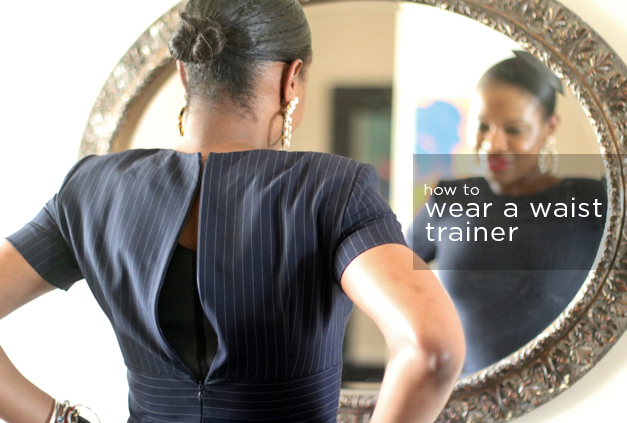 Curious how to wear a waist trainer? You're not alone!
Beginners often assume that waist trainers are only for the gym – but the truth is you can wear them with many different outfits and for nearly any occasion.
Here's how …
Starting with the Basics
First thing's first … what is a waist trainer?
A waist trainer is a high-compression shaping garment that you wear around your midsection to slim your waistline instantly and supplement your fitness goals. Waist trainers are designed to make you sweat more during your workouts. So, if you're looking for that classic hourglass figure, a slimmer waistline, posture support and maximized workouts, then it's time to try waist training for yourself.
Now, let's look at how to wear one.
How to Put on a Waist Trainer
You can wear a waist trainer in just about any scenario. Right off the bat, there will be a learning curve as you get used to wearing it, but don't worry – your body will become accustomed to it very quickly.
Here's how to put it on:
Start clasping the hooks at the bottom of the garment in front of your body. It works best if you clasp them around the narrowest part of your waist and then pull the garment down over your abdomen as you go.
Ideally, when you start a waist training regimen, your garment should fit best on the loosest setting so that you have room to size down. Wear your waist trainer for about an hour at a time the first couple of times you wear it so you can break it in.
What Should You Expect?
Waist trainers can be difficult to put on the first time, but remember - it gets easier. At first, you may only be able to wear your waist trainer for a few hours at a time, and that's fine.
From the moment you put it on, you're going to love how your figure looks in the mirror. And it should not take you long to get used to wearing one, once your body adapts to it. Pretty soon, you'll wonder how you ever dressed without one.
Now, let's talk about how to wear a waist trainer for various lifestyles, occasions and situations.
Everyday Wear
That's right – you can wear a waist trainer every day with regular clothing. Pick out one that you can easily conceal under everyday wear, such as your work clothes or your "running errands" clothing.
Tip: If you plan to wear it 7 days a week, you'll want to buy two or more waist trainers, so you can rotate them each day to wash them and let them rest.
Most styles are invisible under clothes and yet they create a flawless foundation. Choose from "nude," black and other colors to make sure they stay concealed under your clothing. You can wear them for work, after work, or anywhere in between. Moms, students, professionals—anybody can incorporate waist training into their everyday lifestyle.
Going-Out Wear

Planning to go out tonight? Go ahead and put on your waist trainer!
Whether you choose a latex waist trainer or beautifully designed lace-up corset, you create a dramatic figure in just seconds. Hide them under your special-occasion wear, or incorporate them into the outfit for a truly head-turning look.
Lace-up corsets are designed for maximum slimming results. Tight laces provide a firm, customizable fit, combined with an extremely durable garment. They're a favorite for waist training as well as costume events.
Tank tops and other lightweight shapers can be worn over top of your waist trainer to create a smoother foundation, if needed. Also, patterned dresses and tops make it even easier to hide the waist trainer, so nobody will know your secret.
Relaxing Wear
How about those days when you just want to lie on the couch?
Yes! You can wear a waist trainer during downtime too. A waist trainer comes in handy in making sure your posture stays on point. Plus, at mealtime, the compression can help with portion control, making you feel fuller sooner, which helps to prevent binging.
Or, if you're tackling some housework and plan to sweat off a few calories while doing so, your waist trainer will increase the ratio of sweat to exertion sweetly in your favor!
Workout Wear
One of the biggest benefits of wearing a waist trainer is that it helps you break a good sweat while you work out – so be sure to wear it anytime you're active.
Waist trainers make the most impact during cardio or strength training, but they increase your perspiration no matter what the exercise, including walking. Workout waist trainers come in bright, energetic colors, which are perfect for showing off at the gym. But you can also hide them under your workout gear, if you choose to.
Wearing a Waist Trainer Overnight
While it is a good idea to give your waist a break when you are in bed for the night, you can absolutely wear a waist trainer when sleeping.
If you decide to wear one to sleep, try a seamless garment, without closures, which will be more comfortable to wear. But even if you decide to forego wearing it at bed time - there is always tomorrow to resume your routine…
We recommend wearing your waist trainer for 8 to 12 hours as part of a consistent waist training regimen. It's perfectly fine to break this up into two separate daytime blocks.
Making Healthy Lifestyle Changes
We've talked about where you can wear a waist trainer - but what kinds of other lifestyle changes should you make while wearing one?
You can go about your day as you normally would with a few minor adjustments. But keep in mind that waist training works best when it supplements a healthy lifestyle, fitness regimen and smart eating.
Consider the following areas before you get into a regular habit of wearing a waist trainer:
●How often you eat
●What type of food you eat
●How often you drink
●How long you wear your waist trainer
Get into the practice of eating small portions more frequently, rather than 2 to 3 large meals a day. Since your belly is cinched, you run the risk of feeling over full if you eat too heavy of a meal. Many people find that eating 5-6 smaller meals a day is the sweet spot for finding the right balance of enough caloric intake and not feeling uncomfortable at meal time.
Water and Nutritious Meals are Key
It's also important to consider the content of your meals. A good balance of healthy foods in moderation is key. Make sure to get a good balance of all the food groups in proper proportion and with enough frequency. Aim for a healthy mix of fruits, veggies and protein every day.
Remember, you will sweat more when wearing a waist trainer. This means that an increased amount of water is required to keep your body properly hydrated. So be sure to keep some water on hand all day, especially if you're working out!
Consistency is very important, so don't give up! For inspiration, check out these waist training before & after stories to see how other women reached their goals.